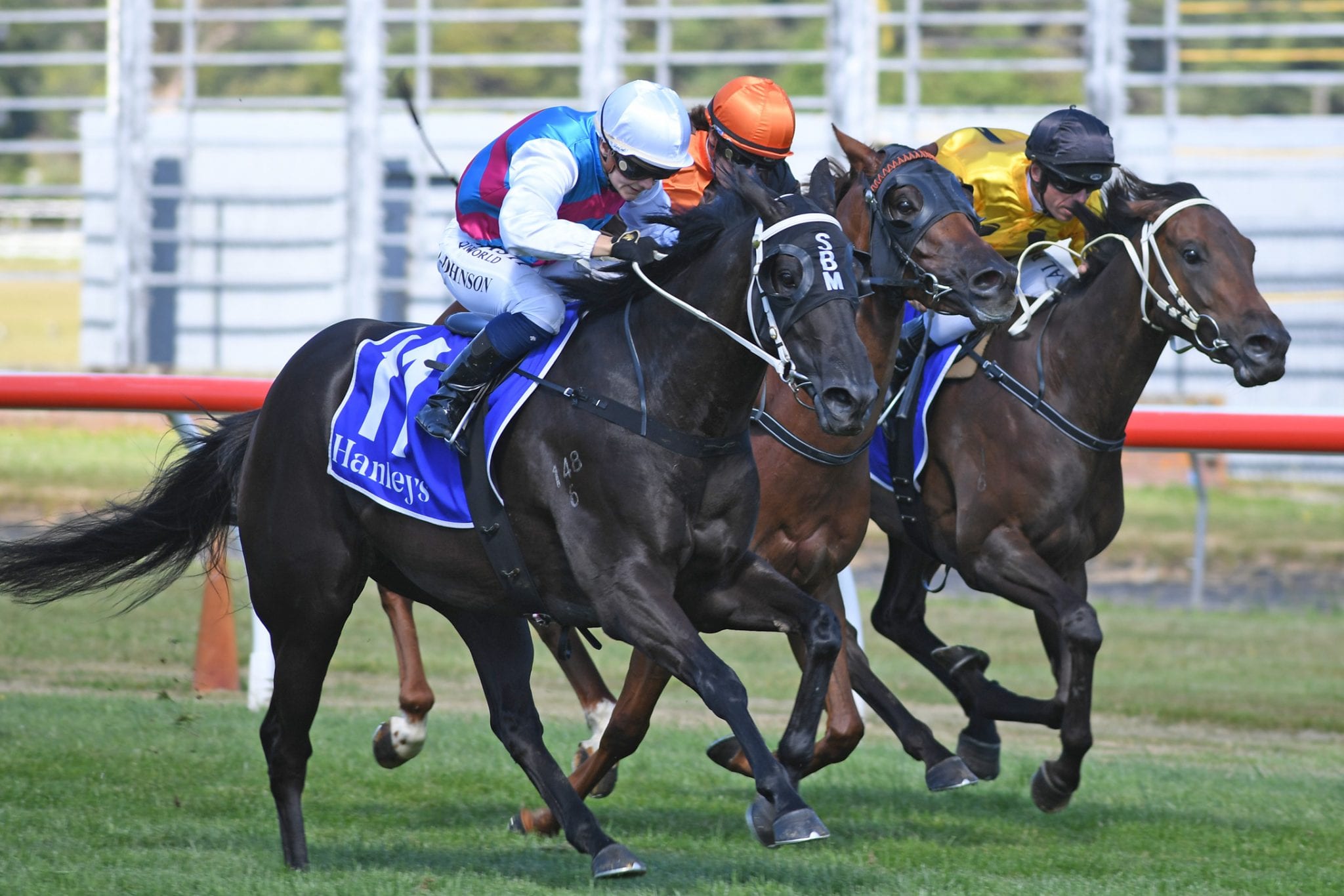 Leading rider Danielle Johnson streaked to a century of wins for the season when she took out the Listed IRT No.1 Wellesley Stakes (1000m) on Quattro Quinta at Trentham on Saturday, but in typical fashion is hungry for plenty more winners in the coming months.
Not content with bagging just the one stakes success on the day, the 29-year-old also added a Group race double, partnering Our Hail Mary to victory in the Group 3 Dixon & Dunlop Trentham Stakes (2100m) and Avantage in the Group 1 JR & N Berkett Telegraph (1200m) before rounding out her day by winning the last race on Tabata.
Johnson was happy to reflect on her success on a lazy Sunday as she prepared for some hijinks with a group of girlfriends at the Cambridge Golf Club. "It was such a cool day and so good to get to the 100-win mark," she said. "It was also my first Group 1 of the season, which was also good as I was getting quite frustrated about that as I'd only managed to rack up some placings so far this year.
"I've always said I would love to win a jockeys' premiership, but I don't want to do that without winning Group 1s along the way. "If you want to be one of the best you can't do that without winning the elite races. "Now I've got the 100 wins I want 110, then 120 and as many more as I can get before the end of the season."
One of those Group 1 placings was aboard the Jamie Richards-trained Brando on Saturday, who powered home for second behind Bonham in the Group 1 Devan Plastics Levin Classic (1600m), with Johnson admitting it wasn't one of her best efforts. "I just got a little too far back on him (Brando) and Bonham got the break on us," she said. "He just needed a little more ground to get past her, but I had my tail between my legs after that one. "He is a super horse, the total package and deserves a Group 1.
"You can't dwell or sulk on the ride as you have owners and trainers putting their faith in you to perform to your best on their horse and I was lucky enough to come out and win on Our Hail Mary in the next race."
Johnson had been runner-up twice to stablemate Melody Belle at Hastings in the spring when riding Avantage and was determined to claim a Group 1 victory on her this season after partnering her to two elite level titles, the Group 1 Diamond Stakes (1200m) and Group 1 Haunui Farm WFA Classic (1600m) previously.
"Avantage is just a champion and I think people should take a bow to her," she said. "She has broken 1.07 on Saturday and has done it so easily. "She is such a tractable mare who puts herself in the right places most of the time. "We ended up in just the right spot on Saturday and she has executed the plan we had for her perfectly.
"I've only ever had the one gallop aboard Melody Belle so I can't really compare her to Avantage, but I would think she (Avantage) is nipping at her heels when it comes to who is the best mare in the country at the moment."