One of the most important elements of the Melbourne Cup is timing.
Whether you're at the track, in the office, on the road or hosting your own barbecue, you need to get your timing right.
If you're armed with all the correct times, you won't miss a race. If you don't miss a race, then all of that Melbourne Cup form and homework you've done won't go to waste.
While most race days have a very similar 30-40 minute break in between races, the Melbourne Cup is a beast of its own, starting at 11am, with the tenth and final race kicking off at 5pm.
Before we take a look at the race day program, make sure you take a look at our key Melbourne Cup betting guides: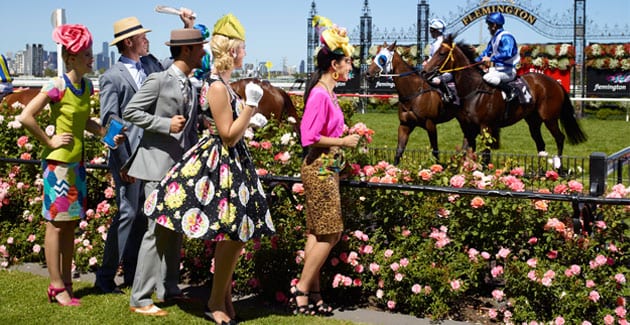 Recommended!
More Bookmakers
---
| Race no. | Time (AEDT) | Race | Distance | Prize money | |
| --- | --- | --- | --- | --- | --- |
| 1 | 10:45am | Maribyrnong Plate | 1000m | $200,000 | Bet on this race |
| 2 | 11.20am | The Macca's Run | 2800m | $150,000 | Bet on this race |
| 3 | 12pm | Subzero Handicap | 1400m | $150,000 | Bet on this race |
| 4 | 12:40pm | TAB Trophy | 1800m | $175,000 | Bet on this race |
| 5 | 1:20pm | Schweppervescence Plate | 1400m | $150,000 | Bet on this race |
| 6 | 1:55pm | Furphy Plate | 1800m | $175,000 | Bet on this race |
| 7 | 3.00pm | Lexus Melbourne Cup | 3200m | $7,750,000 | Bet on this race |
| 8 | 3:50pm | BM90 Handicap | 1400m | $150,000 | Bet on this race |
| 9 | 4.35pm | Hong Kong Jockey Club Stakes | 1400m | $200,000 | Bet on this race |
| 10 | 5:15pm | MSS Security Sprint | 1200m | $175,000 | Bet on this race |
Some key Melbourne Cup race day notes:
Most veteran Melbourne Cup punters will know that while Melbourne Cup Day is a huge gambling event, outside of the big race itself, the quality of the races isn't great, with the next best prize money being $200,000 in the 'get out of jail' stakes in the second-last race.
Punters will have one hour to prepare for the Melbourne Cup after race 6, which kicks off at 2pm. Punters will then have close to an hour to celebrate their winnings or commiserate before race 8, which starts at 3:50pm