Page Links
The 2019 Melbourne Cup will be run on Tuesday, November 5 at 3pm AEDT.
The Charlie Appleby-trained Cross Counter is the early the +1600 favourite at Sportsbet.com.au to go back-to-back while runner-up Marmelo is the next best at +2000.
While the futures market will provide superior odds in the lead up to the race, we caution punters that any bet in an 'all-in' market is a risk, given that almost all the horses are yet to cement their place in the final 24-horse field.
Top Melbourne Cup Bookmakers
Recommended!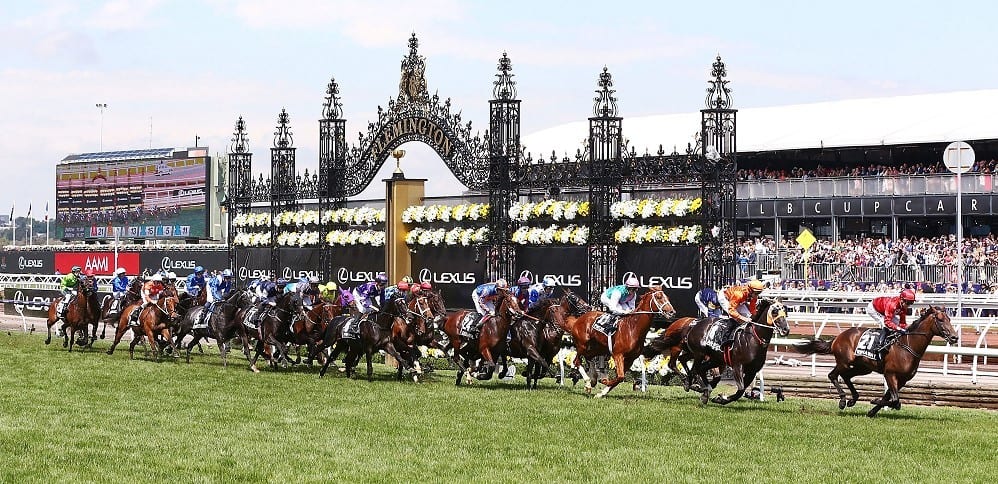 Previous Melbourne Cup fields and odds
Sometimes, history can be a terrific guide for punters, especially in big races like the Melbourne Cup.
We've managed to keep some of our old records from recent runnings of the race that stops a nation. Click on the tabs below for a snap shot of how the fields and odds looked before these iterations of the Cup:
Prince Of Penzance scored a huge upset to win the 2015 Melbourne Cup, but now the attention turns to the 2016 edition. Champion mare Winx opened as the favourite, but there is plenty of racing to come throughout the year so check in for an updated market for the race that stops a nation.

| | | |
| --- | --- | --- |
| Horse Name | Trainer | Opening Odds |
| Winx | Chris Waller | $13 |
| Max Dynamite | Willie Mullins | $15 |
| Amralah | Robert Hickmott | $17 |
| Tarzino | Mick Price | $17 |
| Order Of St George | Aidan O'Brien | $17 |
| Signoff | Darren Weir | $17 |
| The United States | Robert Hickmott | $21 |
| Bondi Beach | Aidan O'Brien | $26 |
| Tom Melbourne | L&A Freedman | $26 |
| Who Shot Thebarman | Chris Waller | $26 |
| Kia Ora Koutou | Adam Durrant | $26 |
| Gust Of Wind | John Sargent | $26 |
| Mongolian Khan | Murray Baker | $26 |
| Preferment | Chris Waller | $26 |
| Almoonqith | Hayes/Dabernig | $26 |
| Hauraki | John O'Shea | $34 |
| Our Ivanhowe | L&A Freedman | $34 |
| Gailo Chop | Antoine De Watrigant | $34 |
| Jameka | Ciaron Maher | $34 |
| Excess Knowledge | Gai Waterhouse | $34 |
| Etymoglogy | John O'Shea | $34 |
| Magic Hurricane | John O'Shea | $34 |
| Tavago | Bussutin/Young | $34 |
| Tall Ship | Darren Weir | $34 |

The 2014 Melbourne Cup Field has now been finalised. The final field and the barrier draw have been completed and the 24 starters for the 2014 Melbourne Cup have been determined from the order of entry. The barrier draw has had a significant impact on the 2014 Melbourne Cup odds.

Over $2,650 In Melbourne Cup Free Bets Best 2014 Melbourne Cup Free Bets

Number
Silks
Horse Name
Trainer
Jockey
Weight (kg)
Barrier
Opening Odds
Top Odds
1
Admire Rakti
Tomoyuki Umeda
Zac Purton
58.5
8
$21
$26
2
Cavalryman
(GB)
Saeed Bin Suroor
Craig Williams
57.0
3
$26
$35
3
Fawkner
Robert Hickmott
Nicholas Hall
57.0
9
$31
$31
4
Red Cadeaux (GB)
Ed Dunlop
Gerald Mosse
57.0
15
$41
$51
5
Protectionist
(GER)
Andreas Wohler
Ryan Moore
56.5
11
$41
$41
6
Sea Moon
(GB)
Robert Hickmott
Tommy Berry
56.5
18
$101
$301
7
Seismos
(IRE)
Marco Botti
Craig Newitt
56.0
1
$31
$61
8
Junoob
(GB)
Chris Waller
Hugh Bowman
55.5
7
$81
$101
9
Royal Diamond
(IRE)
Johnny Murtagh
Steven Arnold
55.5
6
$51
$71
10
Gatewood
(GB)
John Gosden
William Buick
55.0
22
$41
$71
11
Mutual Regard
(IRE)
Johnny Murtagh
Damien Oliver
55.0
12
$41
$41
12
Who Shot Thebarman
(NZ)
Chris Waller
Glen Boss
55.0
13
$61
$61
13
Willing Foe
(USA)
Saeed Bin Suroor
James McDonald
55.0
17
$41
$41
14
My Ambivalent
(IRE)
Roger Vairan
Andrea Atzeni
54.5
4
$51
$71
15
Precedence
(NZ)
Bart and James Cummings
Michael Rodd
54.5
20
$51
$91
16
Brambles
(NZ)
Peter Moody
Luke Nolen
54.0
21
$71
$71
17
Mr O'Ceirin
Ciaron Maher
Mark Zahra
54.0
19
$151
$301
18
Au Revoir
(IRE)
Andre Fabre
Glyn Schofield
53.5
23
$41
$61
19
Lidari
(Fr)
Peter Moody
Ben Melham
53.5
10
$67
$71
20
Opinion
(IRE)
Chris Waller
Tye Angland
53.5
14
$19
$71
21
Araldo
(GB)
Michael Moroney
Dwayne Dunn
53.0
24
$61
$71
22
Lucia Valentina
(NZ)
Kris Lees
Kerrin McEvoy
53.0
2
$21
$28
23
Unchain My Heart
David Hayes & Tom Dabernig
Dean Yendall
51.5
5
$51
$151
24
Signoff
(IRE)
Darren Weir
Joao Moreira
51.0
16
$26
$71

The 2013 Melbourne Cup Field has now been finalised. The final field and the barrier draw have been completed and the 24 starters for the 2013 Melbourne Cup have been determined from the order of entry. The barrier draw had a significant impact on the 2013 Melbourne Cup odds.

Over $2,400 In Melbourne Cup Free Bets Best 2013 Melbourne Cup Free Bets

We will update the odds here very soon with our likely final field, and officially right after the final field is determined.

| | | | | | | | | |
| --- | --- | --- | --- | --- | --- | --- | --- | --- |
| Number | Silks | Horse Name | Trainer | Jockey | Weight (kg) | Barrier | Opening Price | Top Price |
| 1 | | Dunaden (FR) | Mikel Delzangles | Jamie Spencer | 58.5 | 1 | $26 | $51 |
| 2 | | Green Moon (IRE) | Robert Hickmott | Brett Prebble | 57.5 | 10 | $15 | $41 |
| 3 | | Red Cadeaux (GB) | Ed Dunlop | Gerald Mosse | 56.5 | 23 | $41 | $67 |
| 4 | | Sea Moon (IRE) | Robert Hickmott | Steven Arnold | 56.5 | 7 | $41 | $41 |
| 5 | | Brown Panther (GB) | Tom Dascombe | Richard Kingscombe | 55 | 6 | $41 | $41 |
| 6 | | Fiorente (IRE) | Gai Waterhouse | Damien Oliver | 55 | 5 | $8.00 | $8.00 |
| 7 | | Foreteller (GB) | Chris Waller | Craig Newitt | 55 | 15 | $26 | $34 |
| 8 | | Dandino (GB) | Marco Botti | Ryan Moore | 54.5 | 4 | $21 | $21 |
| 9 | | Ethiopia | Pat Carey | Rhys McLeod | 54.5 | 14 | $101 | $126 |
| 10 | | Fawkner | Robert Hickmott | Nicholas Hall | 54.5 | 8 | $61 | $61 |
| 11 | | Mourayan (IRE) | Robert Hickmott | Brenton Avdulla | 54.5 | 19 | $27 | $151 |
| 12 | | Seville (GER) | Robert Hickmott | Hugh Bowman | 54.5 | 9 | $61 | $61 |
| 13 | | Super Cool | Mark Kavanagh | Corey Brown | 54.5 | 13 | $21 | $41 |
| 14 | | Masked Marvel (GB) | Robert Hickmott | Michael Rodd | 54 | 2 | $26 | $34 |
| 15 | | Mount Athos (IRE) | Luca Cumani | Craig Williams | 54 | 22 | $15 | $15 |
| 16 | | Royal Empire (IRE) | Saeed Bin Suroor | Kerrin McEvoy | 54 | 11 | $41 | $41 |
| 17 | | Voleuse De Coeurs (IRE) | Michael Moroney | James McDonald | 54 | 21 | $17 | $19 |
| 18 | | Hawkspur | Chris Waller | Jim Cassidy | 53.5 | 18 | $12 | $13 |
| 19 | | Simenon (IRE) | Willie Mullins | Richard Hughes | 53.5 | 12 | $26 | $26 |
| 20 | | Ibicenco (GER) | Peter Moody | Luke Nolen | 53 | 17 | $51 | $126 |
| 21 | | Verema (FR) | Alain de Royer Dupre | Christophe Lemaire | 53 | 3 | $18 | $18 |
| 22 | | Dear Demi | Clarrie Conners | Chris Munce | 51 | 16 | $61 | $61 |
| 23 | | Tres Blue (IRE) | Gai Waterhouse | Tommy Berry | 51 | 20 | $21 | $21 |
| 24 | | Ruscello (IRE) | Ed Dunlop | Chad Scholfield | 50 | 24 | $101 | $301 |

2012 Melbourne Cup Odds & Betting Market

| | | | | | | | |
| --- | --- | --- | --- | --- | --- | --- | --- |
| Number | Silks | Horse Name | Trainer | Jockey | Weight (kg) | Opening Price | Top Price |
| 1 | | Dunaden (FR) | Mikel Delzangles | Craig Williams | 58 | $17 | $17 |
| 2 | | Americain (USA) | Alain de Royer Dupre | Damien Oliver | 58 | $21 | $21 |
| 8 | | Mount Athos (IRE) | Luca Cumani | Ryan Moore | 54 | $11 | $11 |
| 4 | | Red Cadeaux (GB) | Ed Dunlop | Michael Rodd | 55.5 | $21 | $21 |
| 13 | | Maluckyday (NZ) | Team Hawkes | Jim Cassidy | 53.5 | $21 | $26 |
| 12 | | Galileo's Choice (IRE) | Dermot Weld | Pat Smullen | 53.5 | $26 | $26 |
| 17 | | My Quest For Peace (IRE) | Luca Cumani | Corey Brown | 53.5 | $26 | $26 |
| 14 | | Green Moon (IRE) | Robert Hickmott | Brett Prebble | 53.5 | $15 | $26 |
| 20 | | Lights Of Heaven (NZ) | Peter Moody | Luke Nolen | 53 | $67 | $67 |
| 24 | | Kelinni (IRE) | Chris Waller | Glen Boss | 51 | $301 | $301 |
| 10 | | Ethiopia | Pat Carey | Rhys McLeod | 53.5 | $26 | $26 |
| 7 | | Cavalryman (GB) | Saeed Bin Suroor | Frankie Dettori | 54 | $41 | $67 |
| 16 | | Mourayan (IRE) | Robert Hickmott | Hugh Bowman | 53.5 | $51 | $51 |
| 11 | | Fiorente (IRE) | Gai Waterhouse | James McDonald | 53.5 | $34 | $41 |
| 13 | | Glencadam Gold (IRE) | Gai Waterhouse | Tommy Berry | 53.5 | $51 | $67 |
| 9 | | Sanagas (GER) | Bart Cummings | Brad Rawiller | 54 | $41 | $67 |
| 23 | | Zabeelionaire (NZ) | Leon Corstens | Craig Newitt | 52 | $51 | $61 |
| 5 | | Winchester (USA) | John Sadler | Jamie Mott | 55.5 | $34 | $61 |
| 18 | | Niwot | Team Hawkes | Dwayne Dunn | 53.5 | $41 | $61 |
| 3 | | Jakkalberry (IRE) | Marco Botti | Colm O'Donoghue | 55.5 | $26 | $81 |
| 21 | | Precedence (NZ) | Bart Cummings | Steven Arnold | 53 | $101 | $101 |
| 6 | | Voila Ici | Peter Moody | Vlad Duric | 53 | $51 | $151 |
| 19 | | Tac De Boistron (FR) | Michael Kent | Olivier Doleuze | 55.5 | $21 | $121 |
| 22 | | Unusual Suspect (USA) | Michael Kent | Glyn Schofield | 53 | $81 | $301 |

2011 Melbourne Cup Odds & Betting Market

| | | | | | | |
| --- | --- | --- | --- | --- | --- | --- |
| Number | Silks | Horse Name | Trainer | Weight (kg) | Barrier | Opening Price |
| 3 | | Dunaden (FR) | Mikel Delzangles | 54.5 | 13 | $31 |
| 12 | | Red Cadeaux (GB) | Ed Dunlop | 53.5 | 16 | $61 |
| 9 | | Lucas Cranach (GER) | Anthony Freedman | 53.5 | 11 | $13 |
| 1 | | Americain (USA) | Alain de Royer Dupre | 58 | 15 | $20 |
| 6 | | Manighar (FR) | Luca Cumani | 54 | 21 | $51 |
| 15 | | Lost In The Moment (IRE) | Saeed Bin Suroor | 53 | 3 | $41 |
| 8 | | Fox Hunt (IRE) | Mark Johntson | 53.5 | 19 | $26 |
| 23 | | Niwot | Michael, Wayne & John Hawkes | 51 | 9 | $81 |
| 7 | | Unusual Suspect (USA) | Michael Kent | 54 | 7 | $41 |
| 17 | | At First Sight (IRE) | Robert Hickmott | 52.5 | 13 | $17 |
| 11 | | Precedence | Bart Cummings | 53.5 | 2 | $21 |
| 4 | | Drunken Sailor (IRE) | Luca Cumani | 54 | 8 | $41 |
| 21 | | The Verminator | Chris Waller | 52 | 4 | $151 |
| 22 | | Tullamore (NZ) | Gai Waterhouse | 52 | 12 | $31 |
| 18 | | Moyenne Corniche (GB) | Brian Ellison | 52 | 17 | $81 |
| 19 | | Saptapadi (IRE) | Brian Ellison | 52 | 22 | $101 |
| 24 | | Older Than Time | Gai Waterhouse | 51 | 20 | $41 |
| 13 | | Hawk Island (IRE) | Chris Waller | 53 | 18 | $51 |
| 14 | | Illo (GER) | Bart Cummings | 53 | 1 | $41 |
| 2 | | Jukebox Jury (IRE) | Mark Johnston | 57 | 6 | $31 |
| 20 | | Shamrocker (NZ) | Danny O'Brien | 52 | 24 | $26 |
| 5 | | Glass Harmonium (IRE) | Michael Moroney | 54 | 23 | $51 |
| 16 | | Modun (IRE) | Sir Michael Stoute | 53 | 5 | $41 |
| 10 | | Mourayan (IRE) | Robert Hickmott | 53.5 | 14 | $81 |