| DATE: | Tuesday, November 1, 2022 |
| --- | --- |
| VENUE: | Flemington Racecourse, 448 Epsom Rd, Flemington, VIC |
| DISTANCE: | 3200 metres |
| FIRST RUNNING: | 1861 |
| 2021 WINNER: | Verry Elleegant |
Everyone is an expert. Everyone reckons they have the winner. Every horse in the field is a chance, depending on who you speak to.
This is the story of the biggest race on the Australian thoroughbred calendar – the Melbourne Cup.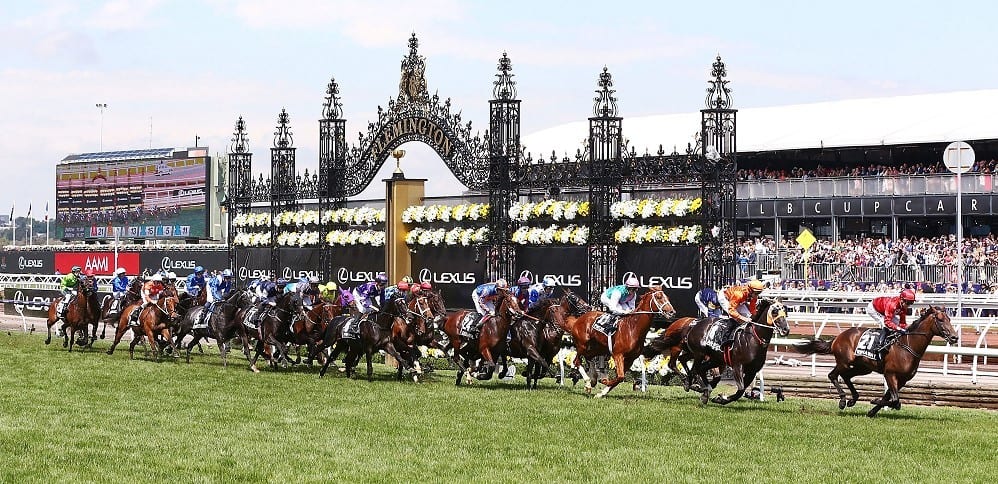 The Melbourne Cup – Flemington Racecourse
When it comes to the Melbourne Cup, you don't have to be a horse racing expert to have a bet — it is the race that brings a nation together.
Whether its grandma Beryl dropping a fiver on the horse that has the name she likes the most, or hardened punters splurging the big bucks on curious exotics, every one is united on the bet during the three and a half minute, two mile race as they cheer their charge home.
It might actually be inaccurate to call it the race that stops the nation. Perhaps the race that stops the world? The event is broadcast into 120 countries, with an estimated 700 million people tuning in to watch.
---
What is the Melbourne Cup?
The Melbourne Cup is the world's richest handicap race, with a prize pool in excess of AUD$7.75 million available to the 24-horse field. It is raced over 3200 metres and open to horses aged three years and older.
Being that it's a handicap event, the best horses are allocated weight penalties in order to level the playing field. The minimum weight is 49 kilograms, while the top weight must carry 57 kilograms or more. The handicapper declares the weights and then will allocate penalties – i.e., more weight – if any of the nominated runners win further big races in the lead up to the cup.
The Melbourne Cup race is held on the first Tuesday in November at the storied Flemington Racecourse in Melbourne, Australia. It is the main event of the Melbourne Cup Carnival (the Cup, the Derby, the Oaks and Stakes Day), which is part of the broader Melbourne Spring Racing Carnival.
Entries for the Melbourne Cup close during the first week of August. If there are more than 24 nominees, horses are balloted, with factors such as prize money, results in recent races and handicap weight taken into account to exclude runners.
Direct entry is gained if a horse wins one or more of the following races: Cox Plate, Caulfield Cup, Doncaster Cup (UK), Lexus Stakes, Mackinnon Stakes, Irish St. Leger (Ireland), Victoria Derby, Tenno Sho (Japan), Arlington Million (USA), Sankei Sho All Comers (Japan), San Juan Capistrano Handicap (USA), Australian Stayers Challenge.
---
2022 Melbourne Cup Field
| No. | Silks | Horse | Trainer | Jockey | Barrier | Weight | Odds |
| --- | --- | --- | --- | --- | --- | --- | --- |
| 1 | | Gold Trip | Ciaron Maher & David Eustace | Mark Zahra | 14 | 57.5kg | $13 |
| 2 | | Duais | Edward Cummings | Hugh Bowman | 10 | 55.5kg | $21 |
| 3 | | Knights Order | Gai Waterhouse & Adrian Bott | Tim Clark | 24 | 55.5kg | $21 |
| 4 | | Montefilia | David Payne | Jason Collett | 11 | 55.5kg | $11 |
| 5 | | Numerian | Annabel Neasham | Tommy Berry | 7 | 55.5kg | $61 |
| 6 | | Without A Fight | Simon & Ed Crisford | William Buick | 18 | 55.5kg | $11 |
| 7 | | Camorra | Ben & JD Hayes | Ben Melham | 17 | 55kg | $41 |
| 8 | | Deauville Legend | James Ferguson | Kerrin McEvoy | 9 | 55kg | $3.80 |
| 9 | | Stockman | Joseph Pride | Sam Clipperton | 2 | 54kg | $34 |
| 10 | | Vow And Declare | Danny O'Brien | Blake Shinn | 4 | 54kg | $18 |
| 11 | | Young Werther | Danny O'Brien | Damian Lane | 21 | 54kg | $26 |
| 12 | | Hoo Ya Mal | Gai Waterhouse & Adrian Bott | Craig Williams | 15 | 53.5kg | $21 |
| 13 | | Serpentine | Robert Hickmott | John Allen | 23 | 53.5kg | $61 |
| 14 | | Daqiansweet Junior | Phillip Stokes | Daniel Moor | 13 | 53kg | $51 |
| 15 | | Grand Promenade | Ciaron Maher & David Eustace | Harry Coffey | 1 | 53kg | $61 |
| 16 | | Arapaho | Bjorn Baker | Rachel King | 19 | 52.5kg | $101 |
| 17 | | Emissary | Mike Moroney | Patrick Moloney | 3 | 51.5kg | $21 |
| 18 | | Lunar Flare | Grahame Begg | Michael Dee | 12 | 51.5kg | $21 |
| 19 | | Smokin' Romans | Ciaron Maher & David Eustace | Jamie Kah | 16 | 51.5kg | $21 |
| 20 | | Tralee Rose | Symon Wilde | Dean Yendall | 22 | 51kg | $101 |
| 21 | | Point Nepean | Robert Hickmott | Wayne Lordan | 20 | 51kg | $71 |
| 22 | | High Emocean | Ciaron Maher & David Eustace | Teo Nugent | 8 | 50kg | $51 |
| 23 | | Interpretation | Ciaron Maher & David Eustace | Craig Newitt | 6 | 50kg | $41 |
| 24 | | Realm Of Flowers | Anthony & Sam Freedman | Damien Thornton | 5 | 50kg | $15 |
---
2022 Melbourne Cup betting odds
The 2022 Melbourne Cup odds look like this:
Odds for the 2022 Melbourne Cup 



Flemington - Race 7
Lexus Melbourne Cup
Status: Open
Track Rating: Soft7
Weather: Rain
AUS

3200m

03:00pm - Tue 1st Nov
Ciaron Maher & David Eustace
ᐅ
Edward Cummings
ᐅ
G Waterhouse & A Bott
ᐅ
David Payne
ᐅ
Annabel Neasham
ᐅ
Simon & Ed Crisford
ᐅ
Ben & Jd Hayes
ᐅ
James Ferguson
ᐅ
Joseph Pride
ᐅ
Danny O'brien
ᐅ
Danny O'brien
ᐅ
G Waterhouse & A Bott
ᐅ
Robert Hickmott
ᐅ
Phillip Stokes
ᐅ
Ciaron Maher & David Eustace
ᐅ
Bjorn Baker
ᐅ
Michael Moroney
ᐅ
Grahame Begg
ᐅ
Ciaron Maher & David Eustace
ᐅ
Symon Wilde
ᐅ
Robert Hickmott
ᐅ
Ciaron Maher & David Eustace
ᐅ
Ciaron Maher & David Eustace
ᐅ
A & S Freedman
ᐅ
Complete Melbourne Cup odds available at Ladbrokes.
---
Best bookmakers for the 2022 Melbourne Cup
Any bookmaker worth their salt will have a number of bonuses and specials available in the lead up to the Melbourne Cup.
So which online book is going to deliver the best service for you?

Best Bookies for the Melbourne Cup
The truth of the matter is, the bookmakers we recommend all bring their absolute A-game to the Melbourne Cup.
Whether it's Ladbrokes, Bet365 or Neds, you're going to get a quality service, quality bonus offers and more.
So what we recommend is that you have an account with each and every one of them, to ensure you are getting the best odds on your big Melbourne Cup tip.
It costs nothing to open an account at these online bookmakers and once you have one, you'll be able to compare odds, take advantage of the best specials available to you and make sure that you're maximising every cent you punt on the big race.
---
2022 Melbourne Cup Final Field
The final field for the 2022 Melbourne Cup will be released on Saturday, October 29, 2022.
---
Previous Melbourne Cup Fields
2021 Melbourne Cup Field
No.
Silks
Horse
Trainer
Jockey
Barrier
Weight
Odds
1
Twilight Payment
Joseph O'Brien
Jye McNeil
2
58kg
$11
2
Incentivise
Peter Moody
Brett Prebble
16
57kg
$2.50
3
Spanish Mission
Andrew Balding
Craig Williams
14
57kg
$9
4
Verry Elleegant
Chris Waller
James McDonald
19
57kg
$15
5
Explosive Jack
C Maher & D Eustace
John Allen
4
54kg
$51
6
The Chosen One
M Baker & A Forsman
Damian Lane
5
54kg
$61
7
Delphi
A & S Freedman
Damien Oliver
3
53.5kg
$41
8
Ocean Billy
Chris Waller
Damian Thornton
13
53.5kg
$101
9
Selino
Chris Waller
Ron Stewart
24
53.5kg
$151
10
Johnny Get Angry
Denis Pagan
Lachlan King
22
53kg
$101
11
Knights Order
G Waterhouse & A Bott
Daniel Stackhouse
9
53kg
$201
12
Persan
C Maher & D Eustace
Luke Currie
11
53kg
$31
13
Carif
P & P Snowden
Blaike McDougall
8
52.5kg
$201
14
Master Of Wine
Team Hawkes
Fred Kersley
6
52.5kg
$101
15
Pondus
Robert Hickmott
Rachel King
1
52.5kg
$41
16
Grand Promenade
C Maher & D Eustace
Kerrin McEvoy
21
52kg
$21
17
Miami Bound
Danny O'Brien
Patrick Moloney
17
52kg
$151
18
Port Guillaume
Ben & JD Hayes
Harry Coffey
23
52kg
$151
19
She's Ideel
Bjorn Baker
Craig Newitt
20
52kg
$101
20
Future Score
Matt Cumani
Dean Yendall
15
51.5kg
SCR
21
Tralee Rose
Symon Wilde
Dean Holland
12
51kg
$17
22
Floating Artist
C Maher & D Eustace
Teo Nugent
10
50kg
$18
23
Great House
Chris Waller
Michael Dee
7
50kg
$31
24
Sir Lucan
G Waterhouse & A Bott
Glen Boss
18
50kg
$26

2020 Melbourne Cup Field
No.
Silks
Horse
Trainer
Jockey
Barrier
Weight
Odds
1
Anthony Van Dyck
Aidan O'Brien
Hugh Bowman
3
58.5kg
$8.50
2
Avilius
James Cummings
John Allen
10
57kg
$51
3
Vow And Declare
Danny O'Brien
Jamie Mott
4
57kg
$51
4
Master Of Reality
Joseph O'Brien
Ben Melham
11
56kg
$26
5
Sir Dragonet
C Maher & D Eustace
Glen Boss
14
55.5kg
$10
6
Twilight Payment
Joseph O'Brien
Jye McNeil
12
55.5kg
$31
7
Verry Elleegant
Chris Waller
Mark Zahra
15
55.5kg
$13
8
Mustajeer
Kris Lees
Michael Rodd
2
55kg
$101
9
Stratum Albion
Willie Mullins
Jordan Childs
9
55kg
$47
10
Dashing Willoughby
Andrew Balding
Michael Walker
19
54.5kg
$101
11
Finche
Chris Waller
James McDonald
6
54.5kg
$19
12
Prince Of Arran
Charlie Fellowes
Jamie Kah
1
54.5kg
$12
13
Surprise Baby
Paul Preusker
Craig Williams
7
54.5kg
$9.50
14
King Of Leogrance
Danny O'Brien
Damian Lane
18
53.5kg
SCR
15
Russian Camelot
Danny O'Brien
Damien Oliver
16
53.5kg
$13
16
Steel Prince
A & S Freedman
William Pike
21
53.5kg
$44
17
The Chosen One
M Baker & A Forsman
Daniel Stackhouse
5
53.5kg
$42
18
Ashrun
Andreas Wohler
Declan Bates
24
53kg
$23
19
Warning
A & S Freeman
Luke Currie
8
53kg
$51
20
Etah James
C Maher & D Eustace
Billy Egan
22
52.5kg
$201
21
Tiger Moth
Aidan O'Brien
Kerrin McEvoy
23
52.5kg
$8.60
22
Oceanex
M Price & M Kent jnr
Dean Yendall
17
51.5kg
$101
23
Miami Bound
Danny O'Brien
Daniel Moor
21
51kg
$41
24
Persan
C Maher & D Eustace
Michael Dee
20
51kg
$42
---
Recent Melbourne Cup results
PLACE
HORSE
TRAINER
JOCKEY
WIN ODDS
PLACE ODDS
1st
VERRY ELLEGANT
Chris Waller
James McDonald
$16.50
$4.50
2nd
INCENTIVISE
Peter Moody
Brett Prebble
$2.00
3rd
SPANISH MISSION
Andrew Balding
Craig Williams
$3.30
4th
FLOATING ARTIST
Ciaron Maher & David Eustace
Teo Nugent
QUINELLA:
$18.60
TRIFECTA:
$356.10
FIRST FOUR:
$4829.70

| PLACE | HORSE | TRAINER | JOCKEY | WIN ODDS | PLACE ODDS |
| --- | --- | --- | --- | --- | --- |
| 1st | TWILIGHT PAYMENT | Joseph O'Brien | Jye McNeil | $26.00 | $6.00 |
| 2nd | TIGER MOTH | Aidan O'Brien | Kerrin McEvoy | | $2.75 |
| 3rd | PRINCE OF ARRAN | Charlie Fellows | Ms Jamie Kah | | $3.40 |
| 4th | THE CHOSEN ONE | Murray Baker & Andrew Forsman | Daniel Stackhouse | | |
| | | | | QUINELLA: | $97.20 |
| | | | | TRIFECTA: | $1806.00 |
| | | | | FIRST FOUR: | $38,939.00 |
---
Key Melbourne Cup dates in history
The first incarnation of the Melbourne Cup was run on a Thursday way back in 1861. It is now one of the most time-honoured sporting events in Australian history, running every year since. It even survived the two World Wars.


After starting small, the event quickly gathered steam and, by 1873, it was so popular that people were shirking their work and family responsibilities to make sure they were able to watch the race. This led to it being declared a public holiday by authorities in Victoria that year.

The first bookmakers were given licences to operate at Flemington in 1882. The TAB first operated that year, although it wasn't a recognised entity until 1961.

The race was dominated by Australian-trained horses until 1993, when Vintage Crop became the first international raider to win the Melbourne Cup. These days, there are often 30 or more nominations from overseas horses.

154 years after the running of the first Melbourne Cup, experienced rider Michelle Payne created history, becoming the first female jockey to ride the winner of the race that stops the nation, aboard Prince of Penzance, paying an astonishing $101 to win. The story of her victory has since been sold to a movie production company.
---
Tips on how to bet on the Melbourne Cup
We mentioned it's the biggest single punting event in Australia and we weren't lying. Australians drop more than $200 million on the race each year – that's about nine bucks per head of population. It's an amazing figure, but there are riches to be made.
Because there is rarely a sure-fire winner, win and place odds are superb even at the top end of the market. With outsiders often sneaking into the top four, exotics can run into the hundreds of thousands of dollars.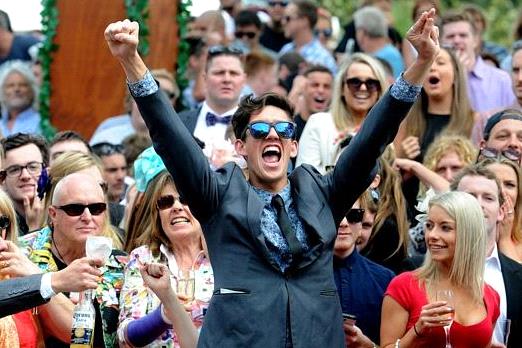 Outside of the major betting companies, there are often cup sweeps, usually at workplaces or gatherings of friends and families, where people can buy in and get random horses drawn out of a hat. Winners and place getters usually get the spoils of the prize pool, and the last place getter will usually get their money back.
Here's a short list of some of the ways you can bet on the Melbourne Cup:

Win bets are fairly self explanatory. You select the horse you want to win, decide how much you want to bet on it and hope it crosses the finish line first. It's not rocket science. We would advise that you check the form guide and try to make an informed decision, but the usual rules of punting go out the door on Melbourne Cup day.

More chances, lower odds. The horse you back with your place bet must run either first, second, or third for you to win cash.

A bit of a hedge, this gives you the enhanced winner's odds, while also giving you an opportunity to secure a consolation if the horse runs a drum. So if it runs first, you get a dividend for both the win and place bet, while if it comes in second or third, you forfeit the win wager, but still get a pay out on the place.

It gets a little harder here. With quinella bets, you need two or more selections and at least two of your picks must finish first and second in the race for you to collect cash. It doesn't matter what order they come in, provided they are boxed.

An exacta is similar to a quinella, except you must select the exact order in which your horses will finish. So your selections must come first and second in the race, in the order that you pick them. You can have more than one selection to finish first and more than one to finish second, but the bet will cost you more.

Pick two or more horses and provided two of them finish either first, second, or third, your duet is a winner. Long story short, your picks can come first and second, first and third, or second and third, and you still win.

One of the most popular exotics, this is picking the first three horses to finish. A standard trifecta requires you to pick the exact finishing order of each selection; a boxed trifecta, which costs a little extra, has no such requirement. It's not as easy as it sounds, though, especially when there are 24 horses in the race.

This of this as a trifecta on steroids. Instead of three, you need four correct finishers – first, second, third and fourth – to collect your bet. It's near on impossible, but, if you manage it, you can get rich. In 2013, the first four in the cup paid more the $1 million in some states. Not bad juice if you can get it.

You can bet on the Melbourne Cup all year round. Online bookies will often put out markets for the next race moments after the completion of that year's run. Odds will fluctuate greatly as more horses nominate and those horses that win big races get direct entry.
Recommended!
---
Quick tips for betting on the Melbourne Cup
First and foremost, make sure you're punting within your means, even if it is the Melbourne Cup. Don't spend the rent money on a Cup runner in the hopes of getting it back. It's bad business. Make sure all your obligations are met and then use your disposable income.
Make sure you have multiple betting accounts. This is how you find the best odds on your Melbourne Cup runner – and take advantage of the best betting conditions you will find.
Check the form! Yes, we know said this is out the door, because, for many people, it's the only time they will bet in the season, but even finding out how the horse has fared over distance races and in recent outings can help inform your decision.
---
Notable Melbourne Cup runners and champions
Winning the Melbourne Cup does not guarantee legend status. Some horses, for whatever reason, become household names. Others win the race and then fade into obscurity. It's all about the story in most cases. The tear jerkers or the super winners often make their way into the nation's collective heart.
Here are some of our best and brightest winners:
Mighty Phar Lap, whose name transcends the race, won the Melbourne Cup in 1930, during the Great Depression.

Phar Lap is one of the greatest thoroughbreds to ever race in the Melbourne Cup.

Archer was the first ever winner of the Melbourne Cup in 1861. It went back to back a year later.
Only five horses have won the race more than once. Perhaps the most memorable of those was the superstar Makybe Diva, which took home the cup three years in a row from 2003 to 2005.
Kingston Rule won the race in 1990 with a record time of 3.16.3.
Martini-Henry was the first internationally bred horse to win the cup, way back in 1883. More than 100 years later, in 1993, Irish stayer Vintage Crop became the first overseas-based runner to win it. Since then, the influence of horses from the UK, Ireland, France, Germany and Japan has grown significantly.
Sheila Laxon became the first woman to officially win the Melbourne Cup when her horse Ethereal won the 2001 race. We say 'officially' because Mrs Allan McDonald was credited as her husband for Catalogue's 1938 at a time when women were not allowed to attain horse training licences in Australia.
 Phar Lap was a hero of the people in very dark times.
Fighting through the loss of his brother, fellow jockey Jason Oliver, top Melbourne hoop Damien Oliver steered his mount, Media Puzzle to victory in 2002, fighting back tears as he remembered his brother moments after the race.
One trainer stands above all in Melbourne Cups. That is the great Bart Cummings, who has won the race a record 12 times, his first in 1965 and most recent in 2008. The next best are Lee Freedman and Etienne de Mestre, with five each.
---
Interesting Melbourne Cup facts

The race isn't exactly two miles (3219 metres). It used to be, but was shortened in 1972 to 1.988 miles (3200 metres) when Australia adopted the metric system.

While these days it attracts the most glamorous pap from across the spectrum of the sporting and entertainment world, the Melbourne Cup was once visited by the great American author Mark Twain. His 1895 visit prompted him to muse: "Nowhere in the world have I encountered a festival of people that has such a magnificent appeal to the whole nation. The Cup astonishes me." That's a pretty good review, in any one's language.

In a bid to encourage more women to attend the cup, the first Fashions on the Field was held in 1962. These days the fine frocks and fancy suits are all the rage at the cup, with both men and women buying into the competitions, with big prizes for best dressed available.

The limit for runners is 24, but that wasn't always the case. We would not have wanted to be a jockey when the largest field of 39 runners trotted onto the track in 1890.

While the prize money is what winners really want, the Melbourne Cup trophy is actually worth an amazing $175,000. It's made out of 18 carat gold every year, has three handles and is known as 'The Loving Cup'.
---
List of Melbourne Cup winners
| YEAR | WINNER | JOCKEY | TRAINER |
| --- | --- | --- | --- |
| 2021 | Verry Elleegant | James McDonald | Chris Waller |
| 2020 | Twilight Payment | Jye McNeil | Joseph O'Brien |
| 2019 | Vow And Declare | Craig Williams | Danny O'Brien |
| 2018 | Cross Counter | Kerrin McEvoy | Charlie Appleby |
| 2017 | Rekindling | Damien Lane | Joseph O'Brien |
| 2016 | Almandin | Kerrin McEvoy | Robert Hickmott |
| 2015 | Prince of Penzance | Michelle Payne | Darren Weir |
| 2014 | Protectionist | Ryan Moore | Andreas Wohler |
| 2013 | Fiorente | Damien Oliver | Gai Waterhouse |
| 2012 | Green Moon | Brett Prebble | Robert Hickmott |
| 2011 | Dunaden | Christophe Lemaire | Mikel Delzangles |
| 2010 | Americain | Gerald Mosse | Alain de Royer-Dupre |
| 2009 | Shocking | Corey Brown | Mark Kavanagh |
| 2008 | Viewed | Blake Shinn | Bart Cummings |
| 2007 | Efficient | Michael Rodd | Graeme Rogerson |
| 2006 | Delta Blues | Yasunari Iwata | Katsuhiko Sumii |
| 2005 | Makybe Diva | Glen Boss | Lee Freedman |
| 2004 | Makybe Diva | Glen Boss | Lee Freedman |
| 2003 | Makybe Diva | Glen Boss | David Hall |
| 2002 | Media Puzzle | Damien Oliver | Dermot K. Weld |
| 2001 | Ethereal | Scott Seamer | Sheila Laxon |
| 2000 | Brew | Kerrin McEvoy | Mike Moroney |
| 1999 | Rogan Josh | John Marshall | Bart Cummings |
| 1998 | Jezabeel | Chris Munce | Brian Jenkins |
| 1997 | Might and Power | Jim Cassidy | Jack Denham |
| 1996 | Saintly | Darren Beadman | Bart Cummings |
| 1995 | Doreimus | Damien Oliver | Lee Friedman |
| 1994 | Jeune | Wayne Harris | David Hayes |
| 1993 | Vintage Crop | Michael Kinane | Dermot K. Weld |
| 1992 | Subzero | Greg Hall | Lee Freedman |
| 1991 | Let's Elope | Steven King | Bart Cummings |
| 1990 | Kingston Rule | Darren Beadman | Bart Cummings |
| 1989 | Tawriffic | Shane Dye | Lee Freedman |
| 1988 | Empire Rose | Tony Allan | Laurie Laxon |
| 1987 | Kensei | Larry Olsen | Les J. Bridge |
| 1986 | At Talaq | Michael Clarke | C. S. Hayes |
| 1985 | What A Nuisance | Pat Hyland | John Meagher |
| 1984 | Black Knight | Peter Cook | George Hanlon |
| 1983 | Kiwi | Jim Cassidy | Ewen S. Lipton |
| 1982 | Gurner's Lane | Mick Dittman | Geoff T. Murphy |
| 1981 | Just A Dash | Peter Cook | T. J. Smith |
| 1980 | Beldale Ball | John Letts | C. S. Hayes |
| 1979 | Hyperno | Harry White | Bart Cummings |
| 1978 | Arwon | Harry White | George Hanlon |
| 1977 | Gold and Black | John Duggan | Bart Cummings |
| 1976 | Van der Hum | Robert J. Skelton | Len H. Robinson |
| 1975 | Think Big | Harry White | Bart Cummings |
| 1974 | Think Big | Harry White | Bart Cummings |
| 1973 | Gala Supreme | Frank Reys | Ray J. Hutchins |
| 1972 | Piping Lane | John Letts | George Hanlon |
| 1971 | Silver Knight | R. Bruce Marsh | Eric Temperton |
| 1970 | Baghdad Note | Midge Didham | Robert Heasley |
| 1969 | Rain Lover | Jim Johnson | Mick L. Robins |
| 1968 | Rain Lover | Jim Johnson | Mick L. Robins |
| 1967 | Red Handed | Roy Higgins | Bart Cummings |
| 1966 | Galilee | John Miller | Bart Cummings |
| 1965 | Light Fingers | Roy Higgins | Bart Cummings |
| 1964 | Polo Prince | Ron Taylor | John B. Carter |
| 1963 | Gatum Gatum | Jim Johnson | H. Graeme Heagney |
| 1962 | Even Stevens | Les Coles | Arch McGregor |
| 1961 | Lord Fury | Ray Selkrig | Frank B. Lewis |
| 1960 | Hi Jinx | William A. Smith | Trevor H. Knowles |
| 1959 | Macdougal | Pat Glennon | Richard W. Roden |
| 1958 | Baystone | Mel Schumacher | Jack Green |
| 1957 | Straightdraw | Noel L. McGrowdie | J. M. Mitchell |
| 1956 | Evening Peel | George Podmore | E. D. Lawson |
| 1955 | Toparoa | Neville Selwood | T. J. Smith |
| 1954 | Rising Fast | Jack Purtell | Ivan Tucker |
| 1953 | Wodalla | Jack Purtell | Robert Sinclair |
| 1952 | Dalray | Bill Williamson | C. C. McCarthy |
| 1951 | Delta | Neville Selwood | Maurice McCarten |
| 1950 | Comic Court | Pat Glennon | J. M. Cummings |
| 1949 | Foxzami | William Fellows | D. Lewis |
| 1948 | Rimfire | Ray Neville | Stan Boyden |
| 1947 | Hiraji | Jack Purtell | J. W. McCurley |
| 1946 | Russia | Darby Munro | E. Hush |
| 1945 | Rainbird | Billy Cook | S. Evans |
| 1944 | Sirius | Darby Munro | E. Fisher |
| 1943 | Dark Felt | Vic Hartney | Ray Webster |
| 1942 | Colonus | H. McLeod | F. Manning |
| 1941 | Skipton | Billy Cook | J. Fryer |
| 1940 | Old Rowley | Andy Knox | J. A. Scully |
| 1939 | Rivette | Ted Preston | Harry Bamber |
| 1938 | Catalogue | F. Shean | Mrs. Allan McDonald |
| 1937 | The Trump | Ashleigh Reed | S. W. Reid |
| 1936 | Wotan | Ossie Phillips | J. Fryer |
| 1935 | Marabou | K. Voitre | Lou Robertson |
| 1934 | Peter Pan | Darby Munro | Frank McGrath, Sr. |
| 1933 | Hall Mark | J. O'Sullivan | Jack Holt |
| 1932 | Peter Pan | Bill Duncan | Frank McGrath, Sr. |
| 1931 | White Nose | N. Percival | E. J. Hatwell |
| 1930 | Phar Lap | James E. Pike | Harry R. Telford |
| 1929 | Nightmarch | Roy Reed | A. McAulay |
| 1928 | Statesman | James L. Munro | William Kelso |
| 1927 | Trivalve | Bobby Lewis | James Scobie |
| 1926 | Spearfelt | Hugh Harold Cairns | V. O'Neill |
| 1925 | Windbag | James L. Munro | George R. Price |
| 1924 | Backwood | Bunty Brown | Richard Bradfield |
| 1923 | Bitalli | Titch Wilson | James Scobie |
| 1922 | King Ingoda | Titch Wilson | James Scobie |
| 1921 | Sister Olive | Ted O'Sullivan | J. Williams |
| 1920 | Poitrel | Ken Bracken | H. J. Robinson |
| 1919 | Artilleryman | Bobby Lewis | P. T. Heywood |
| 1918 | Night Watch | Bill Duncan | Richard Bradfield |
| 1917 | Westcourt | William H. McLachlan | Joe Burton |
| 1916 | Sasanof | F. Foley | M. Hobbs |
| 1915 | Patrobas | Bobby Lewis | C. Wheeler |
| 1914 | Kingsburgh | George Meddick | Isaac Foulsham |
| 1913 | Posinatus | A. Shanahan | J. Chambers |
| 1912 | Piastre | A. Shanahan | R. O'Connor |
| 1911 | The Parisian | R. Cameron | C. Wheeler |
| 1910 | Comedy King | William H. McLachlan | James Lynch |
| 1909 | Prince Foote | William H. McLachlan | Frank McGrath, Sr. |
| 1908 | Lord Nolan | J. R. Flynn | E. A. Mayo |
| 1907 | Apologue | Bill Evans | Isaac Earnshaw |
| 1906 | Poseidon | Tom Clayton | Isaac Earnshaw |
| 1905 | Blue Spec | Frank Bullock | Walter Hickenbotham |
| 1904 | Arcasia | Tom Clayton | A. E. Wills |
| 1903 | Lord Cardigan | Norman Godby | A. E. Cornwell |
| 1902 | The Victory | Bobby Lewis | Richard Bradfield |
| 1901 | Revenue | Frederick J. Dunn | Hugh Munro |
| 1900 | Clean Sweep | Andrew Richardson | James Scobie |
| 1899 | Merriwee | V. Turner | James Wilson, Jr. |
| 1898 | The Grafter | John Gough | William Forrester |
| 1897 | Gaulus | Stephen Callinan | William Forrester |
| 1896 | Newhaven | H. J. Gardiner | Walter Hickenbotham |
| 1895 | Auraria | J. Stevenson | J. H. Hill |
| 1894 | Patron | Henry G. Dawes | Richard Bradfield |
| 1893 | Tarcoola | Herbert Cripps | Joseph Cripps |
| 1892 | Glenloth | G. Robson | M. Carmody |
| 1891 | Malvolio | G. Redfearn | J. Redfearn |
| 1890 | Carbine | Robert Ramage | Walter Hickenbotham |
| 1889 | Bravo | Jack Anwin | T. Wilson |
| 1888 | Mentor | Mick O'Brien | Walter Hickenbotham |
| 1887 | Dunlop | Tommy Sanders | J. Nicholson |
| 1886 | Arsenal | W. English | H. Rayner |
| 1885 | Sheet Anchor | Mick O'Brien | T. Wilson |
| 1884 | Malua | Alick Robertson | Isaac Foulsham |
| 1883 | Martini-Henry | J. Williamson | Michael Fennelly |
| 1882 | The Assyrian | C. Hutchins | J. E. Savill |
| 1881 | Zulu | Jim Gough | T. Lamond |
| 1880 | Grand Flaneur | Thomas Hales | T. Brown |
| 1879 | Darriwell | S. Cracknell | W. E. Dakin |
| 1878 | Calamia | T. Brown | Etienne de Mestre |
| 1877 | Chester | P. Pigott | Etienne de Mestre |
| 1876 | Briseis | Peter St. Albans | James Wilson |
| 1875 | Wollomai | R. Batty | S. Moon |
| 1874 | Haricot | P. Pigott | S. Harding |
| 1873 | Don Juan | W. Wilson | James Wilson |
| 1872 | The Quack | W. Enderson | John Tait |
| 1871 | The Pearl | J. Cavanagh | John Tait |
| 1870 | Nimblefoot | J. Day | W. Lang |
| 1869 | Warrior | J. Morrison | R. Sevior |
| 1868 | Glencoe | C. Stanley | John Tait |
| 1867 | Tim Whiffler | John Driscoll | Etienne de Mestre |
| 1866 | The Barb | W. Davis | John Tait |
| 1865 | Toryboy | E. Cavanagh | P. Miley |
| 1864 | Lantern | S. Davis | S. Mahon |
| 1863 | Banker | H. Chifney | Sam Waldock |
| 1862 | Archer | John Cutts | Etienne de Mestre |
| 1861 | Archer | John Cutts | Etienne de Mestre |
---
Melbourne Cup Guides: