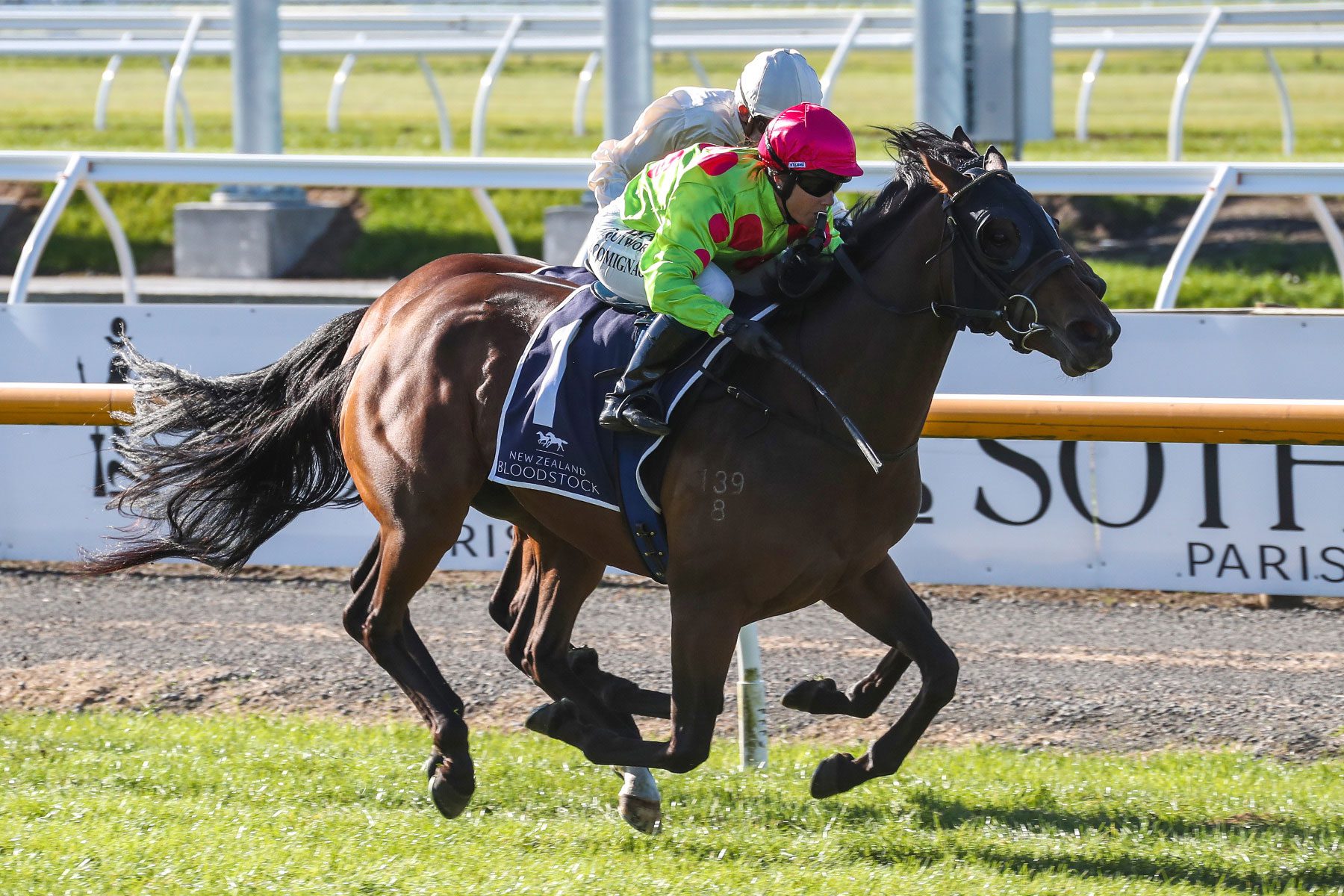 Reputabelle is in prime order for her bid to become just the third filly to sweep the autumn legs of the South Island filly of the year series.
That's the word from Riccarton trainers Michael and Matthew Pitman on the eve of the Listed New Zealand Bloodstock Warstep Stakes (2000m) on their home track.
Pins filly Reputabelle goes into the race having won her last four starts, including the previous two legs of the series, which for the past 22 years has been sponsored by New Zealand Bloodstock.
In that time, only Madam Victoria, in 2014, has won all three races: the Listed NZB Airfreight Stakes (1400m) at Wingatui, the Listed NZB Insurance Stakes (1600m) at Riccarton and the Warstep.
Before her, Group One winner Seamist completed the treble in 1990.
"We're very happy with her. This was always going to be the main event for her," Michael Pitman said of Reputabelle.
"I guess what's on the line for her in this one is South Island's leading three-year-old."
Reputabelle overcame a wide run to win the NZB Airfreight Stakes by 5.75 lengths then accounted for most of her Warstep Stakes rivals in the NZB Insurance Stakes, albeit by a smaller margin, to set her up for a shot at the treble.
Bookmakers have made her a +150 favourite despite her stepping up to 2000m for the first time in her career.
"She's not bred to go 2000m but I remember Dianne (Pitman's wife) used to look after a horse called Gretna Green and she was a pure 1200m horse and she won it (in 1979)," Pitman said.
"And we won it with a horse called Kims Coup (in 2004). She beat Vouvray, who won the Queensland Oaks at her next start. But she was a 1200-1400m horse.
"Her (Reputabelle's) biggest asset is her ability to get there and go to sleep. Two starts back, she was never closer than three and four wide but still won by five (lengths) and the other day she did a bit of work early but then settled once she got there and ran the 1600m out strongly.
"(Jockey) Tina Comignaghi said afterwards 'well, that's the easiest two stakes winners I've ridden'. She said she won with a lot more in hand than it looked."
Pitman said Reputabelle was likely to spell after Saturday's race before she was given the chance to emulate Group 1 New Zealand Oaks (2400m) winner Savvy Coup, who won the Group 1 Livamol Classic (2040m) at Hastings in 2018, having first run fifth in the Group 1 Tarzino Trophy (1400m) and then second in the Group 1 Windsor Park Plate (1600m) at the same track.
"She's Savvy Coup reincarnated. She's so much like her it's unbelievable – in her characteristics, physique, everything," Pitman said.
"Savvy Coup was never bred to go over distances but I told (co-owner) Jim Bruford I'd win the Oaks with her before she had even raced – and this filly is much the same. Just like Savvy Coup was, she's a lovely horse to do anything with.
"I'd love to have a crack at the Hawke's Bay triple crown with her next season, like we did with Savvy Coup. She'll probably have six weeks in the paddock after this so that she's up and ready to go for that again.
"She'll really mature with a spell too. She hasn't been over-taxed. This will only be her sixth start for the preparation. She kicked off at Kumara and has gone ahead in leaps and bounds since."
The Pitmans have 12 runners accepted for Saturday's meeting with much interest in two Tavistock two-year-olds, Garden City and Tavanasia, on debut earlier in the day.
"Garden City is a lovely filly. She's won her last two trials. She has drawn out a bit in a strong field but she'll make a really nice three-year-old. We'd expect her to be a stakes-performing filly next season.
"Tavanasia is a half-brother to the Rosehill Guineas winner Zabrasive. He's been a bit of a slow learner but the penny has started to drop now.
"We've got a nice, even team to take to the races overall. We think a fair bit of Tomyturbo. We gave him a let-up after his last one and he'll no doubt find some improvement after this but he's a really nice horse going forward. And we've got a first-starter on Saturday called Star Ballot who has shown us a fair bit too."
More New Zealand horse racing news