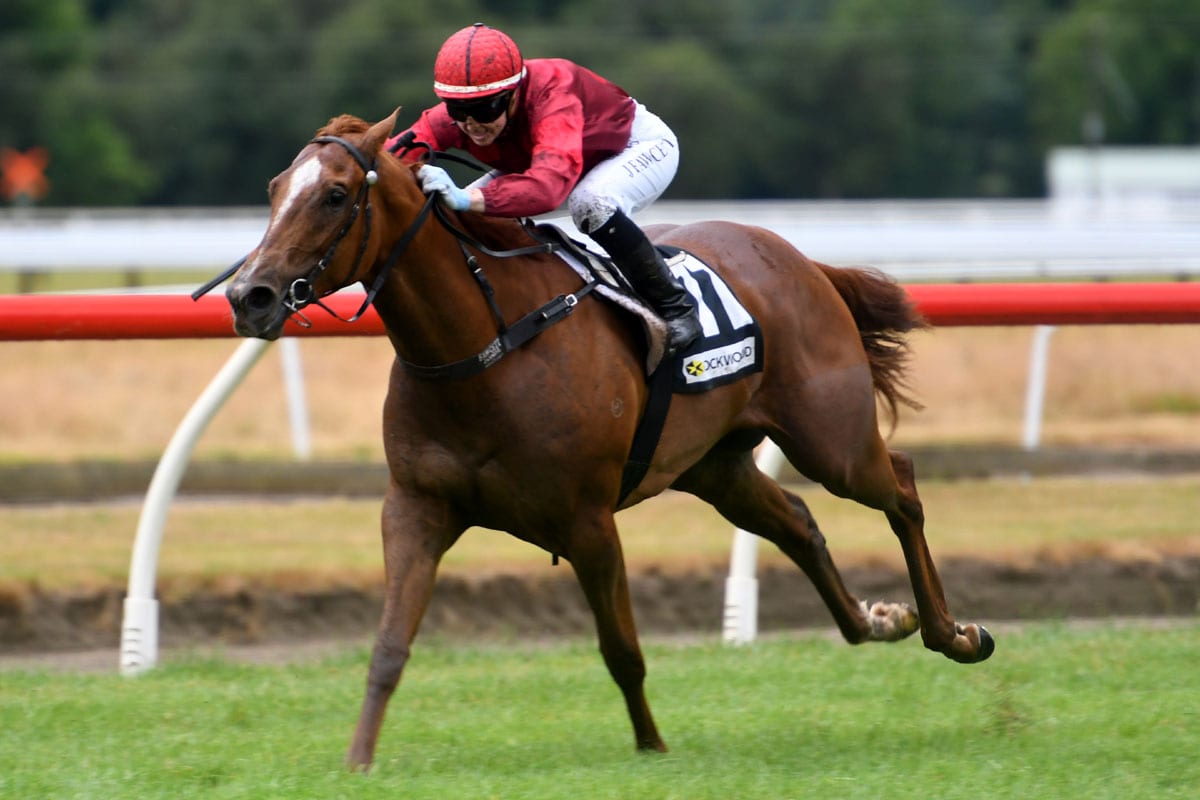 Estimated Reading Time: <1 minutes
Promising New Zealand two-year-olds Dream Queen and Follow Your Dreams will meet for the first and potentially the last time at Ruakaka on Saturday.
The Ken Rae and Krystal Williams-Tuhoro-trained pair will contest the 21 August Cambridge Stud Northland Breeders' Stakes (1100m) before heading in opposite directions.
Dream Queen is currently under offer but if her sale falls through she will likely head to Otaki next month for the Listed Ryder Stakes (1200m), while Follow Your Dreams will prepare for his Classic season.
"They are both forward enough and have been working good enough. On paper they are the best two in the field, but with two-year-olds you don't know for sure," Rae said.
"I try not to race them together. When you have got a small team and two decent horses, you have to try and split them up.
"Dream Queen is supposed to have been sold, but the money hasn't come through yet, so at this stage she is definitely starting on Saturday."
Both juveniles won their respective trials at Avondale on a Heavy track earlier this month and Rae said Dream Queen thrived in the wet conditions.
"If she isn't sold, she will head to the Ryder Stakes. She seemed to handle the wet track a bit better at the trials," Rae said.
While the daughter of Super Easy appears to flourish in wet conditions, Rae said she is a very adaptable filly.
"She is a fast little horse," he said. "She won on a Heavy10 and I backed her up a week later and she ran second to On The Bubbles on a Dead4."
Rae is utilising Tegan Newman's two-kilogram claim with Follow Your Dreams, believing he needs more level terms to be competitive with his stablemate.
"He is a really nice and level-headed colt," Rae said. "Craig Grylls was meant to ride him but he is committed to the Valachi Downs horse.
"Tegan Newman will ride him because he has got top weight at 58.5kg. The only reason I put a claimer on him is because I don't think he can beat the filly (55.5kg) with giving her too big a weight."
Follow Your Dreams has had a pleasing juvenile season, winning two races and placing in the Listed Welcome Stakes (1000m), but Rae said his biggest regret was having him up for so long ahead of the Karaka Million 2YO (1200m).
"He went around as one of the favourites for the Karaka Million, but I had him up too long," Rae said. "That was my first starter in the race and when he was under offer, the guy asked me 'do you have an excuse for the Karaka Million?' I said I probably stuffed up having him in work for too long."
Rae has put that behind him and is looking forward to his Classic season next term.
"I will take it one step at a time with him," Rae said. "Our dream is the 2000 Guineas (Group 1, 1600m), the reality is the Northland Breeders' Stakes (Group 3, 1200m) on his home track."
Stablemate Vin Diesel will also represent the stable in the same race on Saturday, making his raceday debut after placing in his 900m trial at Ellerslie on Tuesday.
"He trialled nicely at Ellerslie yesterday with the apprentice on him and he is just in for education," Rae said.
"He is going to be a nice three-year-old over further ground, but it is his home track, so he will go around."
Rae will also line-up last start winner Irish Girl in the Northpine Waipu Cup (1400m) and will once again utilise the services of apprentice jockey Tegan Newman.
"I have put Tegan Newman back on her. She has ridden her before for three starts, a second and a fourth," Rae said. "She is a very smart horse."
Newman will also be aboard Eva James in the Mountfield Quarry (1200m), with Rae believing she will need the weight relief to be competitive against stablemate Gigolo George.
"She needs to claim to get her weight down a little bit to beat Gigolo George. I don't think she can give him weight and beat him," Rae said.
Meanwhile, stable veterans Kaharau and Major Tom will head to Hastings on Saturday.
Evergreen galloper Kaharau will make his jumping debut in the Hawke's Bay Hunt Maiden Hurdle (2500m), while Major Tom will contest the Birchleigh Polo club 2100.
"Jess Brosnan and Emily Farr are in charge of those two," Rae said. "Emily talked me into giving Kaharau a hurdle race.
"Any horse needs to prove themselves, but I think he is going to make a jumper, but he is not going to be like some of these horses going around as 11-year-olds who have had two wins from 20 starts, that won't be happening. He will either front-up or he is not going to do it."
If he performs up to expectations a trip across the Tasman might be on the cards.
"His jumping trial was impressive and he loves it," Rae said.
"He was only up against some average horses, but he won well and I said to Emily that was impressive, and she said 'he was only in second gear, if I go and win a race by seven lengths or more at Hastings, let's take this horse to Aussie'.
"I will leave it in her hands, she loves the horse just as much as me."
While competing on the flat this weekend, a jumping career is also in the offing for Major Tom.
"He might have a hurdle race this year, we will just see how he goes," Rae said.