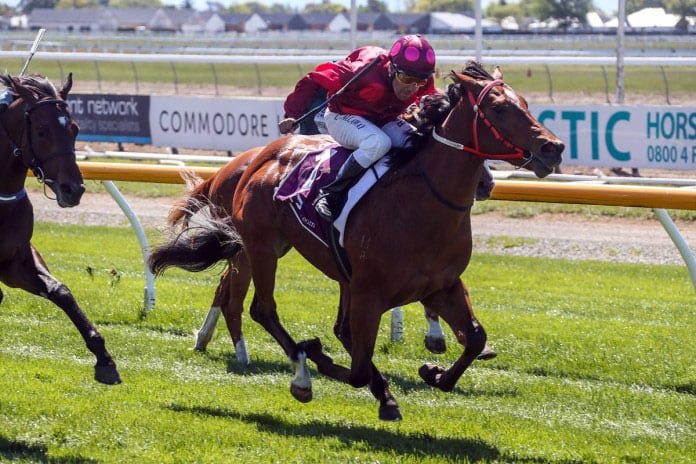 A lot of people dread winter, but not Kenny Rae.
The Ruakaka trainer gets to enjoy the warmer climate of the winterless north of New Zealand, but it is also a time when a lot of young untried horses enter his barn.
He enjoys campaigning the older warhorses in his barn like Major Tom and Kaharau, but he admits he gets a kick out of trying to find his next star amongst a new crop of juveniles.
"We have got 26 in work and nine rising two-year-olds have just come in," he said. "I like the young horses. When they are untried you never know what you have got."
While looking forward to seeing whether he can unearth another quality youngster, he has a couple of current juveniles who already look to be major early three-year-old players after stepping out at the Avondale trials on Tuesday.
Super Easy filly Dream Queen, who is owned by former Group One-winning harness racing trainer Sue Martin, won her 800m heat by 4.5 lengths, while Contributer gelding Follow Your Dreams took out his 800m heat by 2.75 lengths.
Stakes tests await the pair, with Follow Your Dreams having already performed at that level, finishing runner-up in the Listed Welcome Stakes (1000m) at Riccarton last November.
A return trip to Riccarton for the Group 1 New Zealand 1000 Guineas (1600m) and Group 1 New Zealand 2000 Guineas (1600m) is the major goal for the rising three-year-olds, but Rae is aiming towards more local targets initially.
"The (Northland) Breeders' Stakes (Group 3, 1600m) up here (Ruakaka)," he said. "You would like to think you can go to the 1000 and 2000 Guineas with them, that's the dream, but the reality is your home course."
Rae was pleased with their respective runs on Tuesday and said they handled the Heavy10 conditions well.
"I don't really want to run them together, but they will on July 3. They will both start up here and all going well I will send one down to the Ryder Stakes (Listed, 1200m), probably the filly (Dream Queen). She seems to swim through the mud," he said.
"She has definitely got a lot stronger, but to be fair they both should have won. They have both got the ringcraft."
Rae also believes stable apprentice jockey Kelsey Hannam, who rode Dream Queen, has a bright future in the saddle.
"The young girl that rode her, the new stable apprentice, she is going to go a long way because she sits on a horse well, and has got a good work ethic," he said.
"She has ridden pony club, and was friends with my youngest daughter, Chanelle. She kept hounding me (for a job) and I ended up saying come down and see how you like it, and she was a natural."
While excited about the prospects of Dream Queen, Rae said Follow Your Dreams has developed significantly since his unplaced run in the Karaka Million (1200m) and he expects him to thrive over further ground.
"I reckon he has got a mile written all over him," he said. "I reckon he is a classy animal. He is still a colt and he is strong, Craig (Grylls, jockey) got on him and said he has developed. He rode him in the Karaka Million."
Follow Your Dreams was set to head to Australia, but Rae is pleased to have retained him after he failed a vet examination.
"He was sold to OTI (Australian syndicator), but he failed the vet with a few little minor issues, but he has never been sore," Rae said.
"I was going to sell him under sufferance, but we were going to keep a 10 percent share in him. You need the money, but as a trainer you also need a high-flying horse."
Rae has got plenty to look forward to over the coming months, but his attention is currently on his home meeting on Saturday where he will line-up a handful of runners.
"The best of them I would like to say is Eva James, because I own a share in her, but I think Irish Girl is better than her," Rae said of the pair who will contest the One Tree Point Motel Bream Bay Sprint (1200m).
"Major Tom is down to a reasonable weight with 57kg on his back in the Open 2100m.
"Kaharau is probably past his used by date a little bit, but his work has been good, and he likes the track."