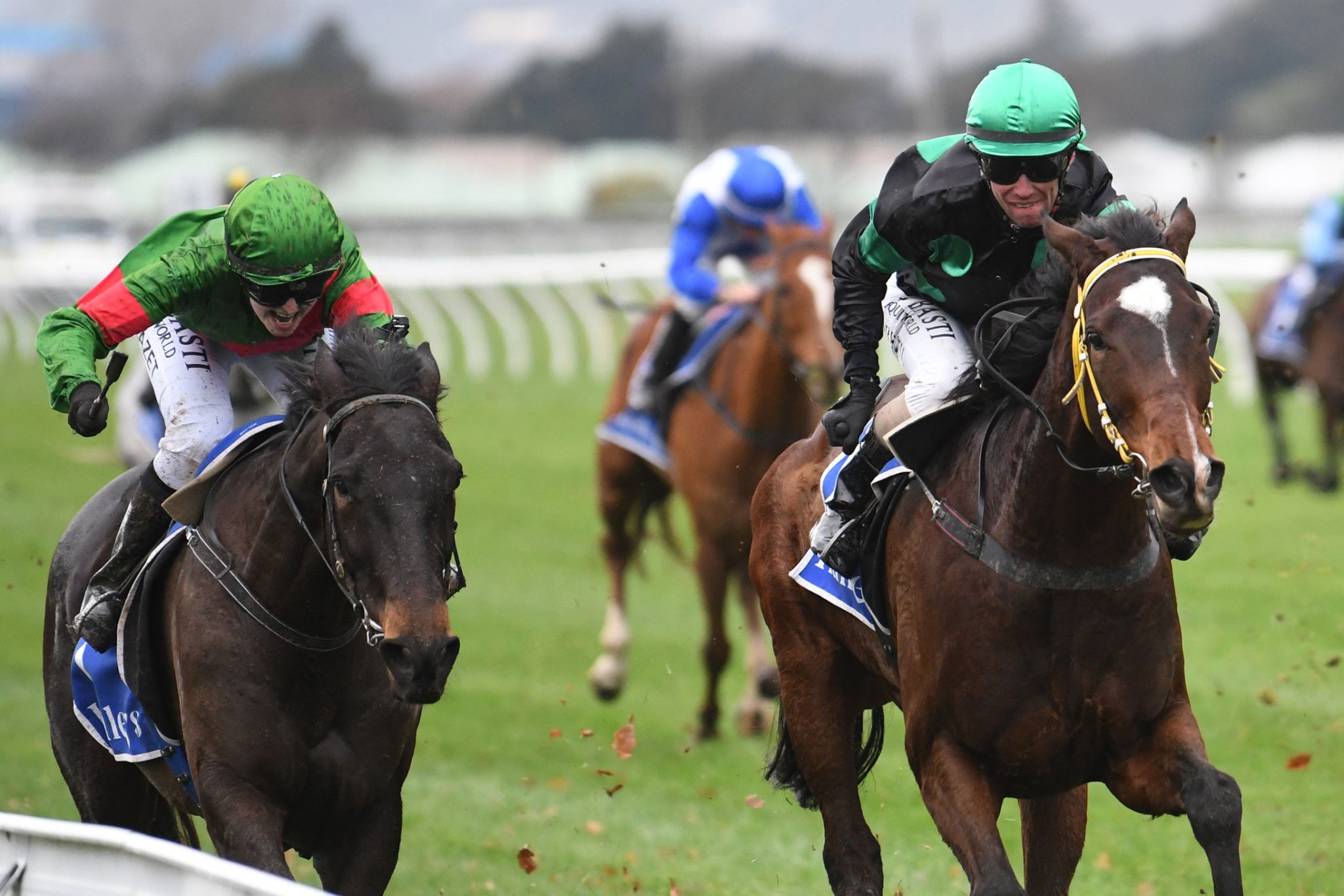 Rugged stayer Prince Leo showed all his fighting qualities when he took out the Vernon & Vazey Truck Parts Parliamentary Handicap (2200m) at Trentham on Saturday.
The five-year-old son of Jimmy Choux and former Group 2 New Zealand Cup (3200m) winner Hoorang made it back-to-back victories at the venue having won a similar event towards the end of May, but this time he was pushed hard all the way by eventual runner-up Hurry Cane.
Rider Chris Dell had the Ian Shaw-trained runner idling along in midfield before making a move to sit outside the leader with 1400m left to run.
Angled to the outside of the track in the home straight, Prince Leo was joined by Hurry Cane at the 250m with the pair locked in a dour struggle that was settled in favour of Prince Leo by a half head at the winning post.
Shaw was the first to admit he was taken by surprise by the move made by Dell early in the race, but knew his charge was rock-hard fit for the challenge.
"He is pretty well conditioned and I was confident I had him right for the race," Shaw said.
"I did get a bit of a surprise when Chris went forward on him as I thought he had a nice spot behind them at that stage and he would be able to come with the last run.
"He was left a bit of a sitting duck, but to his credit he was very tough and ran the race right out in good fashion.
"We took him home last night and he ate everything in sight and then he was keen for his breakfast this morning (Sunday) so he is a happy horse at the moment."
Shaw isn't sure where to go next with his charge as there aren't many suitable options in the area for him and with the horse being an indifferent traveller, he isn't keen to see him venture too far from his Foxton home base.
"He's not the best on a float if he is going any real distance and even on Saturday, we had to put his younger brother on the float with him to keep him calm.
"The young one travels like a duck in water but this guy tends to fret a bit so I like to try and keep him to races around here if we can.
"He is not nasty or anything, just strong minded and he lets you know what he likes and what he doesn't like.
"I think he has got real potential when he is fully matured so I don't believe there is any rush with him just yet."
Prince Leo is the younger half-brother of Shaw's well performed galloper Tigertiger who has won five races from the Mornington stable of Rob Blacker since joining him in September last year, with Shaw advising Prince Leo is likely to also venture across to Blacker in the future.
"Tigertiger has done really well with Rob and he has just come back into work after having a good spell following his run in the Sydney Cup (Group 1, 3200m) back in March," Shaw said.
"He will take him along slowly and I'd expect to see him racing again around late August.
"We haven't been able to get over and watch Tigertiger race, so that is something we would like to do as I think he can definitely keep on improving as he was lightly raced as a young horse and there should be plenty of life left in his legs.
"My son, who is great mates with Rob, is keen for me to send Prince Leo over there and I think we will at some stage.
"At the moment though I'm having too much fun with him here as it is great to be able to work with him and then take him to the races and win a few, which is something I would really miss if he did go over there."
Prince Leo has now won five of his 20 starts for Shaw and over NZD$120,000 in prizemoney.