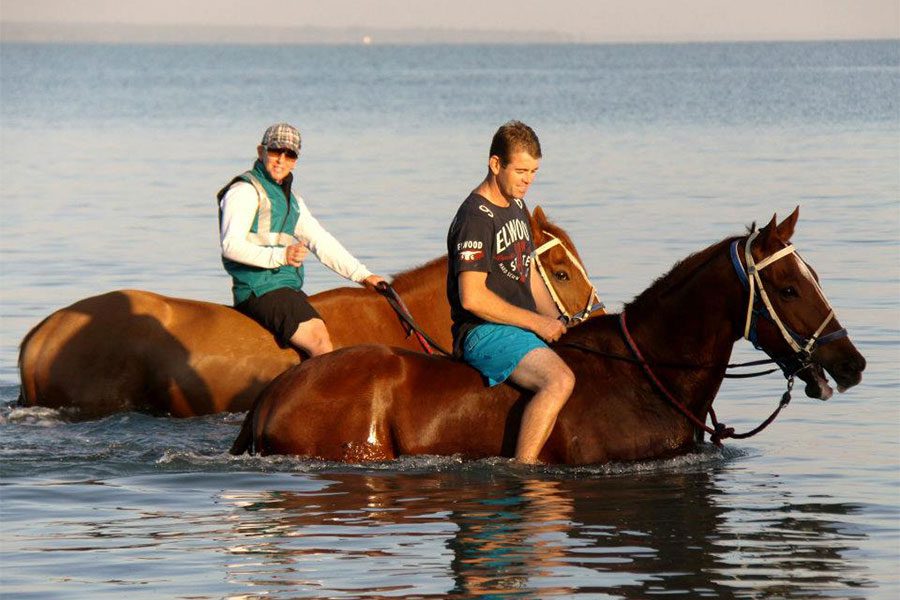 Jason Manning has been training in the Top End for some 16 years, and just like his fellow counterparts he's very much looking forward to the Darwin Cup Carnival.
And who could blame Manning after he came within a whisker of taking out the two feature races last year.
Agonisingly, Niewand finished second in the $135,000 Palmerston Sprint (1200m) behind Mayameen by less than half a head.
Noir De Rue then finished third behind the victorious Highly Decorated and Danon Roman in the $200,000 Darwin Cup (2050m).
Both horses will be back on deck in their quest to become the toast of Fannie Bay.
Manning has only recently returned from a South Australia sojourn where he raced Noir De Rue and Niewand, as well as fellow stablemate Miroku.
"First time we've done it – previously we have just sent the horses down to other trainers to look after them," Manning said.
"This time I was able to go down and do it myself – it was good.
"We were based at Morphettville – a good mate of mine Stephen Theodore has got a stable complex right near the course there at Morphettville, so we trained out of there the whole time.
"It all went quite smoothly and the people down there were quite helpful.
"Stephen Theodore is a trainer in his own right at Cranbourne and in Adelaide – now he works as Travis Doudle's racing manager.
"So between Travis and Stephen we were able to utilise their facilities and stuff like that."
After performing with distinction in Western Australia, Noir De Rue arrived at the Manning stable as a six-year-old last June and hit the ground running finishing first in open company over 1200m before coming fourth in the $60,000 Chief Ministers Cup (1600m).
It came as no surprise that Noir De Rue stepped up in the Darwin Cup.
Since September last year, the Blackfriars seven-year-old has had seven starts at Morphettville, Murray Bridge and Oakbank ranging from 1100m-1950m where he finished second on three occasions in Adelaide.
"We took old Noir De Rue due to his rating," Manning said.
"He didn't get a win, but he was very competitive every time we sent him out.
"He had a luckless run in the Murray Bridge Cup in October and then had a bit of a break after a few runs down there."
Noir De Rue, who has had 62 starts for nine wins, 11 seconds and eight thirds, enjoyed a spell from November until April.
Niewand and Miroku didn't get a win either – although Miroku managed a last start third at Morphettville at 0-60 level over 1250m on April 30.
"Miroku and Niewand both acquitted themselves quite nicely as well – they just went down there just to get them out of the heat," Manning said.
"We've been back and forth over the last six months, but it was good.
"Overall, it was probably close to six months with a bit of time back in the Territory over Christmas.
"We've been back two weeks.
"All the horses are back up and they've been back into the full swing of it.
"I actually spent a lot of time working in South Australia in the 1990s for seven years, and it was just that we had the right horses to take down there.
"I thought it was a good time to have a crack.
"We just weren't able to crack it for a win.
"Not to worry, we earned money and paid our way which is the main thing."
Recommended!
While in South Australia, Manning's partner Vanessa Arnott – one of the Northern Territory's most successful jockeys – was running the Darwin stable.
Arnott was aboard Niewand in the Palmerston Sprint and Nor De Rue in the Darwin Cup last year.
"Luckily we had Vanessa looking after the horses here, so we always had about five or six in work," Manning said.
"We didn't have a great amount of runners, so it was quite manageable and she was looking after that.
"Last year was Covid which made it hard to come back and forth, but obviously it has eased and we're back to normal now.
"The time actually flew while I was away – the last three months I was down there I kept myself busy.
"It's amazing how time flies – you keep yourself busy doing different things going to race meetings and trial days."
With yet another Darwin Cup Carnival imminent, Manning is busily preparing for another campaign and is still happy with life in the Top End.
Noir De Rue and Niewand are once again aiming for the two features, but Manning is excited about a three-year-old he has at his disposal.
"Yeah, everything is really good here and the stables are full," he said.
"We've got 11 in work – we've got a really nice team of horses for the carnival.
"We've got a lovely three-year-old – Max Fire – a horse that the On Fire Racing syndicate bought as a yearling and we've actually owned him and we've campaigned him Adelaide
"He's had 10 runs for three wins and three thirds – he won in Adelaide, he finished third in a listed race in Adelaide.
"He's up and about – ready to go to have a crack at the Guineas and the Derby, so he's really nice horse for the syndicate boys."
That listed race where he finished third was the $108,000 Hill Smith Stakes (1800m) for the three-year-olds at Morphettville on October 9.
On March 14, the Star Turn gelding finished fourth in yet another listed race in Adelaide – the $108,000 Morphettville Guineas (1600m).
As usual, Arnott will be the No.1 stable rider for Manning during the Darwin Cup Carnival.
"She's still going really well – still getting great results," Manning said.
"Still getting plenty of winners, so hopefully that flows on over the next two and a half months during the carnival."