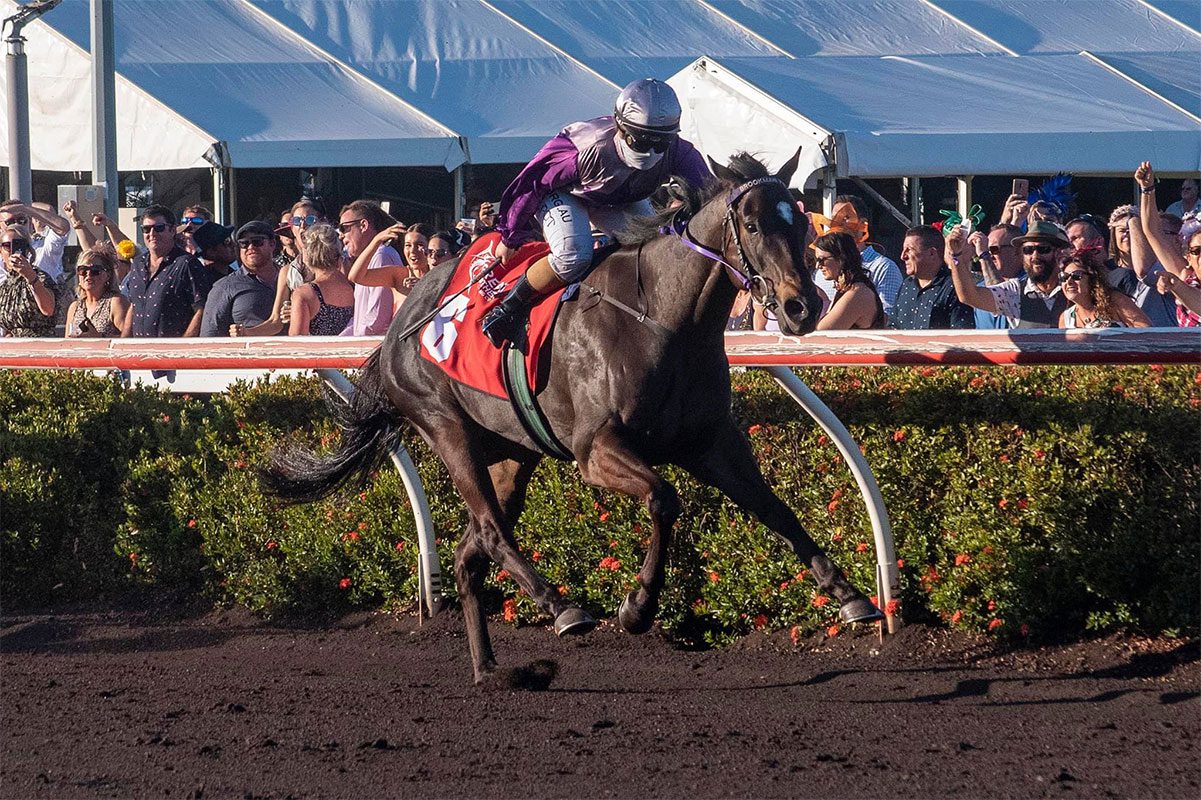 Trainer Nicole Irwin has long supported Darwin racing.
She annually brought a team north from her Murray Bridge base in South Australia.
It became so infectious that Irwin decided to relocate to the Northern Territory.
And after her galloper Highly Decorated produced one of the more remarkable achievements imaginable during the 2021 Darwin Cup Carnival it perhaps comes as no surprise that Irwin now calls the Top End home.
Highly Decorated, a four-year-old gelding at the time, debuted at Fannie Bay on April 16 last year with a rating of 48 after posting just one win in 14 starts throughout NSW and South Australia – as well as one appearance in Canberra.
He broke his duck in a maiden on Scone Cup Day in May 2020.
After a first up third in Darwin against 0-54 class over 1300m, Highly Decorated tasted success in his next seven starts.
After winning against Class 2, 0-70 and 0-64 opposition from 1300-1600m, he stepped up to open company before winning the Adelaide River Cup (1600m) on the only grassed surface in the NT.
That was followed by victory in the ROANT Cup (1300m) and Chief Ministers Cup (1600m) back at Fannie Bay before Highly Decorated scaled even greater heights.
Victory in the $200,000 Darwin Cup (2050m) left many speechless.
Alice Springs jockey Jessie Philpot rode the horse in six of its seven races, including the Cup.
So for Irwin is the move to Darwin permanent?
She indicated that it is unlikely to be a short-term project.
"Yeah, well, it's semi-permanent," she said.
"We still have a property in South Australia.
"I've still got a South Australian trainer's license as well.
"I've got a dual license now in the NT and SA.
"I was based at Murray Bridge as I have a property at Laurel Park at Monarto.
"Just train a couple there now."
There were also a number of contributing factors that saw her relocate from South Australia.
"The weather, the lifestyle," she said.
"We've been coming up to Darwin for about eight years now – we like it.
"It's a little bit more laid-back than down south.
"If we were to go anywhere else we'd probably go to Broome, which is pretty similar.
"We brought up a good team last year to Darwin and had a really good carnival.
"We decided to rent a house and stay here – most of the team is now in Darwin.
"All our family is in South Australia, so we will always duck back down.
"We've got mares and foals – we breed a few – and we've got youngsters back in SA.
"We've got to go back and sort of break them in, and get them going and work out what's going on down there."
Irwin, a qualified vet nurse, has been training for some 12 years and has been in the racing game for a long time.
She was involved in breeding and participated in yearling sales for about 10 years.
Recommended!
There was also a lot of breaking and pre-training with racehorses, so getting her trainer's license was a natural progression.
Irwin remained in Darwin last year until a week before Christmas.
"We went back and then a few things kept us down there longer," she said.
"There was a few road closures through the floods and Covid knocked us around a bit.
"We've been back in Darwin since the end of March.
"We had a winner when we first come up with a horse called Yesugei.
"Hopefully he'll be headed towards the Darwin Cup, as well as Highly Decorated.
"We had another winner the other day with Redwinelover, so it's been good."
Irwin agreed that Highly Decorated's Darwin Cup Carnival last year bordered on the extraordinary.
He's back in Darwin ready for another Cup assault and is expected to return in the ROANT Cup in June.
He'll carry a bit more weight this year as well.
"Yeah, absolutely, it will be a big test for him," Irwin said.
"He won by fair distances last year, so hopefully the extra weight won't knock him around too much.
"Everything just went right last year.
"He had the most perfect campaign – he kept drawing good gates.
"He could have a horrible campaign this year – he could draw gate eight or nine every start and have to work too hard.
"It could be just a completely different scenario.
"Last year was a 100 per cent fairytale, it just doesn't happen.
"Even the good trainers up here that have been here for 20 years said that you'll never see that again."
Finally, Nicole Irwin was once the well-known Nicole Bruggemann.
"My partner David and I have been together for eight years," she said.
"We've been married six years, but I just never got around to changing my name.
"After the Darwin Cup last year we got a little too much publicity and I thought I'd better do the right thing and change my name."