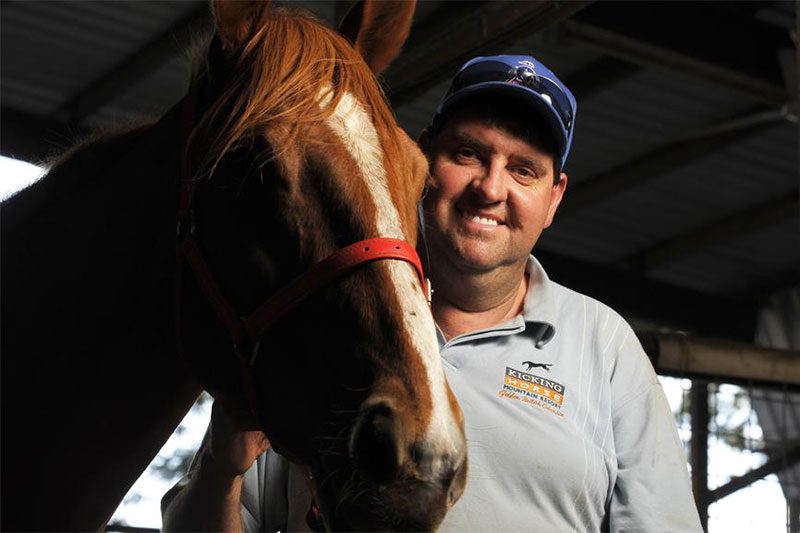 Estimated Reading Time: <1 minutes
South Australian trainer Kym Healy calls Strathalbyn – 56km south-east of Adelaide – home, but he certainly doesn't mind a road trip.
He has headed to the Northern Territory for a number of years to support the Darwin and Alice Springs Cup carnivals.
It is an exhausting and expensive exercise, but Healy seemingly loves it and has once again found himself back at the tropical location.
Some interstate trainers keep returning to the NT every year for either the Darwin or Alice Springs carnival – if not both.
There are other trainers who welcome the opportunity to race on the dirt in the Top End and Red Centre – even if it's a once in a lifetime experience.
Certain interstate trainers have even taken the much bolder step by relocating to Darwin.
Victoria's Kym Hann (Bendigo) and Queensland's Billy Healey (Sunshine Coast) are getting their first taste of Fannie Bay, and it won't be long before fellow Victorians Patrick Keane (Cranbourne) and Amy and Ash Yargi (Mornington) arrive in town.
It was Pretty Blonde who basically put Healy on the map up north with success in the 2014 Darwin Cup and the 2014 and 2017 Alice Springs Cup.
The wonderful mare made regular Cup appearances at Fannie Bay in the north and Pioneer Park in the south having also finished second in the 2015 Alice Springs Cup and third in the 2015 Darwin Cup.
She also won the 2016 Broome Cup in Western Australia to emphasise Healy's willingness to travel.
He doesn't mind taking his horses to outback locations in NSW and Queensland either, and when the 2022 Darwin Cup Carnival concludes on August 1 he'll make the long trip home before taking a team to Birdsville and Bedourie in far western Queensland in early September.
After departing his base in mid-June, Healy headed 365km up the road and raced a few horses at Port Augusta before making the 2720km trek up the Stuart Highway en route to Darwin.
As usual, Healy, who landed a treble on the second last day of the Alice Springs Cup Carnival on April 29, has been a very busy man since arriving in the Top End – which has also included a quick trip to Toowoomba in Queensland.
"I flew across to Brisbane and bought a horse float in Toowoomba and drove that back to Darwin, so that was another 3300km on the road," he said on Tuesday.
"I left Toowoomba and got into Barcaldine the next morning and then went from there to Tennant Creek and then Tennant Creek to Darwin."
Healy had three runners at the Fannie Bay meeting on June 25 and had six representatives feature last Saturday on Day 1 of the Darwin Cup Carnival.
Adoradancer, a seven-year-old mare, was the pick of the Healy yard on the last Saturday in June after finishing second on her Fannie Bay debut behind the impressive Ideas Man from the Chris Nash stable over 1000m at 0-76 level.
Three-year-old filly Starlite Valley (Darwin Guineas), Magnossiva (0-76) and Tony's Reward (0-58) finished third in their respective race for Healy on the weekend.
Wicked Whisper (0-64), Caitlin's Angel (0-62), and Adoradancer (0-70) weren't at their best, finishing eighth, ninth and 10th, respectively.
"It was a bit mixed day, I sort of wasn't really disappointed in any of them," Healy said.
"A couple of them were having their first go at the track.
"I thought Starlite Valley went quite good.
"First time out to the mile – I thought she boxed on well.
"She was three deep the trip with no cover, so she was probably entitled to knock up – but I thought she went well.
"We'll probably push on to the NT Derby with her – I'm happy with her.
"I was really happy with Magnissova, he got back a bit and hit the line really well – that was encouraging.
"He'll go around Saturday week and then probably the Metric Mile and hopefully the Cup.
"Adoradancer just didn't back up.
"We've had a few issues with Caitlin's Angel, but we've got her back on track.
"She'll go to the Rose Bowl for the fillies and mares next Wednesday.
"Tony's Reward hit the line exceptionally well – he'll go around in a week or 10 days.
"Wicked Whisper just got a long way out of her ground, but hit the line really well."
Healy originally had a team of 12 horses in Darwin, but unfortunately Bolt I Am has gone amiss after injuring a tendon.
Wicked Edition, Real Valentia, Vietti and Starlite Rebel will be on show this Saturday and they all should prove competitive.
"There's another little horse I bought in Queensland that I brought back the other day when I went over there, Feat Of Fury, who will have a run in a few weeks," Healy said.
As mentioned, Healy plans to head straight back to South Australia after the Darwin Cup Carnival and will subsequently miss the Katherine Cup meeting on August 13.
Healy and Darwin trainer Phil Cole, a good mate, are off to the famous Birdsville Cup meetings from September 2-3 and then the Bedourie Cup meeting on September 10.
"I'll go home first and then I will head back up to Birdsville," Healy said.
"Phil Cole is going to Katherine and then plans to race at Mt Isa.
"We're going to do the two weekends at Birdsville and Bedourie – he's going to meet us out there."
Just 187km divides Birdsville, which is just north of the South Australian border, and Bedourie to the north – with the Desert Simpson not far away to the west.