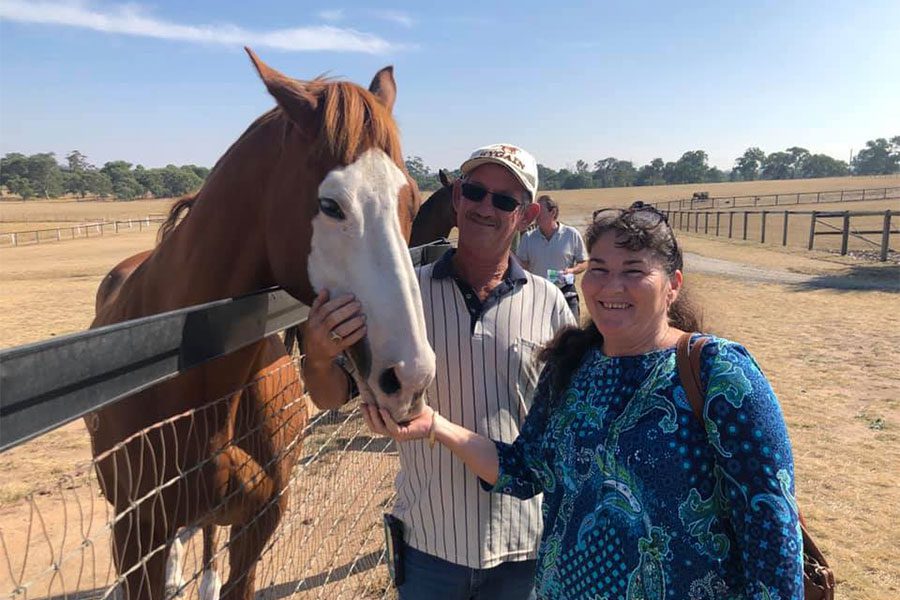 The Tayarn Halter stable has enjoyed continued success in the past 12 months, and on Saturday the team had an even bigger reason to celebrate.
It may not have been victory in the AU$60,000 Chief Minister's Cup (1600m) on Day 2 of the Darwin Cup Carnival, but to land a treble at the biggest time of the year in the Top End was an exceptional alternative.
Fragore (Jade Hampson), Mighty Murt (Paul Denton) and Expert Witness (Paul Shiers) all saluted in $20,000 races to make it 20.5 wins for Halter with five Fannie Bay meetings remaining until the 2021/22 Top End season concludes.
Day 8 of the carnival – Darwin Cup Day – is scheduled for August 1.
Halter – along with partner Lindsay Schmidt, who provides massive support behind the scenes – has already surpassed the 12 wins from the 2020/21 Top End season.
"The treble on Saturday was pretty exciting, it's want trainers want, it's to train winners," Halter said on Sunday.
"Owners put a lot of money into the game, the staff put a lot of work into it, jockeys as well – it's a team effort and everyone works hard to achieve success, so it's really good when you have days like this.
"We'd love it to continue like this and hopefully it does.
"It's what dreams are made of, but it doesn't always work out that way."
On Day 1 of the carnival the previous week, Halter had to share the spoils when Harpuna dead-heated with Phil Cole's Mini Boom.
Halter's big day on Saturday kicked off when her teenage apprentice Jade Hampson sealed a narrow win aboard Fragore in the Sunbuild 0-66 Handicap (1300m) – the opening event.
It was Fragore's second appearance in the Top End following his arrival from NSW where he finished fourth on debut over 1100m at 0-62 level on June 25.
Significantly, the four-year-old gelding posted his first win in his last NSW start over 1300m in a Goulburn maiden in February for Warwick Farm trainer Joseph Pride.
Happy to settle behind Gary Clarke's Norse Mythology (Jarrod Todd) in second place once they jumped, Hampson made her move exiting the back straight and with 600m to go Fragore was level pegging with the leader.
Swinging for home it was a ding dong battle down the straight before Fragore (53.5kg), thanks to Hampson's 3kg claim, edged out Norse Mythology (60.5kg) by 0.2 of a length.
It was basically a two-horse race from start to finish, although Jason Manning's Miroku (Vanessa Arnott) was gradually bridging the gap and was only a length away in third place.
For 18-year-old Hampson, it was her 10th win from 44 starts in the NT since making her debut in April.
"Fragore is a nice horse, progressive horse – I think he is going places," Halter said.
"I think Jade rode an absolute gem of a ride on the horse, you've got to give the apprentice credit – she rode him a treat."
Mighty Murt was a little rough around the edges when he arrived in the NT from Victoria in June last year and was unplaced in his first five starts in Alice Springs before finding his mojo.
A second-placing in August over 1200m (0-54) was followed by a win over 1100m (0-58) before the four-year-old grey gelding headed north for three straight wins in Darwin from January-March over 1100-1200m at 0-58 and 0-64 level.
A fourth over 1200m (0-70) in March was followed by a win over 1200m (0-76) in April before returning to the Red Centre, where he was a close second over 1100m (0-70) on Alice Springs Cup Day on May 1.
Having been cared for by Alice Springs trainer Lisa Whittle and Darwin trainer Garry Lefoe upon his NT arrival, Mighty Murt returned to the Top End under the tutelage of Halter.
He was sixth over 1100m (0-70) in the race where Harpuna and Mini Boom dead-heated on July 2, before bouncing back to win the Refrigeration and Electrical 0-76 Handicap (1200m).
Mighty Murt was sitting well adrift of runaway leaders Mini Boom (Jade Hampson) from the Phil Cole stable, Mr Cashman (Jarrod Todd) from the Gary Clarke yard and Poupee (Adam Nicholls) from the Tom Logan camp and victory seemed improbable.
Mini Boom and Mr Cashman shook off Poupee and it appeared as though Hampson and Todd would fight it out for the second race in a row.
Not to be as Mighty Murt erased an eight length deficit at the 600m to hit top gear in the home straight to pounce on the tiring leaders to grab victory from the fast-finishing Write Your Name (Sairyn Fawke) by half a length.
It's not unusual for Mighty Murt to give his rivals a start before flicking the switch, but he was perhaps pushing his luck on this occasion despite having the highly experienced Denton in the saddle.
Former Victorian galloper Write Your Name was making his Top End debut for wily and successful NT trainer Dick Leech, and he was even well adrift of Mighty Murt halfway through the race before producing a stunning final 600m.
Mighty Murt's win was outstanding, but Write Your Name's effort was sensational.
Mr Cashman, who finished third in the five-horse field, and Mini Boom paid the price for going too hard too early, while Poupee has lost her spark after winning three straight since arriving from Queensland in March.
"Mighty Murt yesterday was calling out for the 1200m last start and he got it this week, and he showed what a great little horse he is," Halter said.
"I wasn't worried because that's how he races – look at his previous starts.
"I think one race last prep he was actually up on the speed right behind the leaders, but most of them he gets back and runs on.
"We're trying to get him towards the Palmerston Sprint if we can get him there – that's what the owners would like.
"But obviously, depending on ratings et cetera et cetera, that's where he will be going."
Halter's heart would have been racing in the AFA Insurance 0-58 Handicap (1000m) before Expert Witness (Paul Shiers) held on to pip the fast-finishing Real Valentia (Sairyn Fawke) in a blanket finish.
Expert Witness was returning from a lengthy spell after having three runs in Darwin in January and February following his arrival from Queensland.
The three-year-old gelding sneaked home on debut at Fannie Bay on New Year's Day in a 1100m maiden before finishing second over 1100m against three-year-old and maiden runners on Australia Day.
He then went to the paddock after finishing third over 1100m (0-64) behind handy duo Narrative Star and Raazou on February 18.
Jumping from a wide gate on Saturday, Expert Witness sat outside Heather Lehmann's co-leader Saint Olga (Jason Lyon) with Kym Healy's Real Valentia not all that far behind in third place.
Shiers went for it on Expert Witness once turning for home, but Real Valentia (barrier 11) – debuting in the Top End after performing creditably during the Alice Springs Cup Carnival – was finishing with a wet sail.
In the end Expert Witness got the verdict in a head-bobbing finish, but both Real Valentia and Gary Clarke's The Mistral (Paul Denton), who filled the minor placings on debut after arriving from NSW, are definitely ones to watch in coming weeks.
"Expert Witness is obviously a very speedy customer and 1000m is right up his ally, so it looked like a nice race for him on Saturday," Halter said.
"He got pressured and almost run down, but obviously you've got to do it at both ends and I think the horse did a super job considering he did the work up front.
"I was also very happy with Hattan Man on Saturday, very happy with Zouzouzalo's first run on the track too – if he goes straight he almost wins.
"I had a great day, can't complain."