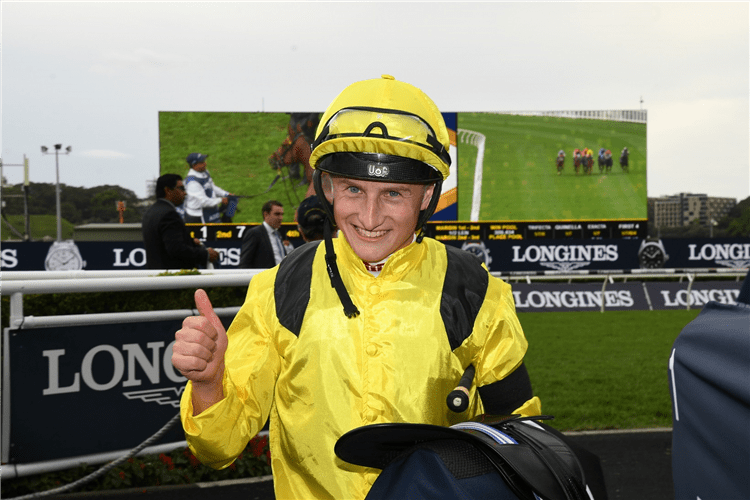 Estimated Reading Time: <1 minutes
It was the scene of his first Group 1 win and the launch pad for his burgeoning career, so it is no surprise Tom Marquand has promised to return to Sydney next autumn.
The young English jockey celebrated his first major aboard the William Haggas-trained Addeybb in the 2020 Ranvet Stakes before capping the fairytale with a Queen Elizabeth Stakes win.
The pair returned this year and while they couldn't defend their Ranvet title, they got the major prize with a thrilling victory over arch rival Verry Elleegant in Saturday's $4 million Queen Elizabeth.
Marquand, who is flying home to the UK on Sunday, is already planning a return trip for next year's Championships.
"I'll be coming back, that is for sure, and hopefully William will bring back a team as well because he has had such great success," Marquand said.
"I know Favorite Moon didn't work out (in the Sydney Cup) but he won a Manion Cup and realistically, before he came out here he was a handicap winner and he's won a stakes race now.
"No doubt there will be horses that can fill the gap."
Marquand admitted he did not fully comprehend his good fortune at linking with a horse the calibre of Addeybb so early in his career.
But if last year's autumn was when he announced himself to the world, this year's was his coming of age.
When Addeybb was beaten by Verry Elleegant in the Ranvet last month, Marquand did some soul searching.
"I was probably guilty of not quite appreciating how lucky I was until a moment like (the Ranvet) puts you back in your box," he said.
"For the last two weeks I have been thinking, 'I really want to get home' and with the rain not coming and things not going our way with timing. The immature self came out in me and said there is no point in this.
"There is a life lesson along the way, and this is what we're here for."
But Addeybb was back at the top of his game at Randwick on Saturday.
So was Marquand, and probably not for the last time.