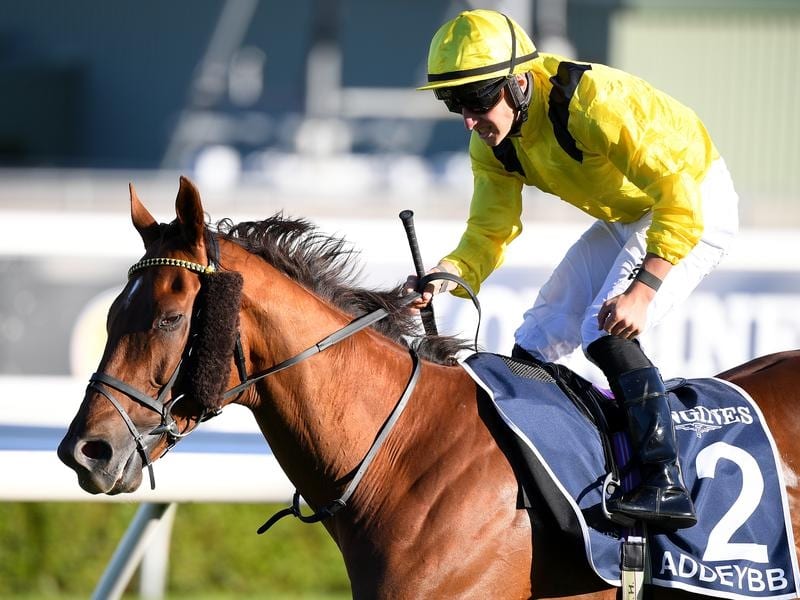 Estimated Reading Time: <1 minutes
Star English Raider Addeybb will have blinkers applied for the first time in the highly anticipated Queen Elizabeth Stakes on Saturday.
The William Haggas-trained galloper is looking to turn the tables on the Chris Waller-trained Verry Elleegant, after being beaten by a length a fortnight ago in the Ranvet Stakes.
The son of Pivotal left a lot to be desired after his last start, prompting the gear change.
Jockey Tom Marquand announced the gear change during an interview at ATC's Trackwork With The Stars event.
"To be honest we haven't changed all that much. The only thing we have done is whack some blinkers on him," he said with a grin.
"That's something he's never had on before, but I think it's probably about time. He's had cheek pieces (winkers) on for the last three or four years, so it's not like they're going to be a big shock to the system or anything for him.
"He's not going to suddenly grow a spectacular pair of wings and do something that he's never done before, but it might just help in the run, help him travel and put a bit of a spark back into him."
Marquand is hoping that the gear change is enough to make up for the seven-year-old's underwhelming performance in the Ranvet Stakes.
"Honestly I couldn't help but walk away thinking that it was a touch below par," Marquand said.
"It was a huge run, I wouldn't want to say that it wasn't, and obviously Verry Elleegant was very good on the day. But, I just couldn't help but think he didn't quite hit that last 100 metres like he normally does.
"Realistically, it's probably a good thing that we were beaten by Verry Elleegant. But, we didn't feel like we were completely on song, because otherwise you'd be thinking 'where are we going to pull a length from?'
"He's done really well out of the run and I'm looking forward to the weekend and seeing how much he can find off the back of the Ranvet."
Since the race was renamed the Queen Elizabeth Stakes in 1954, only four horses have won on multiple occasions, including Tulloch and Winx.
Addeybb is looking to become the fifth multiple winner when he steps out on Saturday.
Marquand is quietly confident he can get one back on the Waller-trained mare, but knows there's plenty of other chances in the race.
"I think within racing we're all guilty of it, and in all sports, as soon as one person beats another they instantly write the other one off and switch back. But I mean realistically, we were going into the Ranvet and everyone was saying "Verry Elleegant will probably struggle to beat Addeybb," he said.
"I think there's no reason why we shouldn't be able to turn the tables, but at the same time, as Hugh (Bowman) said (in an earlier interview), there's eight horses in the race and we've got other Group 1 winners in there and it's going to prove a pretty good spectacle."
Addeybb is currently the +170 second favourite for the Queen Elizabeth on Saturday.