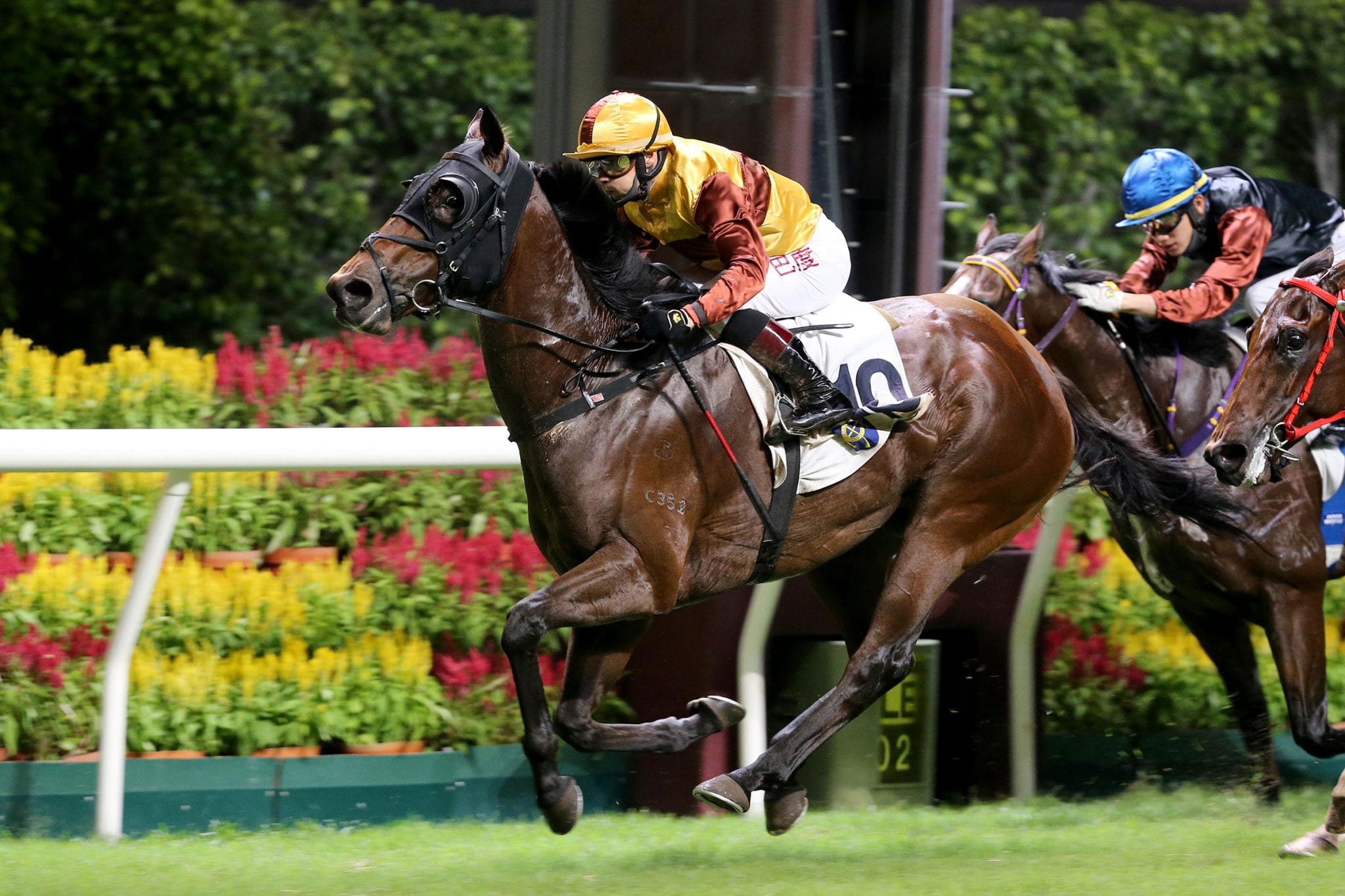 Overshadowed by Caspar Fownes and John Size's titanic battle for the Hong Kong trainers' championship, David Hall and Douglas Whyte struck important blows of their own with pivotal doubles at Happy Valley on Wednesday (2 June).
Hall reached 30 winners for the season with his first brace since September when Red Brick Fighter pounced late under Matthew Poon to snare the second section of the Class 4 Morrison Handicap (1200m) before Alexis Badel enjoyed a trouble-free passage on Sun Of Makfi in the Class 4 Rumsey Handicap (1650m).
The Melbourne Cup-winning trainer moved into the top 10 as Whyte built on a fine debut season in 2019/20 by boosting his tally this term to 31 wins, leaving him in seventh place in a championship headed by Fownes (66) and Size (65).
With neither Fownes nor Size celebrating victories this evening, Hall and Whyte happily shared the mantle as the program's leading handlers as talented Gallant Crown continued his impressive rise for Tony Millard.
Millard has guided the Hallowed Crown gelding to four victories from his most recent six starts with the latest in the Class 3 Hillier Handicap (1650m) for Poon who, along with Zac Purton and Alexis Badel, registered a double on Wednesday.
"He's done a great job this season," Millard said of the four-year-old. "He's showing a lot of promise and we'll just see now how he comes back after this run before we decide if he runs again.
"Matthew rode him perfectly and it's great to see this horse perform like that."
Poon continued his strong association with Hall, who was chuffed to post a two-timer.
"It's been a little tough at different times, but it's always nice to get a double," Hall said. "It makes things a little better.
"If anyone horse deserved to win one, it's him," Hall said, referring to Sun Of Makfi. "He's a little horse, he'd shown he was going to get a couple of wins on the board but he had to settle down a little bit and learn to relax.
"He's still not the full article, there's not much of him and he's still continuing to improve but it's good to get the win and I'm certainly looking to next season with him."
Hall believes Red Brick Fighter retains the capacity to fire again at both Happy Valley and Sha Tin.
"He's still got the flexibility and he's not a one-trick pony," Hall said. "Fresh out of Conghua and 1200 metres was the right trip (tonight).
Whyte, who trained 44 winners last season, delivered with Valiant Elegance in the Class 5 Wing Lok Handicap (1000m) under a clever, searching ride by Jerry Chau before completing the double with Simply Fluke in the first section of the Class 3 Cleverly Handicap (1200m) under Badel.
"Alexis made the difference tonight – he gave him a gem of a ride," Whyte beamed after Simply Fluke's triumph. "He was probably unlucky last week not to finish in the first three and Alexis jumped off and gave me the confidence that he could back up and run again.
"He ran too well without winning and tonight, once he got that decent draw (gate two), I thought he was going to run a big race and he let down beautifully."
Whyte derived just as much satisfaction from Valiant Elegance's victory.
"This horse has shown me a lot at home and unfortunately he's had to have a throat surgery, which has been pretty successful," Whyte said. "He's had to get his confidence back to realise that he could breathe again.
"The last three or four starts, he's run third and shown good consistency but he needed a race like today to show us that he had got over that throat surgery."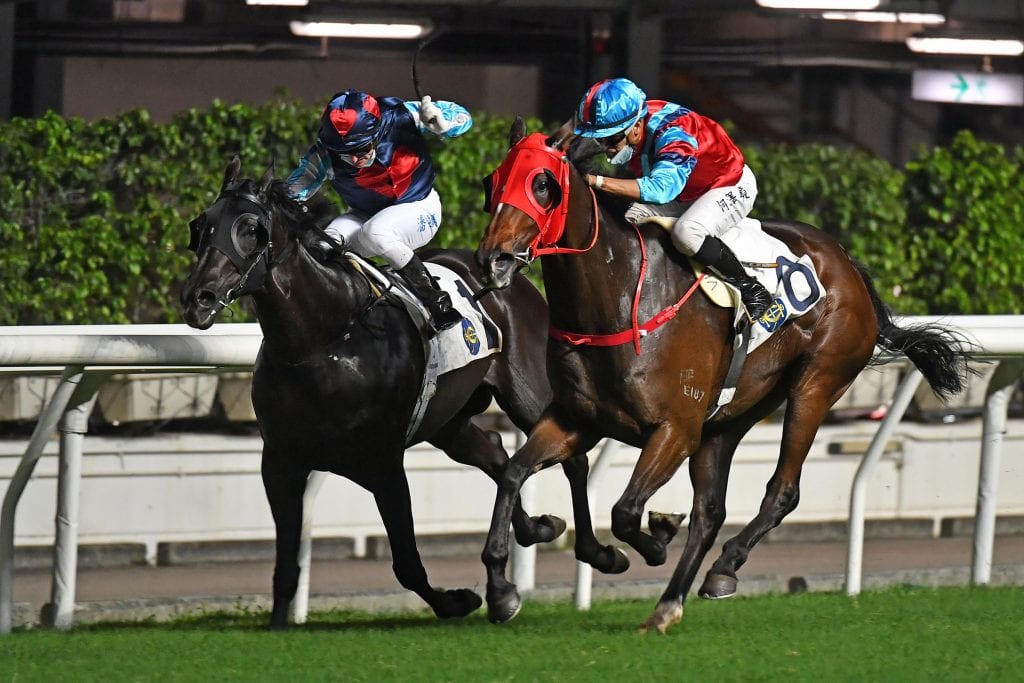 Paul O'Sullivan lavished praise on veteran Harrier Jet after the nine-year-old again defied Father Time – and younger rivals – to land the second section of the Class 4 Morrison Handicap (1200m) for Purton.
Contesting his 72nd start in Hong Kong after competing in 10 races for Chris Waller in Australia – and winning three in 2014/15 – the Dane Shadow gelding showed he had lost none of his competitive zest by charging along the fence to down Fortune Carrier by a short head.
"He's done a great job in Hong Kong, he's been here seven years and a race hasn't gone by where he hasn't put in and he's remained sound and enjoys the environment," O'Sullivan said after Harrier Jet's fifth win in the jurisdiction boosted his earnings to HK$7.947 million.
"He's damn near 10-years-old and he got all the favours and just got up. We're very pleased with him. It's very satisfying with an old horse like that.
"It will certainly be his last race of the season, he's owned in Beijing and I don't know what they want to do. It's fair to say there are more runs behind him than he's got in front of him.
"If he was to come back next year, he'd have a pretty quiet season.
"You can walk in the box with him and he's the kindest horse I've ever trained. He tries hard and remains sound, physically and mentally."
Benno Yung attributed Amazing Rocky's effortless victory in the Class 4 Jervois Handicap (1000m) to a perfect barrier (gate one) and another measured Purton ride.
"The barrier was really good and it worked out well," Yung said. "He'll probably go up to Class 3 now and have a chance."
Joao Moreira solidified his grip on the jockeys' championship by guiding Francis Lui's Winning Volatility to victory in the Class 4 Wellington Handicap (1800m) before Derek Leung and Chris So combined with Goodluck Goodluck to land the second section of the Class 3 Cleverly Handicap (1200m) Handicap.