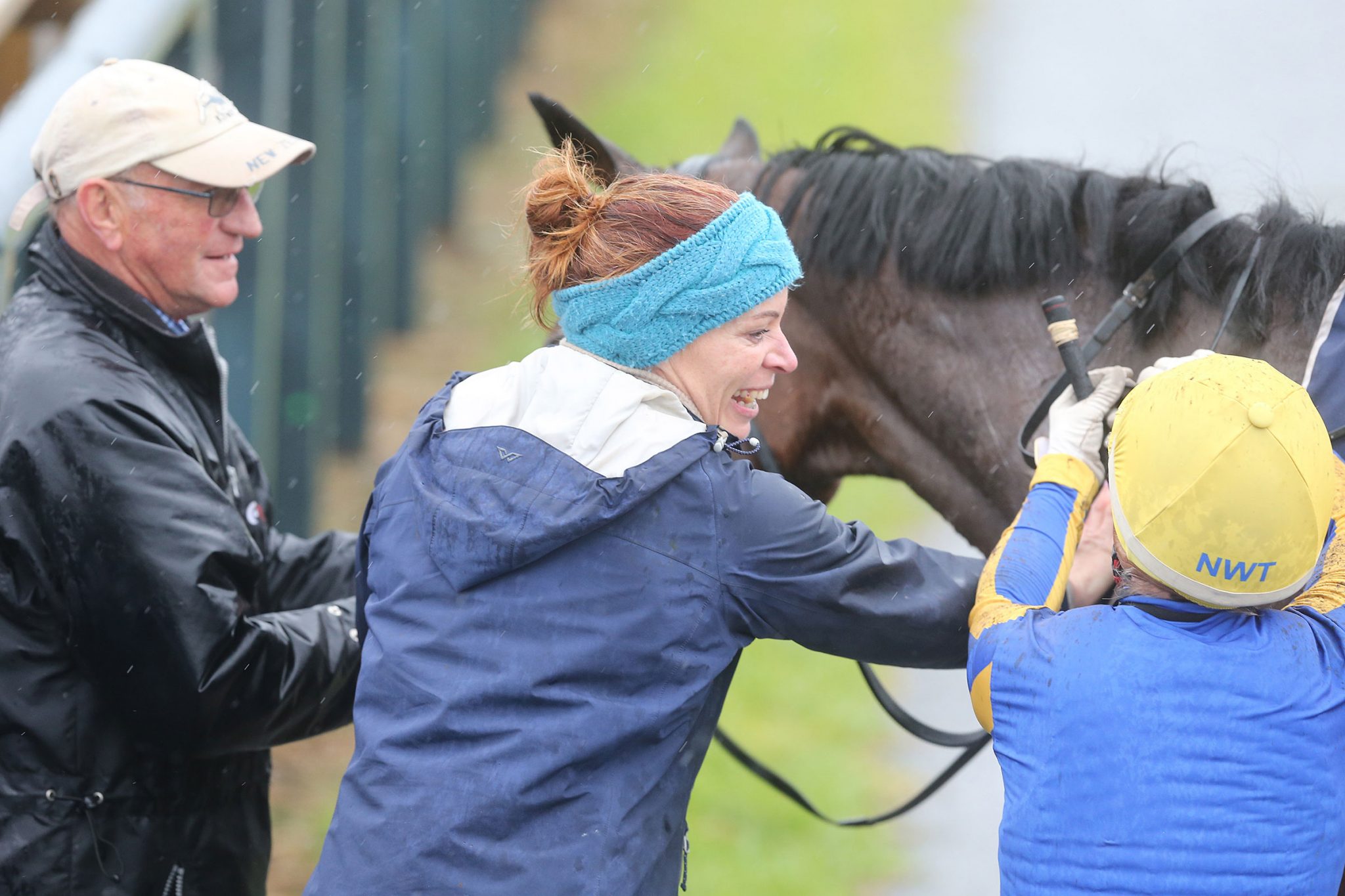 Kylie Grass is relishing the opportunity to train consistent staying mare Barbara and is making every post a winner.
The Pukekohe horsewoman, who has made her name predominantly as a pre-trainer, has had the daughter of He's Remarkable in a caretaker capacity since fellow trainer Nigel Tiley ventured to Queensland in June for an extended winter break. In that time, Barbara has had four runs for Grass, who does much of her work on Karioitahi Beach, winning on two occasions and finishing runner-up twice.
The six-year-old mare will contest Saturday's SkyCity Hamilton Waikato Cup Day 11 December (2200m) at Te Rapa, backing-up a week after winning over 2100m at the same venue last week.
"She's been great. She came through the race last weekend in terrific order, never skipped a beat, ate up, and she's been bright as a button this week so I don't see any reason why she couldn't do it again," Grass said.
"Any easing in the track will definitely help her."
The four-time winner is raced by Tiley, who owns the mare in partnership with wife Lee and her sister Mandy Rutherford.
Despite recently returning from his Queensland break, Tiley has elected to keep the mare in Grass' care through the current campaign and it is through Tiley's support that Grass was prompted to take out a trainer's licence in the 2018-19 season.
"I first got Barbara a couple of years ago. She had an injury that I rehabbed. Nigel sent her to me for that," Grass said.
"We got her up and going and I did all her early education and Nigel said 'you may as well get your license and she can be the first horse that you train'.
"I was very excited at that prospect obviously, so I went and got my license and gave her all her first starts, I think she won for me on her fourth raceday start.
"They were contemplating sending her to Australia, as Mandy is based there. Nigel kept her in and trained her for a bit and when Nigel went to Queensland this year, he asked if I would take over the reins again, as such."
For Grass, who has immersed herself with the racing industry since first working for trainer Neville Atkins, Barbara holds a special place.
"She has got a huge spot in my life and I absolutely love her, she's my baby. She's definitely the top dog around here and she knows it," Grass said.
"I started off working for Neville Atkins when I first got a job out of school and Nigel Tiley for him was a big name (Tiley rode 1980 NZ Derby winner Ring The Bell for Atkins), so it was kind of a real full circle moment for me being involved with Nigel with horses. For Nigel to give me my first horse to train was just the sort of stuff that dreams are made of really."
Pre-training for the likes of Tiley, Peter and Dawn Williams, Stephen Marsh and the soon to be retired Stephen McKee, Grass is keen to bolster the training side of her business and Barbara has helped promote the trainer's skills.
"I've just recently been taken on board as one of the trainers for Go Racing. I've got a few of the horses that are coming from Stephen McKee's to me to be trained so that's really exciting," Grass said.
"I do want to be a trainer and for that to be more of a full-time thing, more so than the pre-trainers.
"But I do really enjoy the pre-training side and getting horses with injuries or quirks and ironing that stuff out. I like sending back a happy and healthy horse that goes on to win at the track."
Barbara is rated a +260 second favourite for Saturday's Open handicap behind the Tony Pike-trained River Run (+200), who raced without luck when the pair met last week.
Grass said how the mare performs on Saturday and what the spring weather does will determine the length of the campaign for the handy stayer, who could potentially target some black-type.
"Nigel and I make a lot of decisions together about where she goes and I would definitely have to talk to him about future targets. I have been having a little sneaky look around but it just depends how long the tracks stay wet. She has been up for a little while now," Grass said.
Like all participants within the Level 4 boundary of Auckland, Grass won't be on-track at Te Rapa on Saturday and will rely on friend Kate Elliot to saddle her pride and joy.
"She did the same for me last week as well. I was really grateful that she could take care of Barbara for me because the horse does have a few little quirks. She came with a list of instructions for the day," Grass said.
"It was nice to have someone who could spend the one-on-one time with her and just concentrate largely on her for the day and she also strapped Moira Murdoch's horse too (Flavius), so she was two for two."