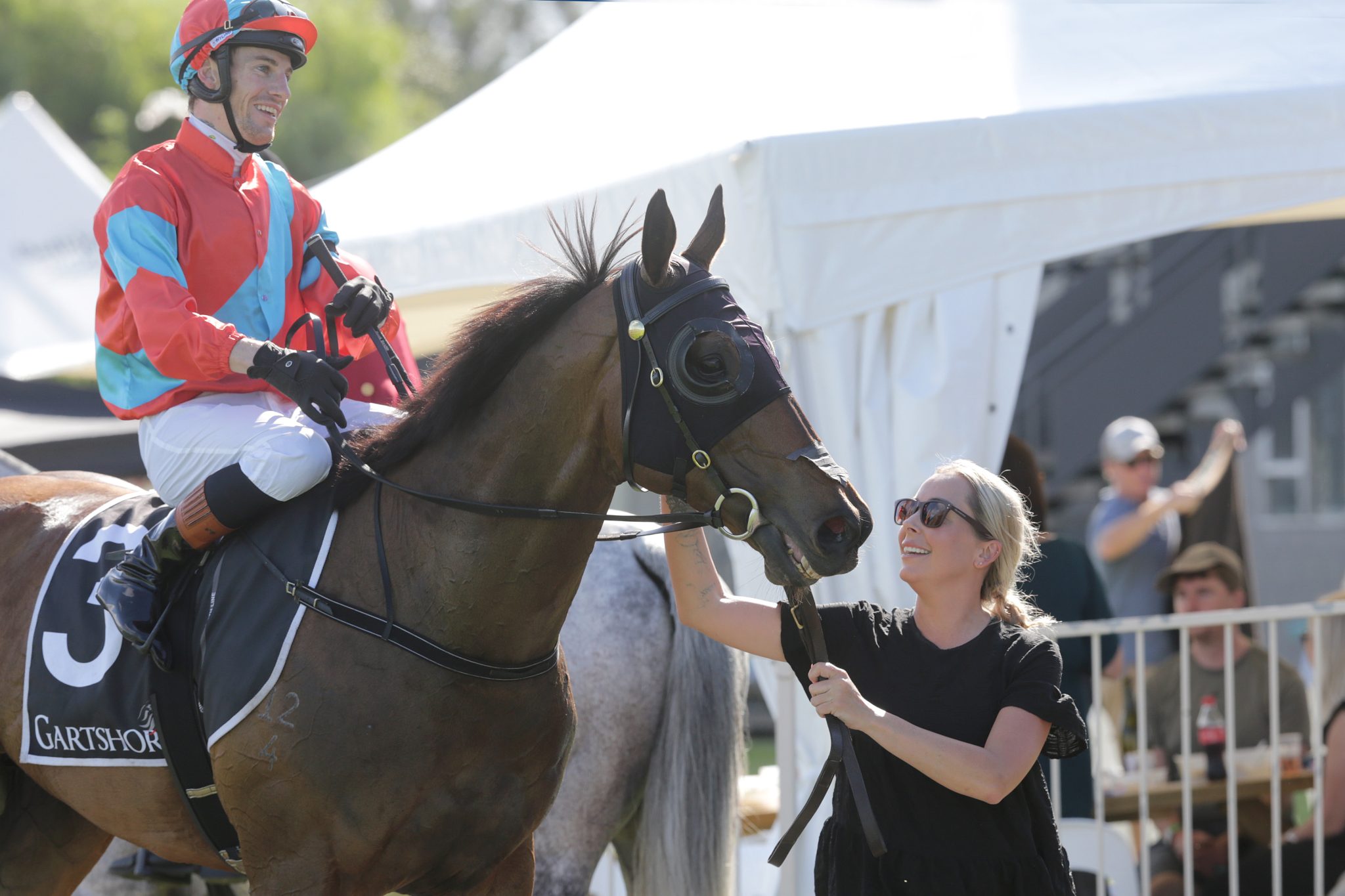 Newly arrived South African jockey Craig Zackey has made an immediate impact in New Zealand.
The talented 27-year-old arrived just a matter of weeks ago and has quickly shown his class in the saddle.
After a trio of runner-up finishes in the first three races at Tauranga on Saturday, Zackey notched his all-important first victory on new shores when the Andrew Forsman-trained Express Princess saluted in an open handicap over 1400m.
Just one race later, another milestone was achieved when Zackey produced a perfectly-timed ride to land the Group 2 Tauranga Stakes (1600m) on veteran Demonetization for trainer Nigel Tiley, himself a former champion jockey who rode around the world and was quick to praise the skill of Zackey.
For Zackey, the day was even more special as his fiancée Sasha and daughter Sierra (2) had arrived just 24 hours earlier from South Africa and were on-hand for the breakthrough.
"It was only my third meeting riding in New Zealand. I rode at Te Rapa the Saturday prior and last Tuesday at Pukekohe," Zackey said.
"To be honest I was a bit frustrated when I started the day with my first three rides all running second. I just wanted to get that win.
"They all ran well and the trainers were pleased but I just wanted to get off the mark. Then the day couldn't have taken a better turn.
"The first win on Express Princess was a whole lot of relief and pressure off. Something just clicked in my head after that and I knew I had a very good chance in the feature race.
"My only concern was the track conditions, but I was positive that it had dried up a lot since the first race (Heavy10 upgraded to a Soft7) and I said the same to Nigel Tiley."
Zackey said the eight-year-old gelding Demonetization gave him a positive feeling pre-race and after being allowed to find his feet early, the veteran galloper found his winning groove once more to land the third Group Two victory of his 39-start career.
"When I cantered the horse down, I must say there was something there that showed signs of him running a big race. He was just a happy horse all round. He felt superb," Zackey said.
"The horse has always had the ability but he's obviously had a few niggles. But it couldn't have worked out better. The horse deserves it and I always believe a horse may lose form but never their ability."
Like compatriot Warren Kennedy, who has also made a flying start to his New Zealand riding career with seven wins from his first 37 rides, Zackey is thankful for the broad level of support from New Zealand trainers.
He also praised Donavan Mansour and Byerley Park founder and Director Daniel Nakhle for their assistance in smoothing the way as the South African stars transition to New Zealand.
"Since I have walked off the plane in New Zealand, I have had so much help. From settling in at home to the training tracks, to the races, I have found everything really pleasing. Everyone has been really helpful and it has made the move much easier," Zackey said.
"It is a big change and very different from South African racing but everyone I have been able to work with has just really helped and taught me a lot so far.
"Knowing Warren is a big help and then Donavan Mansour, who is managing the pair of us, along with Daniel Nakhle have been absolutely superb towards me.
"My fiancé Sasha and daughter Sierra arrived over from South Africa in the early hours of Friday morning and they are loving it so far. They were able to come out to the course yesterday and it couldn't have been a better day for them to have their first glance of New Zealand racing on a day that worked out like it did for me."
A champion apprentice in South Africa, Zackey has ridden ten Group One victories in his homeland, where the jockey ranks are fiercely competitive and globally regarded. A regular top ten rider, Zackey had a good relationship with a number of leading owners in South Africa.
Having come from the bustling melting-pot of Johannesburg, Zackey is enjoying New Zealand's open spaces.
"The scenery is a major difference. I am enjoying it so much," he said. "Johannesburg is a really busy city and being a jockey it was not much of a lifestyle, just travel and work.
"South Africa's jockeys are known around the world and wherever they have gone they have had success. It is very competitive and notching those big wins was very big for me and good for my young career. I just want to build off that."
Further boosting the New Zealand ranks will be South African apprentice jockeys Triston Moodley and Donovan Cooper, the first two internationals to join the newly formed New Zealand Jockey Academy.
Created by Nakhle and Mansour, the Apprentice Academy is based at Byerley Park and boasts a bespoke complex, housing a purpose-built gymnasium, two classrooms and a world-leading MK10 racehorse Simulator, the first of its kind in Australasia.
"Triston Moodley and Donovan Cooper arrived early last week and are really getting around," Zackey said. They had their first jumpouts last Thursday, which is great. Now they can start in some barrier trials and they are adapting really well."
Zackey's exploits at Tauranga have also helped him snare a late call-up to ride at Monday's postponed Riccarton meeting, with leading trainer Mark Walker keen to utilise his services.
A slippery track saw the feature meeting abandoned at the Christchurch course on Saturday and with Australian jockey Josh Parr unable to his extend his stay for the Te Akau team, Zackey will be the beneficiary. He has picked up rides on Burgundy Rose (Group 3 Stewards Stakes, 1200m) and Leaderboard (Group 3 New Zealand Cup, 3200m) plus undercard mounts on Navalha and Image Of You.
"To get the call up to ride for Mark Walker and Te Akau Racing, there was no hesitation," Zackey said.
"When Donavan phoned and said we had been offered four nice rides for Te Akau on Monday at short notice, I said 'Let's do it'."
More New Zealand horse racing news