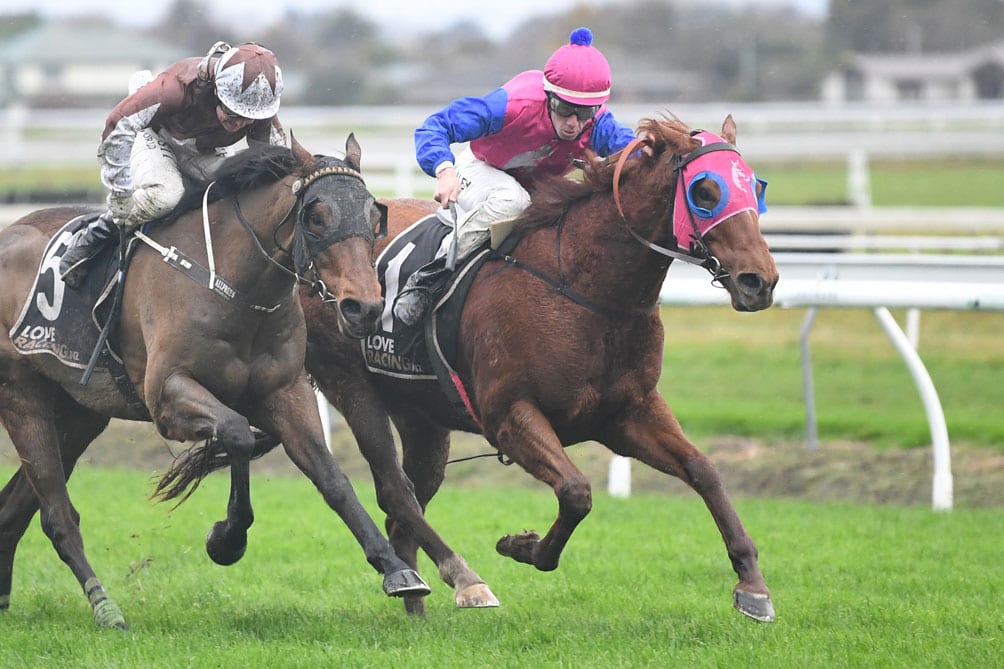 Estimated Reading Time: <1 minutes
In an age where horses race much less frequently, seven-year-old New Zealand gelding Deerfield is like a throwback to decades gone-by.
Since racing resumed in June last year after the COVID-19 lockdown, Deerfield has raced 19 times – a figure associated more with trainers like Bill Sanders and his team of 'professional' racehorses in the 70s.
Deerfield thrives on racing, as evidenced by his tough victory in the Winstone Wallboards (1100m) at Awapuni on Saturday, lumping 60kg topweight.
However, the formula for keeping Deerfield on the track is the opposite of the Sanders' philosophy of frequent and lengthy trackwork.
A variety of physical issues means that he does the majority of his work on trainer Chrissy Bambry's water treadmill and only goes to the track to gallop, which isn't frequently. He also requires physiotherapy every couple of weeks.
"He gets a bit muscle sore, so quite often he'll pull up a little bit stiff from his races. If he was to go around a track every day he wouldn't be able to stay sound," Bambry said.
"We have our routines, we have the massage blanket that has to go on him every day before he works. He takes a bit of management but you don't mind when he tries really hard and has the ability that he has."
Bambry said the main reason Deerfield races so frequently is that he gets bored when he's not in training. Since June last year he's only had a couple of brief breaks, including three weeks off in May.
"He has a couple of weeks break every now and then, but he hates the spelling paddock. He's a bit of a loner and he walks a bit, he loses weight when he goes out spelling rather than doing well.
"He's got his couple of paddocks and his two friends that he likes to be with up here. He just likes the routine and doesn't like spelling so it's easier to keep him ticking over."
Deerfield was originally owned in Hong Kong but after injuring himself in October 2019 his ownership was transferred to a family team consisting of Bambry, her parents Tony and Judith, and sister Samantha.
"We rehabbed him back and we thought he was worth having a go with, and we haven't looked back," Bambry said.
With 11 victories from 32 starts, Deerfield has been a fantastic advertisement for Bambry's training ability. In his 19 starts since lockdown, the venerable galloper has won seven times and finished third in two Group One races, the Captain Cook Stakes (1600m) in December last year and the Thorndon Mile (1600m) in January.
Deerfield's consistency has now been rewarded with a black-type victory – though Bambry unfortunately couldn't celebrate it on the day.
He was nosed out of victory in the Listed Flying Stakes (1400m) at Awapuni on April 3, but was subsequently awarded the race after the winner, Shadow's Cast, tested positive to the prohibited substance Citirizine, an antihistamine used to treat and prevent allergies.
"It's a bit of a hollow victory because it's my first black-type victory as a trainer as well, but we'll take it and hopefully he'll get a few more," said Bambry, who has been training for around three years and claimed the Gavelhouse.com Newcomer to Training Award in her second season in the caper.
Deerfield, who has banked NZ$256,000 in prizemoney, is likely to be seen in an Open Handicap at Trentham in a month's time over 1200m, with the Group 1 Tarzino Trophy (1400m) at Hastings a long-range target, a race in which he finished fifth last year behind Callsign Mav.
Bambry's black-type hopes for the remainder of the season aren't just around Deerfield as she is aiming at the Listed Ryder Stakes (1200m) at Otaki in July with Bellacontte, who finished an eye-catching third in the Listed Castletown Stakes (1200m) at Wanganui earlier this month.
"Hopefully we might be able to pick up a black-type win with Bellacontte and we might be able to celebrate both the black-type wins on that day."