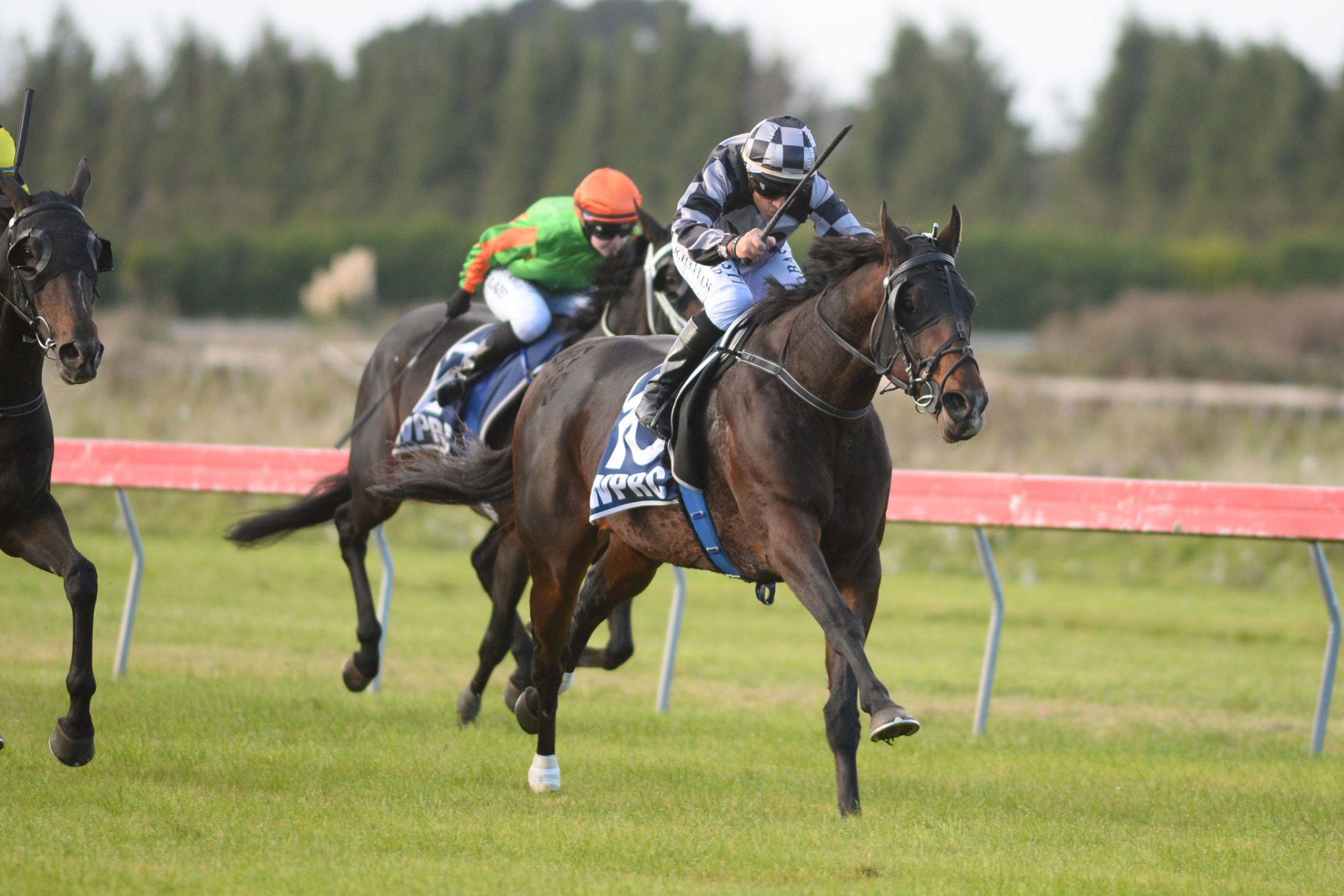 A special pre-race plan helped Sergio become Kamada Bloodstock's 100th race winner when he led all the way in Sunday's Woodville-Pahiatua Cup (1600m).
New Zealand trainer Chrissy Bambry had been worried about the Swiss Ace gelding hanging to his right, especially when going around the final turn. But she managed to figure out a way that might convince Sergio to run straight for jockey Robert Hannam.
"There were a few other leaders in the race so I asked Robbie to make sure he led," Bambry said.
"I think he hangs towards other horses, so I just asked Robbie to get a little bit of a break on them, and he rode an absolute ripper of a race. I knew that if he got a bit of a lead on them coming around the turn and he ran straight, he'd be pretty hard to peg back and that was the case."
Bambry said Sergio could be back quickly to seek a black type success in the Listed Manawatu ITM Anzac Mile (1600m) at Awapuni on Sunday.
"We'll just take it as it comes and see how his blood readings come up later in the week. He's still a baby mentally but he'll let us know if he's ready to back up or not," Bambry said.
"He doesn't like the rain either so once the rains come he'll go out for a good break. He's got a lot of ability and in six months' time I think we'll see an even better horse."
Bambry said Sergio meant a lot to Kamada Bloodstock and its founder Kevin Pratt, who died after a short illness in August 2020.
"They've been great clients and he's obviously a very special horse to the family as he was seriously hurt as a yearling. Kevin did a lot of the work himself to get him right so it's pretty sentimental every time he wins for them."
If Sergio heads to Awapuni he could be accompanied by Kingfisher Lad, a winner at Otaki last week, and La Capita, who will run for Bambry for the first time after previously being trained by Lance Noble.
"Kingfisher Lad might be a really fun horse for the winter. His owners have had horses for 30 years but never had a winner so it was really special at Otaki last week," she said.
"La Capita looks like she's coming up well so if we can keep her manners on target I think she'll be a lovely filly, though she doesn't like wet tracks."
Also still in training is the improved sprinter Scotch, who would have placed in the Listed Lightning Handicap (1200m) at Trentham on March 19 but for clipping heels and losing his rider 50m from the finish.
He was ninth of 12 in the Listed Power Turf Sprint (1200m) at Hastings last Saturday, though Bambry thinks he wasn't at his best.
"He wasn't himself after the race on Saturday but he's bouncing around the paddock this morning. I'm not sure why he didn't fire at Hastings," she said.
"I think you'll see a different horse with him next time. He'll probably run in a Rating 74 at either Te Rapa or Wanganui at the end of the month."
Meanwhile, a number of Bambry's top winter gallopers are back in training, waiting for rain-affected tracks, including Bellacontte, Deerfield, and Spring Tide.
Bellacontte won the Group 3 Gold Trail Stakes (1200m) and the Listed O'Learys Fillies Stakes (1200m) during spring. She could resume in the Group 3 Cambridge Breeders' Stakes (1200m) at Te Rapa on Saturday week and then head for the Group 3 Rydges Rotorua Stakes (1400m) on May 14.
"She looks like she's come up pretty well but her programme will depend on the weather. If she goes to Rotorua she'll need a run under her belt so the Cambridge Breeders' is the obvious race, provided the track is suitable," Bambry said.
"She's only a little filly and she was just starting to grow that last little bit when summer arrived. The rock hard tracks probably don't suit her but there's only so many chances at black type level so we've got to work our way around what's best for her."
Veteran Deerfield is also waiting for the tracks to get wetter, and for a 1200m race that will suit him.
"There's not a lot of open 1200m races around for horses with ratings like his (93), so hopefully we can find one that will suit. He will need a few races before he's back to peak fitness.
"We don't have any particular targets but once the wet tracks arrive he should pick up a couple more races."
Spring Tide was one of the most improved horses of last winter, winning three races before going down by a head to Callsign Mav in the Group 1 Tarzino Trophy (1400m) at Hastings last September, and that race is likely to be his main target for 2022.
"He's come back a lot stronger this season but he's still got his bad hock conformation so he's carrying a lot of extra weight and I don't want to do too much with him on rock hard tracks," Bambry said.
"Hopefully the rain comes for him and we can get a few good hit-outs for him on a soft track that won't hurt his hocks so much.
"He doesn't need to be peaking for another five months probably. His aim will be the Tarzino again but to get there I've just got to get the work in to him. We've got him in work early enough and he can just have an easy prep and wait for the rain."
More New Zealand horse racing news