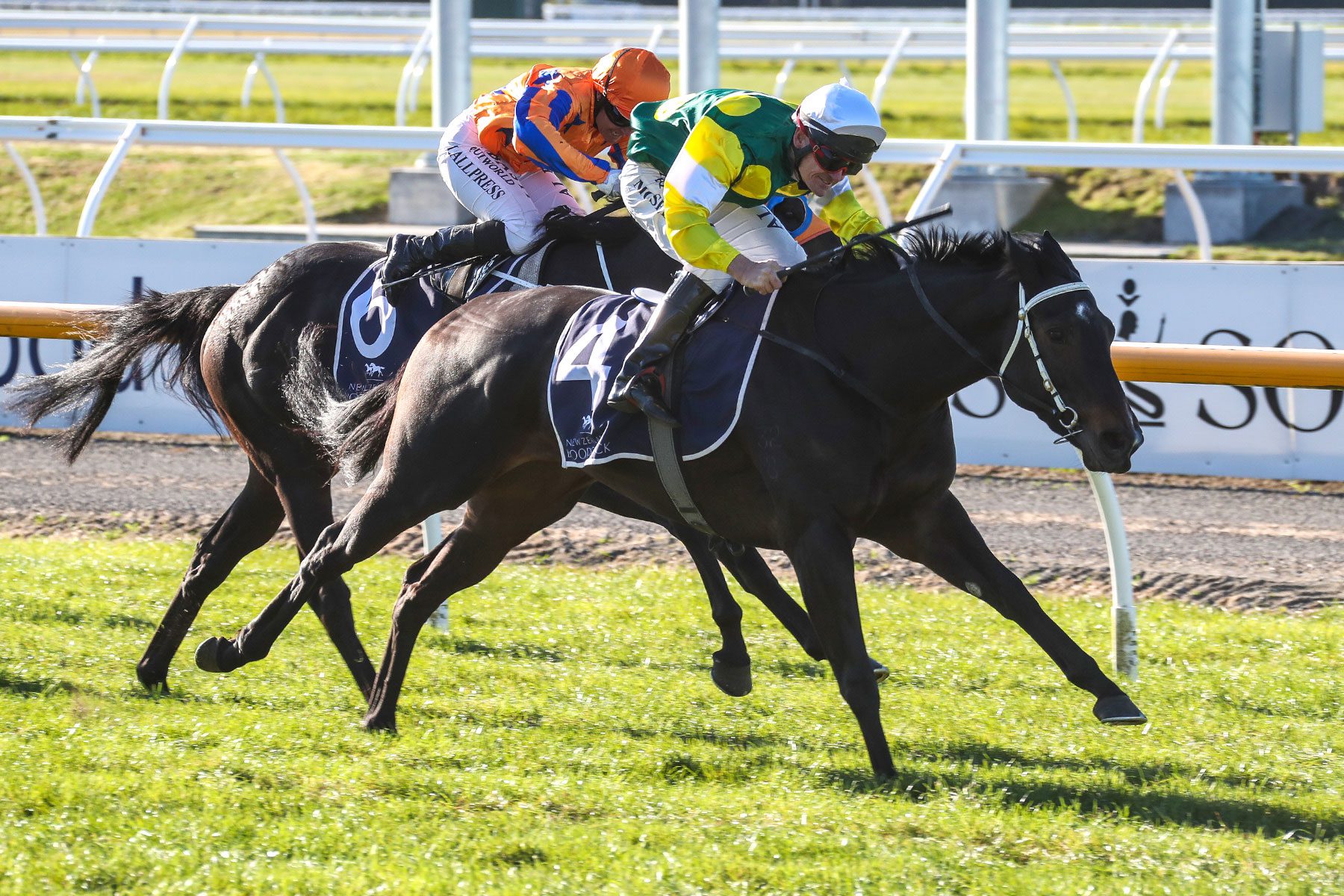 Reputabelle's bid for a rare clean sweep of New Zealand's South Island's autumn three-year-old filly features was impressively thwarted by up-and-comer Burgie in Saturday's Listed New Zealand Bloodstock Warstep Stakes (2000m) at Riccarton.
A commanding winner of the Listed NZB Airfreight Stakes (1400m) and Listed NZB Insurance Stakes (1600m) in her last two starts, Reputabelle was already guaranteed the title of 2021-22 New Zealand Bloodstock Southern Filly of the Year.
But Saturday's final leg of the four-race series was more than just a victory lap, presenting the Pins filly with an opportunity to join Seamist (1990) and Madam Victoria (2014) as only the third horse to ever win all three of the South Island's autumn Listed races for three-year-old fillies.
Sent out as a +130 favourite, Reputabelle was caught wide in the early stages of the race, leaving jockey Tina Comignaghi with no option but to push forward into the uncustomary role of front-runner. Reputabelle took the unusual circumstances in her stride, settling into a smooth rhythm in front.
But the race quickly came alive down the side of the track as Taimate Diva swooped around the outside, moving up alongside Reputabelle and applying pressure a long way from home. A few lengths behind them in midfield, Burgie and rider Terry Moseley were travelling beautifully and biding their time.
Reputabelle shook free of Taimate Diva and went for gold in the straight, but then Moseley brought Burgie down the outside with an irresistible finishing burst, finishing over the top of the favourite and powering clear.
Belle Of The Ball flew home from last in a bold late challenge, but Burgie held on by half a length.
The Warstep Stakes was the second win of a six-start career for Burgie, who has also picked up two second placings, along with fast-finishing fifths in the NZB Airfreight Stakes and NZB Insurance Stakes.
Bred by White Robe Lodge's Brian and Lorraine Anderton, she is by resident stallion Ghibellines and is the first foal to race out of their young broodmare Norah. The Andertons share ownership of Burgie with the B J's Southern Syndicate, and Brian trains her in partnership with his son Shane.
"It's a fantastic result," Shane Anderton said. "She's obviously White Robe Lodge born and bred, and the B J's Southern Syndicate have been one of our longest-serving clients. They've been there basically since we first started syndicating horses, and they've raced quite a few good horses over the years. Now they've got another one.
"She won really well today, that was a big performance. She deserved a bit of black type after some big efforts in her last few starts, particularly in the NZB Insurance Stakes a couple of weeks ago. She could have won that race if she'd had any luck at all that day, but the way she found the line certainly gave us a bit of confidence for the step up to 2000 metres this afternoon. She's done a great job.
"That'll be it for her in this preparation, and she can go out to the paddock for a really nice break now."
Reputabelle's four-race winning streak came to an end with Saturday's third placing, but she lost little in defeat in the eyes of her trainers Michael and Matthew Pitman.
"We were hoping we might be able to get a bit of cover just behind the speed," Matthew Pitman said. "But she had to do a bit of work early and unfortunately ended up out in front and with a bit of pressure on a fair way out.
"She's still been very brave all the way to the finish, and we're proud of her. She's won the Southern Filly Series, and she really deserves that. She's arguably been the horse of the autumn in the South Island. If she'd managed to win again, which would have been five in a row, it would have put an exclamation point on that. But she's still done a great job, picking up two stakes races and winning the Southern Filly Series.
"We never make any decisions on raceday, so we'll wait and see what we do with her now. She deserves a good bit of time off at some stage, but whether that's now or whether she's still going well enough for another race or two first, we'll probably assess her on Monday and make up our minds then."
More New Zealand horse racing news