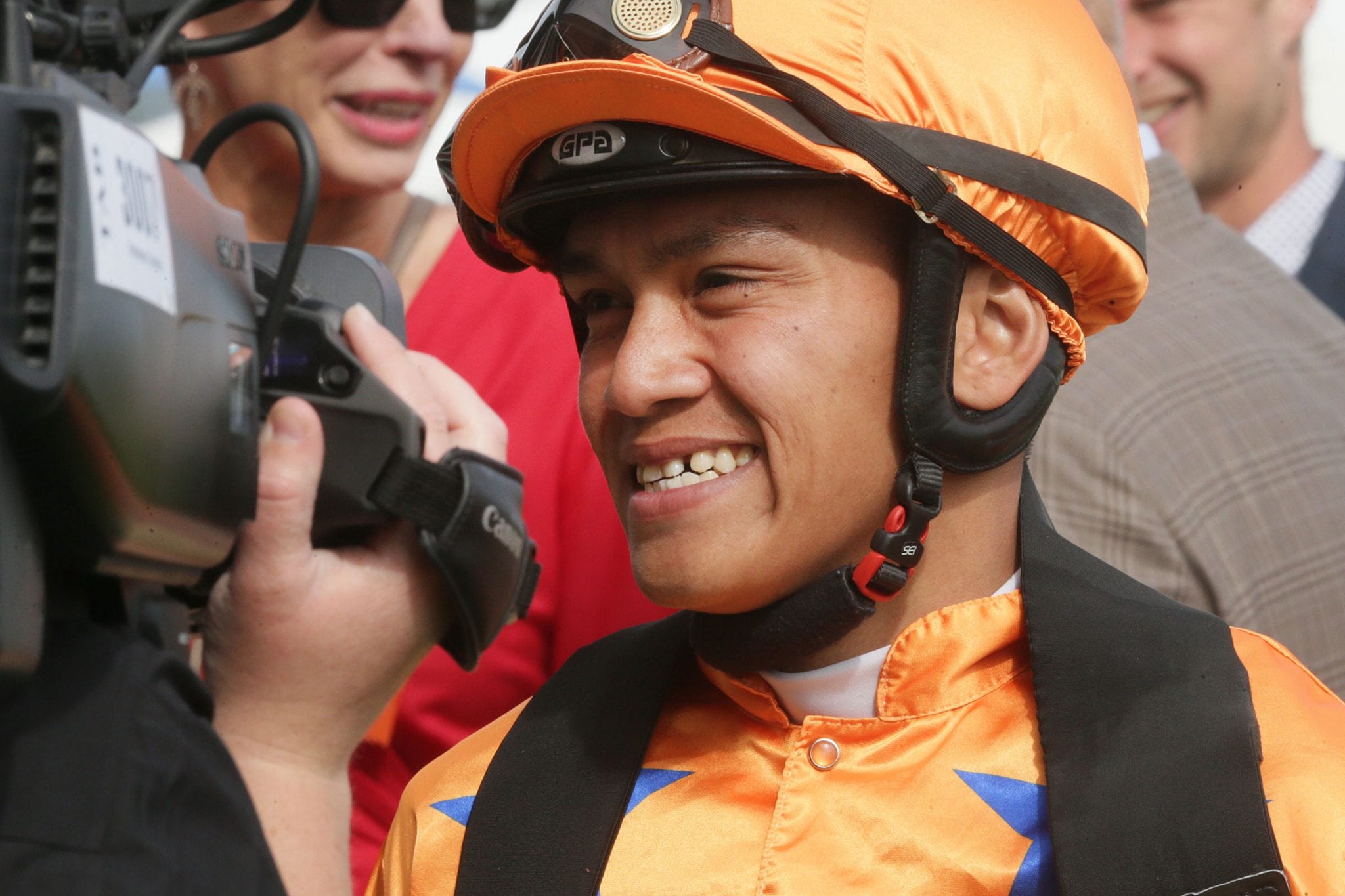 Estimated Reading Time: <1 minutes
The confidence that comes from riding winners was never more evident than at Te Rapa on Saturday when New Zealand apprentice jockey Joe Kamaruddin notched his 29th success for the season aboard Palm Springs in the opening event on the card.
The Malaysian-born (Kelantan) jockey has proved a revelation in recent weeks, booting home a winning treble at New Plymouth on Thursday off the back of a double at Ellerslie three days earlier.
Recently named 'Apprentice Jockey of the Year' at the Auckland Racing Club awards and backed up by taking out the Apprentice Jockeys' Challenge on Thursday at New Plymouth with three wins, a second, and a fourth, it is a far cry from his first two seasons in the saddle where he managed just one win from 42 rides.
Northern Region Riding Master and former champion jockey Noel Harris has been impressed with Kamaruddin's improvement.
"A lot of our apprentices have really stepped up, including Joe," Harris said.
"He didn't have a lot of confidence when he first got his licence, but he's a big improver. I said to Jamie Richards after Joe won on Challa at Te Rapa and Hawkes Bay early in the season, going to the front was beautiful and a good way to build confidence.
"He was trying too hard, over-riding them, which a lot of apprentices do, but they just want to succeed, and I tell them less whip and more rhythm and balance.
"It's about getting these kids to believe in themselves.
"Joe's got a great character and when he comes to apprentice school, he lights up the room."
Kamaruddin, 28, who lives with his partner Nardia Zainal, who also works for Te Akau Racing, has settled in well to the New Zealand way of life.
The Malaysian rider arrived via Singapore, where he worked for trainer Steven Burridge for three years, while his long-held ambition to be a jockey was fuelled by countryman and former Te Akau Group One winning rider Shafiq Rusof, who remains a close friend, while family is also important to the affable apprentice.
"Every couple of days we video call our families," Kamaruddin said.
"I am successful as a jockey now, and my Mum and Dad and brother and sister are very happy for me.
"I ride up to 13 horses in work in the mornings for Te Akau and there is no stress. I like the people I work with because they are happy and I enjoy seeing them every morning.
"It is a very good team spirit and I like the job.
"David Ellis (Te Akau Principal) is very good because he's helped me with everything, talks to me and helps me to understand.
"So does Noel Harris at apprentice school. I like talking with Noel and understand when he talks to me because he rode a lot in Malaysia and knows a little bit of Malay.
"Not too much, but a little bit!
"We are very happy here in Matamata, it is a good life.
"From a long time ago, I was dreaming to be a jockey and now I am here and my dream has come true, so what I am thinking now is that we want to stay in New Zealand."
Te Akau trainer Jamie Richards was another full of praise for the hard-working hoop, suggesting that attitude takes him a long way.
"He's a little champion. He walks into work each morning at 3.45am, always with a smile on his face, and he's happy to help with anything that needs to be done," Richards said.
"He's a pleasure to have around and now he's figured it out he's really starting to kick home some winners."
That opinion is backed up by Cambridge trainer John Bell who had no hesitation in booking Kamaruddin for the ride on progressive four-year-old mare Palm Springs.
"Joe comes over and rides work for me once a week in the winter," he said.
"He is a lovely lad and he is very good as his demeanour is great, he's pretty casual but switched on and professional.
"He had done his homework on Palm Springs and rode her accordingly.
"He knew she was first-up for six months and he was very kind to her in the final stages."
The victory lifted Kamaruddin into the top ten apprentice riders on the National Jockeys' premiership for the season and just one win away from reducing his apprentice allowance from three kilograms to two.