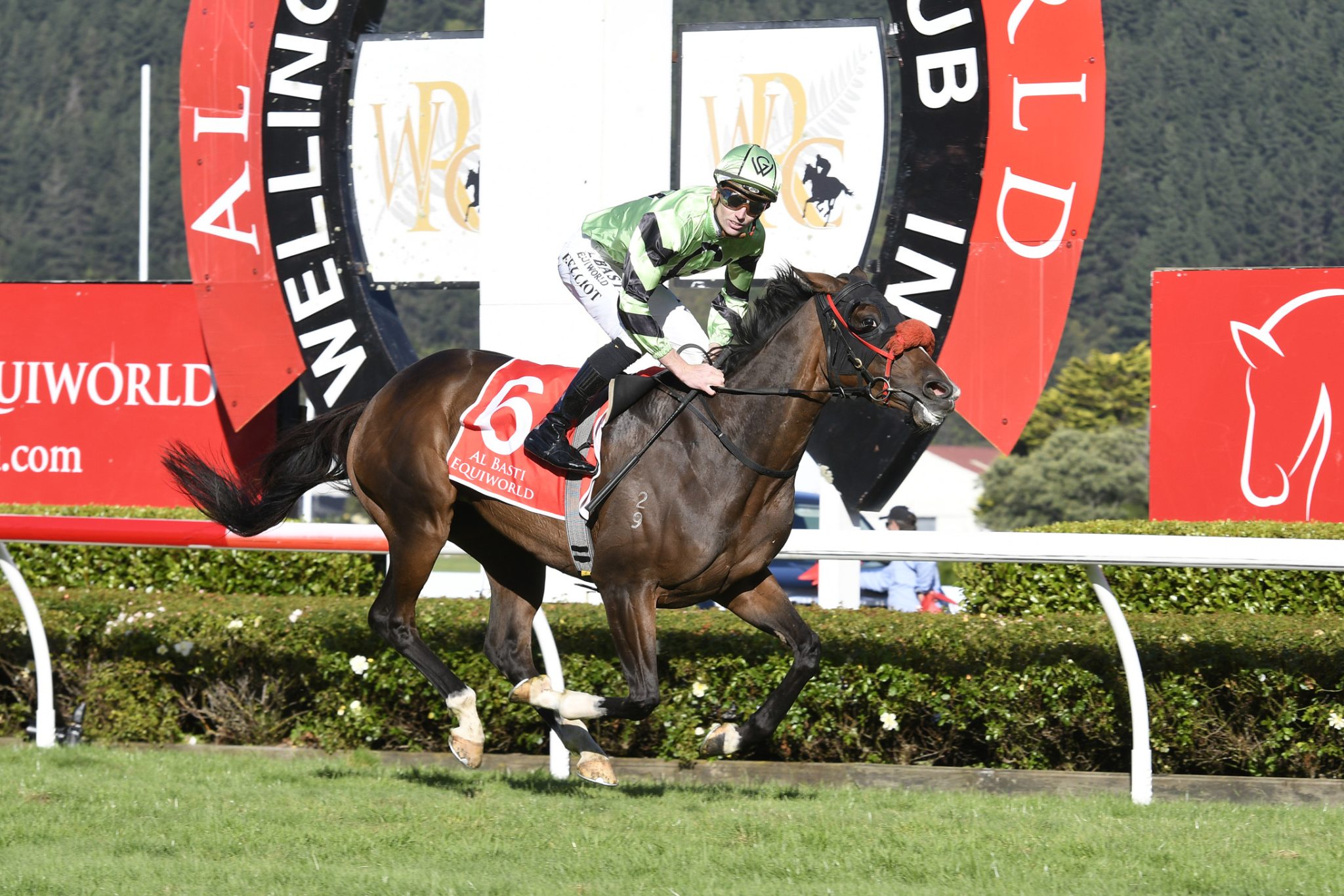 Just seven days after outstanding three-year-old stayer Pennyweka captured the Group 1 New Zealand Oaks (2400m) for her seventy strong syndicate of owners known as the Galloping Wekas Jazweka Syndicate, another branch of the successful syndication platform picked up their own triumph with Maryweka at Riccarton on Saturday.
The Galloping Wekas Maryweka Syndicate race the three-year-old daughter of Time Test under the syndication structure created by Janine Wallace, who bred the filly along with her husband Les and his brother Jim.
The trio also bred Pennyweka and in fact have bred every one of the horses raced by each 'Weka" syndicate on the family's Ardsley Stud property in the Wairarapa, since they started back in 2012.
A year earlier Les had suffered a serious accident that put an end to his work with horses and left the couple wondering what do with the Pentire foal of their mare Blue Hope, that they named Skyweka.
"We had Skyweka in the paddock and wondering what we were going to do with her when Janine decided she would try and syndicate her and race her with some friends," Les said.
"I thought she was on a hiding to nothing but she rang people, friends of friends, our son and his mates and we got 38 people involved and it all started from there."
Skyweka went on to win five races and was quickly followed by the second Weka syndicate, all named after the feisty native bird that had featured prominently in a family holiday in the Marlborough Sounds, who raced Skyweka's half-sister Morweka.
Morweka was out of five race winner Spera who is also the dam of Maryweka, who is raced by the seventh iteration of Weka syndicates (Pennyweka is raced by syndicate number eight).
Morweka won six races for trainer Terri Rae, who also prepares Maryweka, was more of a sprinting type whereas Maryweka showed on Saturday that she could well perform over further after sitting three-wide outside the speed before running away from her opposition to win by more than a length in a three-year-old 1400m contest.
"We couldn't be at Riccarton to watch Maryweka, but if the excitement and atmosphere was anything like it was at Trentham for Pennyweka, then it would have been a marvellous occasion," Janine Wallace said.
"Trentham was quite surreal, just unbelievable and something we've never been through before.
"Mainly it is just so good for racing and it allows people to experience what racing and winning is all about.
"Les says you can pretty much take a share in a Weka syndicate for the price of a cup of coffee and that's what I wanted when I started off on this journey; something that didn't cost much and could be a great experience and bring people together."
The pair were eagerly awaiting a call from Rae to discuss the immediate future of Maryweka who could be in line to contest a stakes race at her next start.
"We haven't had a chance to speak with Terri yet but she had mentioned that if things went well some of those three-year-old filly races during the Riccarton Easter carnival were an option," Les said.
"There is a Listed mile in mid-April (NZB Airfreight Stakes, 1600m) that looks like a natural progression for her as she seems like she will get a little more ground whereas her older relative, Morweka, was really a dead-set sprinter.
"I think that Time Test may have added a few hundred metres more into this one's distance range, which means she has more options available to her.
"One thing Terri has said is that she just gives her all every time she goes out there, she is just so genuine and that certainly means we all know when she lines up that we are in for some fun."
Meanwhile the members of the syndicate that race Pennyweka will be rapidly putting together travel and accommodation plans for Sydney next month with trainer Jim Wallace confirming she will take her place in the Group 1 Australian Oaks (2400m) at Randwick on April 8.
"She has come through her run at Trentham in fine style so we had a think about it and decided to try her in Sydney," Wallace said.
"I gave her a trot up on the Monday after the race and her rider came back in and said she went better than she had leading into Trentham.
"We're booked to fly to Australia next Sunday (April 2) where we will be stabled with Michael Freedman at Hawkesbury.
"Damian Lane has been engaged for the ride so we will be giving it our best shot.
"It certainly didn't hurt to know that Prowess won't be there as a competitor and those local fillies won't be a pushover, but we will be giving it our best effort."