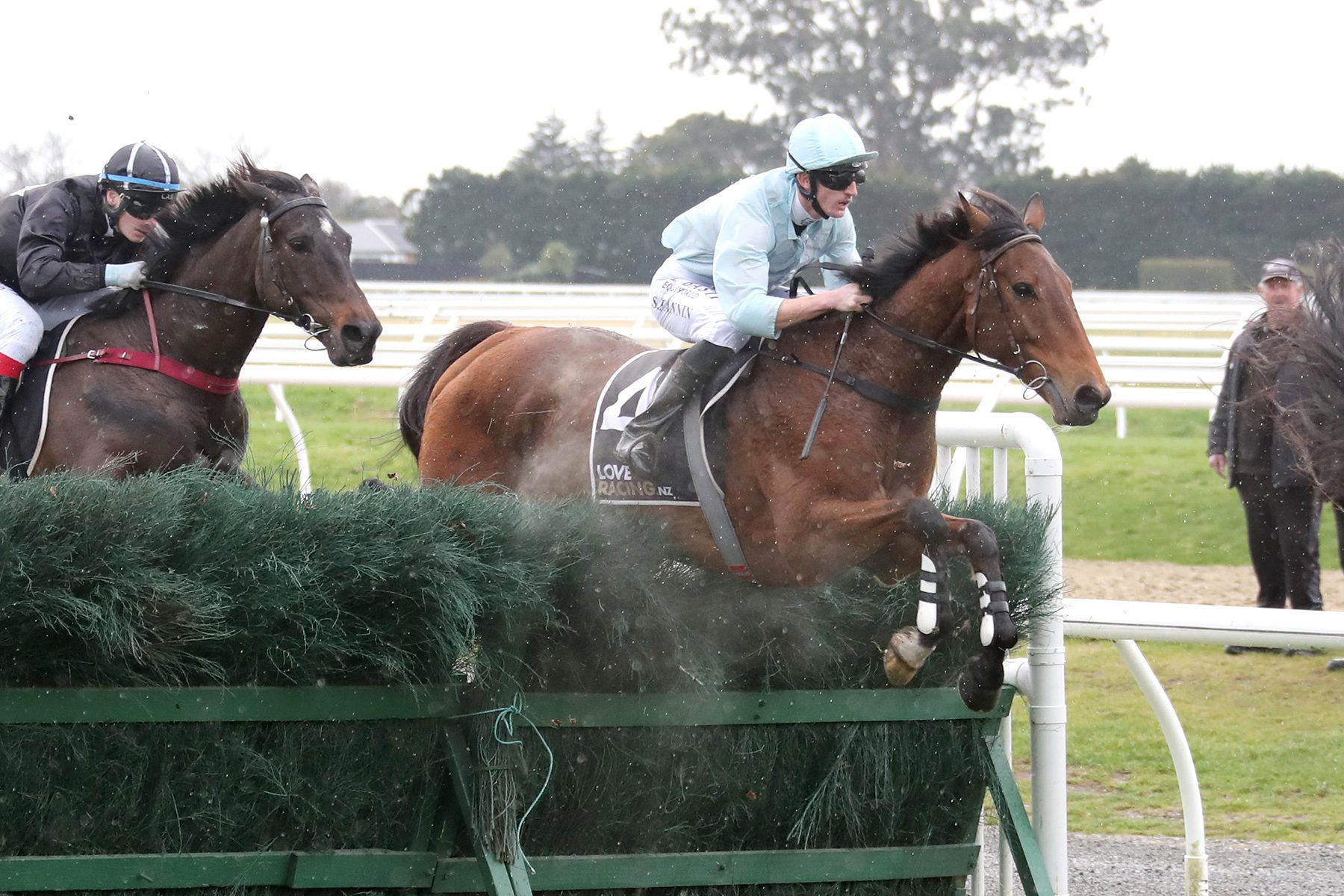 Athleticism may be West Coast's edge heading into Saturday's Grand National Steeplechase (5600m) at Riccarton, according to his Awapuni trainer Mark Oulaghan.
West Coast claimed last Saturday's Koral Steeplechase (4250m) at Riccarton to give Oulaghan a record seventh win in that race and the astute trainer will match that tally of wins in the Grand National should the Mettre En Jeu seven-year-old gelding triumph this weekend.
Oulaghan produced Deecee Seven to win in 1997 and 1998, Counter Punch in 2010 and 2011 and Upper Cut in 2016 and 2017, each winning for the first time as 10-year-olds.
"They have all been different types of horses. Dee Cee Seven was a tough roll-along type of horse. The next two were Yamanin Vitals and were typical Yammies," Oulaghan said.
"This guy is probably a bit more athletic than they were, though possibly a fraction softer than the Yammies were, but I think he'll get away with it with his ability."
West Coast has yet to miss a placing in a jumping race and has a record of four starts in steeplechases for two wins and two placings.
Online bookmakers have posted him as a $1.65 favourite in a five-horse field for Saturday's feature steeplechase.
Oulaghan said West Coast had come through his Koral Steeples win at Riccarton last Saturday in terrific order.
"He's done all right. He hasn't done a lot of work this week but he's done enough to hold his condition where we want it," he said.
"It's his first trip away and for a steeplechaser he's still a youngish horse. Fitness-wise, he's up to the mark and I've got no complaints with him."
Portia Matthews, who will ride race rival Keyboard Warrior on Saturday, exercised West Coast over more than a round of the Riccarton inside grass on Thursday morning, his final working gallop ahead of the Grand National.
"He just had a gallop on the trials grass and he seemed to roll along ok. We're happy enough," Oulaghan said.
"He was a bit casual at the start of it but he was pretty full of himself by the time it was all over. After Saturday's run, he's pretty fit so it's just a matter of stretching his legs a bit and maintaining it.
"He'll do a couple of quiet rounds tomorrow and maybe a round on Saturday to stretch his legs before he goes over."
Raced by Mackenzie country family Ron, Jennifer, Henry and Gabby Williamson, West Coast will again be ridden by Shaun Fannin.
"Sometimes the small fields can be the tricky ones but possibly that's a bit different in a steeplechase. He'll just get over the first couple of fences and see where he ends up and Shaun can ride the race from there."
Oulaghan ruled out a trip to Australia later this year but left the door open to continuing West Coast's preparation in the North Island safely through Saturday's race.
"There's a possibility we could spell him but we'll just get him home after Saturday and see how he is. If he's really well, we could look at the Pakuranga Hunt Cup and then the Great Northern is the natural progression if he goes well there."
More New Zealand horse racing news