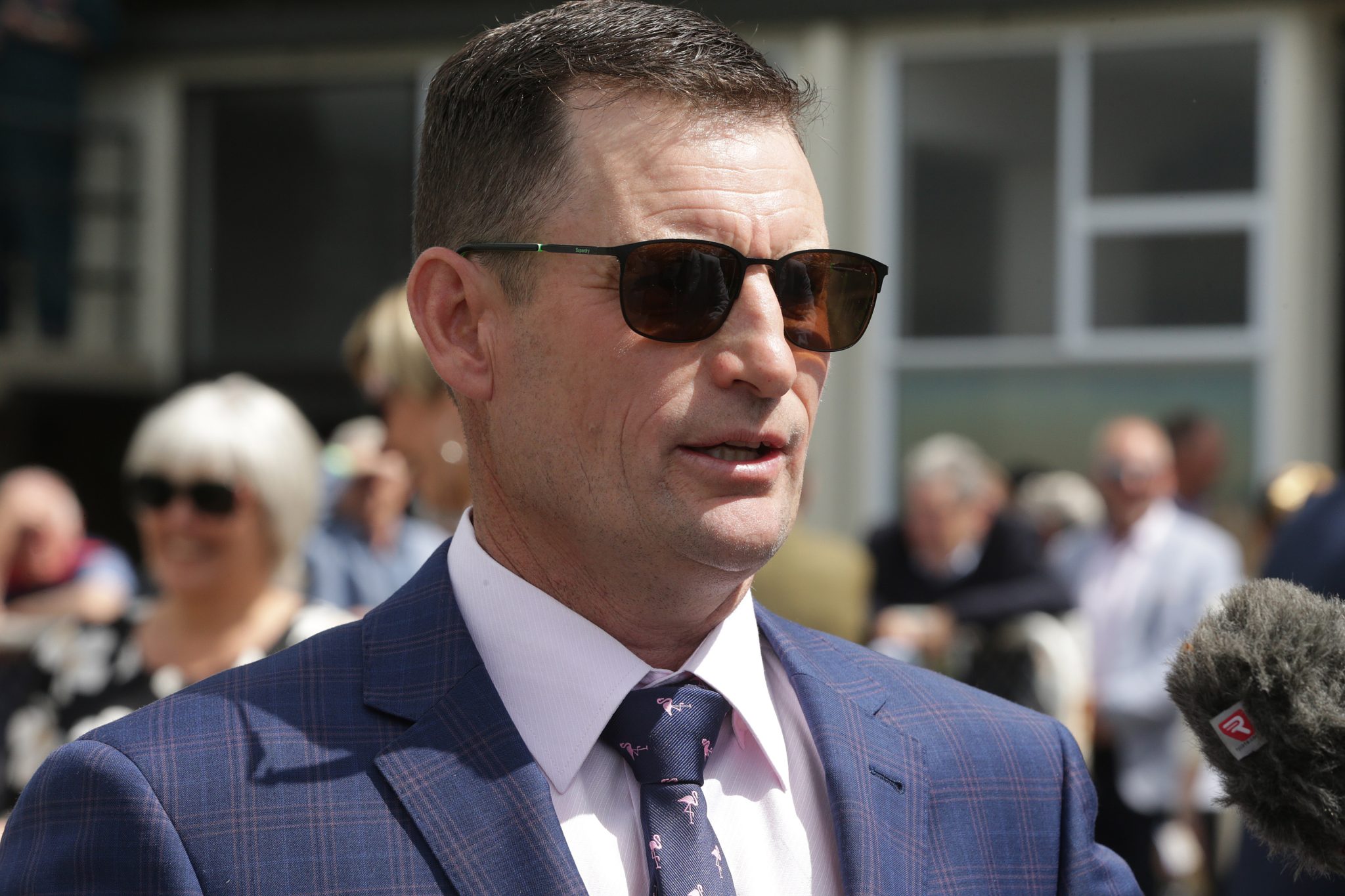 Post-race protocols are being addressed in the wake of the serious injury suffered by trainer Darryn Weatherley in the Trentham birdcage on Saturday.
In dramatic scenes following the Listed New Zealand St Leger (2600m), Ess Vee Are kicked his co-trainer while Weatherley was adjusting the winner's dress rug.
Ess Vee Are struck Weatherley on the upper thigh with sufficient force to knock him to the ground, and while he suffered no fractures, a potentially far more serious situation arose.
It quickly became apparent from the bleeding from Weatherley's upper left leg that there was damage to an artery, but thankfully the speedy reactions from a raceday veterinarian and ambulance personnel managed to stem the bleeding.
"Darryn had gone to the back of the horse to straighten up the dress rug as it had slipped to one side," Weatherley's wife Louise explained on Sunday morning.
"He's normally a very relaxed and unaggressive horse, but he still had his blinkers on and was understandably a bit stirred up from the race, and he took fright when Darryn pulled on the rug and he double-barrelled him.
"The crack it made when he struck Darryn made me think he had broken his thigh, but straightaway you could see the blood through the top of his pants.
"Thank heavens there was a duty vet nearby and when he realised what had happened he whipped off his tie and applied it as a tourniquet above the wound, which is probably what saved Darryn's life.
"There was blood everywhere, but thankfully the ambulance people were right there as well.
"Once they had assessed the situation and stabilised Darryn, they took him to Hutt Hospital and he had surgery to close the wound.
"We think the toe-clip on the horse's racing plate just caught him in the wrong place – the crazy thing is the actual wound was only two centimetres wide.
"It's been very stressful but we're all just thankful when it could have been so much worse."
Weatherley remained in hospital overnight and was due to have further surgery on Sunday to ensure everything was as it should be ahead of being released.
 
Kim Treweek, who was on duty at Trentham in his role as GM Racing of the RACE group of clubs, described Weatherley's injury as a "random incident" but a scenario that all the same required addressing.
"It's been a tradition around the country to throw a dress rug on feature race winners, however after what happened that procedure obviously needs looking at," Treweek said.
"The Trentham birdcage is actually one of the safer ones in the way it separates owners and connections from their horses, but even so it just shows what can happen.
"I had a brief discussion at the end of the day with a couple of Board members about changing our format, and from a health and safety perspective alone it definitely cannot be ignored."
The next programme of feature racing in the lower North Island, Courtesy Ford Manawatu Sires' Produce Stakes day at Awapuni on April 1, also comes under Treweek's jurisdiction.
"The Awapuni birdcage is quite different to Trentham and without knowing the exact detail, we will have to change the way we do things there quite markedly," he said.