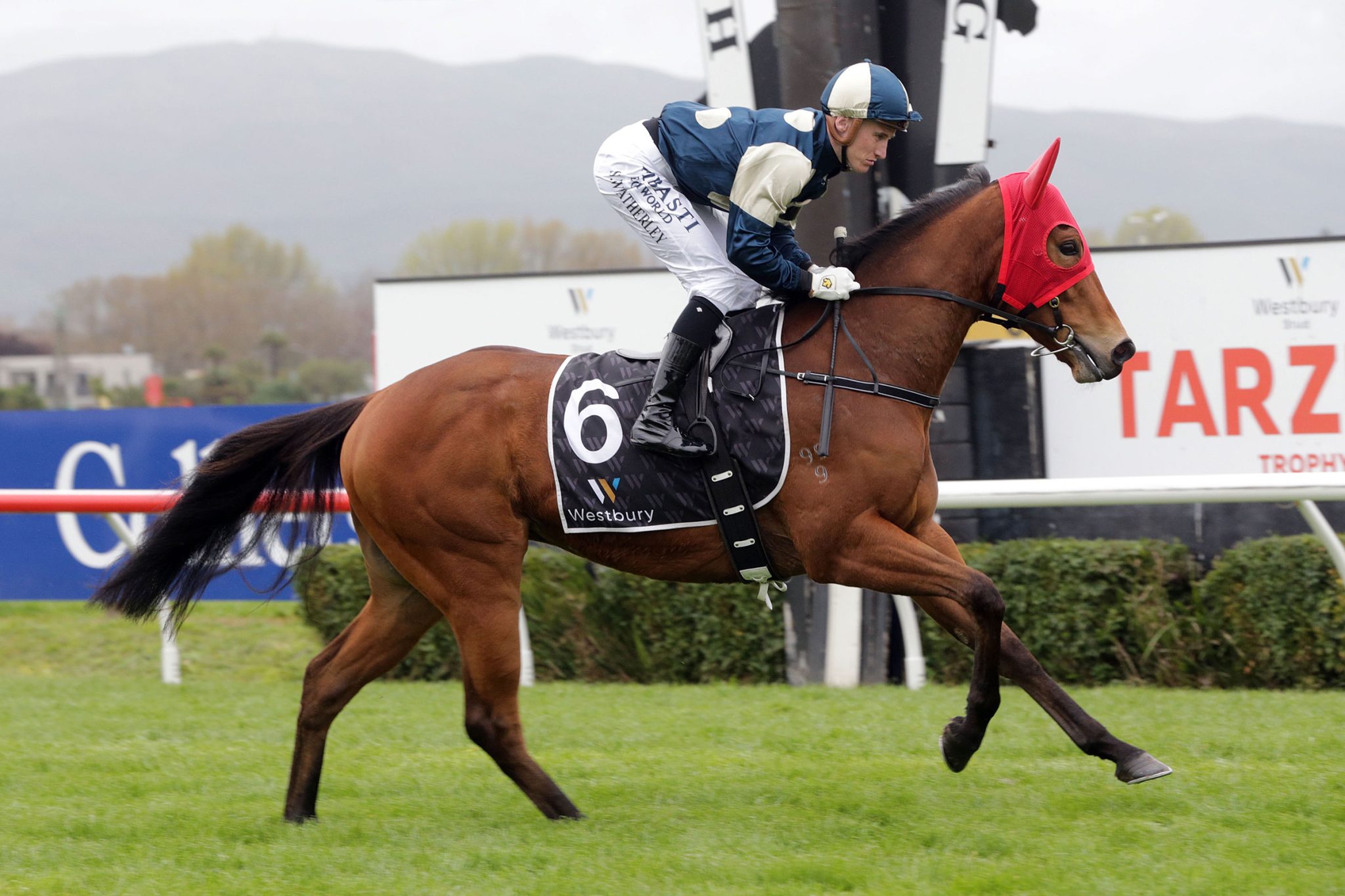 Matamata gelding Pier should be ready for an improved effort on Saturday as he gets ready to challenge leading New Zealand three-year-old Dynastic for a second time.
The Proisir gelding is set to contest the rescheduled Group 2 AHD Hawke's Bay Guineas (1400m), now on his home track of Matamata, after finishing second to Dynastic first-up in the Listed El Roca – Sir Colin Meads Trophy (1200m) at Hastings last month.
"He had a niggly little foot injury in the week leading up to that and he missed a gallop as a result, so he was one gallop short and I think he hit the wall a bit at the end," said Darryn Weatherley, who trains in partnership with his daughter Briar.
"I don't want to take anything away from Dynastic, he's a very smart horse, but Pier has definitely taken a lot of improvement since that run."
Weatherley said Pier had trained well in the meantime and hadn't been impacted by the postponement of the Guineas due to bad weather and track conditions at Hastings last weekend.
"He was due to head out on a float at 8am on the Saturday but we got the call about the abandonment at 7am so he didn't travel at all," Weatherley said.
"Instead he spent some time on the walker that day, and he had a very good gallop this morning."
As he gets to stay closer to home, Weatherley is eyeing the Group 2 James and Annie Sarten Memorial (1400m) at Te Rapa on October 22 as a final lead-in to the Group 1 Al Basti Equiworld Dubai New Zealand 2000 Guineas (1600m) on November 5.
"I don't want to get ahead of myself so we'll see how he goes, but I think he should get the distance. He switches off during the running and doesn't do anything until you push the button," he said.
Pier is not the only three-year-old that Weatherley has nominated for the 2000 Guineas. He also has a lot of time for Arby, who has raced just once for a fourth-place finish at Te Rapa on August 27.
"Before Pier stepped out on the track there was nothing between the two of them. Both horses had two trials for two wins and showed us plenty," Weatherley said.
"Arby's first run was on an unsuitable track and it was very pleasing run, and then he's unfortunately had a little bit of a foot abscess since then that we've been fighting.
"I'm just rubbing the rosary beads and hoping that we can get to Avondale next Wednesday, and if we can get safely through there and he wins well, we'd look at heading to Riccarton with him as well."
Pier is one of two runners Weatherley is set to start at Matamata on Saturday. The other is the mare Breckon Power, who is set to contest a Rating 65 1400m event.
"Her work's been good and if she handles the track conditions she'll be competitive," he said.
"The track was very heavy this morning, but it's a beautiful day and the land through that Matamata course does drain very well. It would be nice to have a few quiet days between now and Saturday, and if we do then it should come back quite nicely."
Among Weatherley's other runners, Maria Farina and Classic Beethoven could both head to Hastings for the October 15 meeting.
Maria Farina won a trial in August and could head to Riccarton in November if everything goes well, while Weatherley was happy with Classic Beethoven's first-up effort for fifth at Te Rapa on September 30 given the heavy track.
Ess Vee Are last Friday had his second start since finishing 10th in the Group 1 New Zealand Derby (2400m), finishing eighth in a Rating 65 1600m event at Te Rapa, and Weatherley was happy with the effort.
"Horses by Shocking often go in wet ground but I don't think he's one of them. He'll be a lot better when he steps out on better ground," he said.
Weatherley also has some time for the three-year-old filly Tru Planet, who has had one race for a sixth placing at Matamata on September 7.
"I didn't mind her first run. She will head to Avondale that week and should be very competitive with Tayla Mitchell taking the mount and taking 3kg off her back," he said.
More New Zealand horse racing news