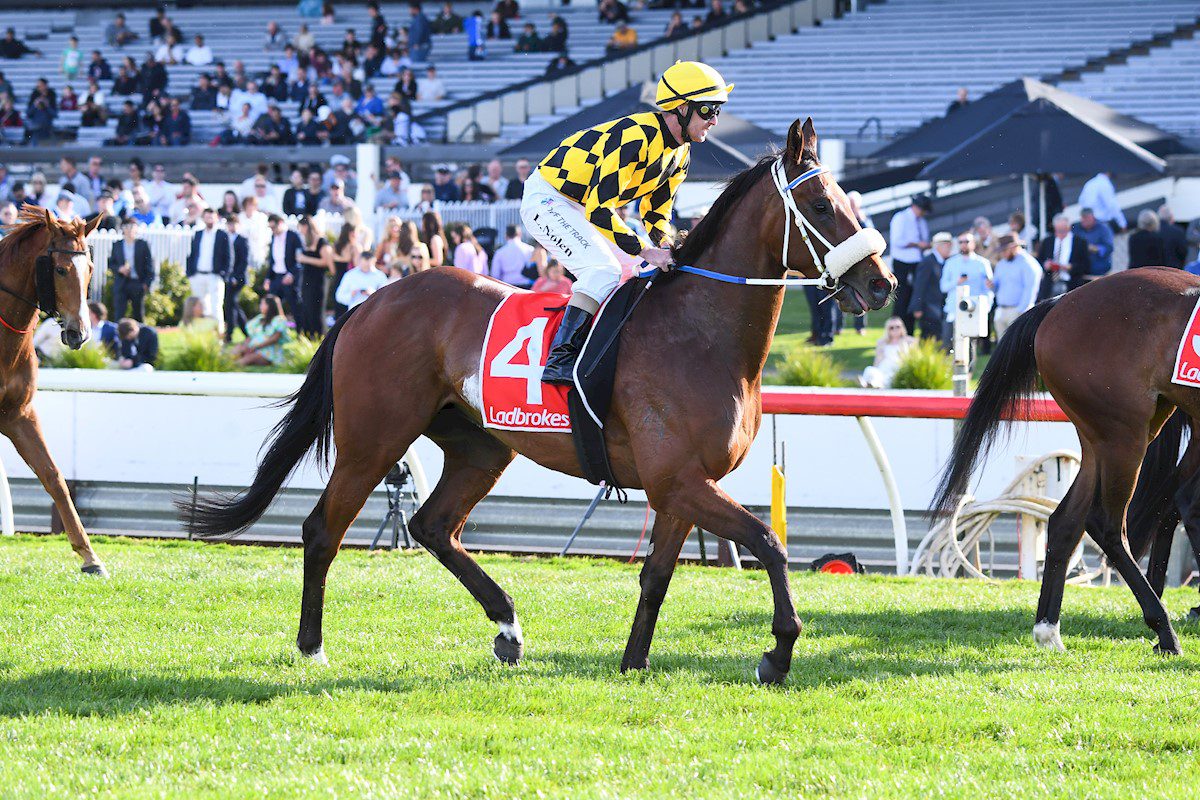 Waltz on By has hung on by the slimmest of margins to take out the Jim Moloney Stakes as the race favourite at $3.60 at Sandown.
The Peter Moody-trained three-year-old filly jumped perfectly and found herself outside the leader as there was no pace in the race at all.
Therefore, the race was set up for a sprint home to finish line and that is exactly what we got with the top five runners finishing within half-a-length of one another, with Waltz on By winning by a nose.
The rider of Waltz on By – Luke Nolen – now has a decision to make as to who he will ride in the Group 1 Thousand Guineas due to him also riding Boogie Dancer who won the Thousand Guineas Prelude last weekend.
2022 Jim Moloney Stakes Replay
After the race Katherine Coleman posed for photos with the trophy soon after the race exclaiming, "She looks pretty good."
"We would have liked to have a little bit of cover, but it just didn't pan out that way and Luke (Nolen) had no other option. She obviously got there a little bit too soon and was vulnerable late.
"She hung on really well so absolutely wrapt with her and going forward to a Thousand Guineas point, very happy.
"We've always had the opinion that when she gets a little bit of cover and switches off, because she just want to do things a little bit hard at the moment when she is out there rolling along out in front with no cover, but going forward very happy." Coleman said after being asked if her 'go forward' racing pattern is what the team wanted to see.
"Pete sent through a cheeky text before the race so, yes Moody we got it done alright!" said after Luke Nolen was asked to sum up the race for the viewers.
"She was good, with a race without a lot of speed she ended up sort of being outside the leader and I know she just lasted, but she might have a better turn of foot if we're ridden with a cuddle.
"I've gotta make a decision over the next couple of weeks." Nolen said reluctantly when talking about having ridden both Boogie Dancer and Waltz on By, who will both go to the Thousand Guineas at their next starts.
Waltz on By is now $11 in the Thousand Guineas market with online betting sites.