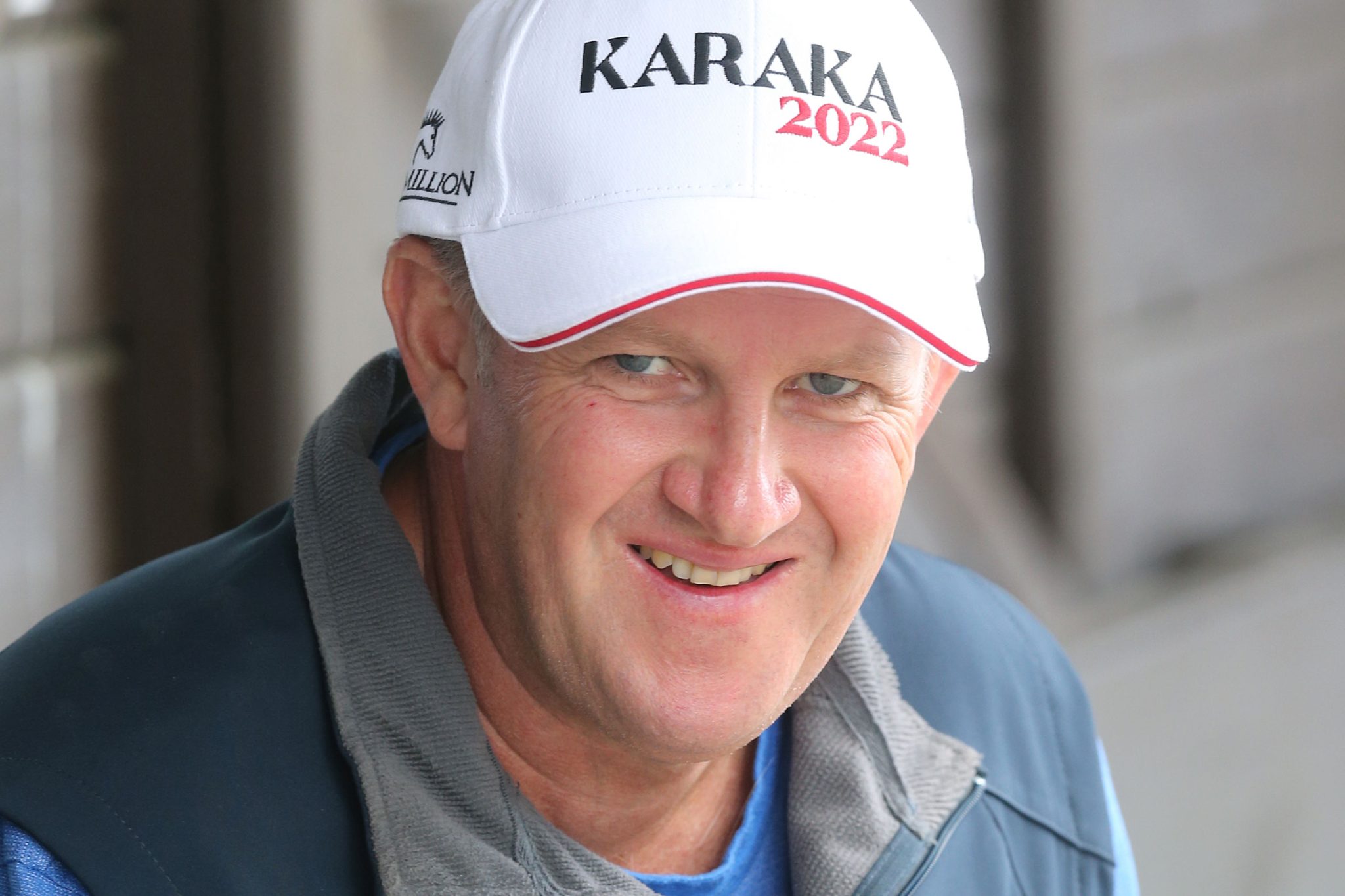 It is a case of back to the future as Mark Walker assumes control of Te Akau Racing's Matamata stable with the ushering in of April and the champion horseman will have a strong hand to play at Saturday's Group One meeting at Awapuni.
Walker spent 11 years in Singapore at the helm of Te Akau Racing's Kranji operation, where he was crowned champion trainer on four occasions, adding to the five national premierships he amassed in New Zealand prior to his Singapore departure.
With Jamie Richards securing a license in Hong Kong next season, Walker was an obvious replacement as he returns to his homeland after a lengthy stint away, made particularly challenging over the last few years due to the global pandemic.
"The hardest thing was not being able to see my two kids in Australia. Also, my father was very ill, and he died about six months ago, so it wasn't much fun for anyone the last two years and we certainly felt the impact," Walker said.
"Obviously training in Singapore for so long, you don't have the quality that is in the stable here in New Zealand.
"I'm going to have a lot of variety to work with and not just Karaka Million candidates but also some beautifully bred staying prospects.
"A number of the yearlings that were bought have already started the breaking in process which is so exciting.
"That is something I really missed in Singapore as it is where it all starts and from there getting them in the stable, getting them to a jumpout and a trial and then on to the races.
"They are now taking the first, and some of the most vital steps, in their racing life and I'm just thrilled to be a part of it all again."
The astute horseman returned to New Zealand in February and has had the best part of six weeks cross-over with Richards and has relished being back in his old stomping ground at Matamata.
"I have really enjoyed it and I'm a country boy at heart, so it is great being back. It has been a bit dry but it's nice being back in New Zealand and seeing the beautiful trees and the countryside.
"It was as though time had stood still and it was incredible really. I have really enjoyed being back the last six weeks."
Walker's partner Mirka and daughter Skyler arrived in New Zealand on Thursday evening, so all of the pieces are falling into place as he prepares to have his first runners on Saturday, immersing himself in stable life over the last month and a half to familiarise with horses and staff.
"It has been relatively straight forward. Every update that went out on every horse, Jamie sent to me, so I have had a schedule on trials and races, so I had always been a part of it," Walker said.
"The hardest thing is learning all the new faces."
Despite an incredibly high mark being set by Richards, who crammed 53 Group One wins and three trainer's premierships (soon to be four) into less than seven seasons, Walker is relaxed as he assumes a role he has handled with aplomb previously.
"I'm a great believer that the whole game is won and lost at the sale ring door," Walker said.
"It is still the same bloke buying the horses (Te Akau principal David Ellis) so I don't think success is going to elude us. Obviously, Jamie's record is incredible, he did a great job and sometimes you just have a run of good horses.
"I'm sure out of the yearlings this year there will be some really good horses.
"There are some rising three-year-olds we are pretty excited about that have already gone for a spell so there is plenty of depth to the team."
Walker is also excited by the prospect of picking off lucrative targets on both sides of the Tasman for Te Akau owners.
"Campaigning horses in Australia is a big part of the process. It is just because of COVID that Te Akau hasn't set up in Australia before now," he said.
"There were plans of doing that and I don't think that will change once COVID has been and gone and we can travel freely.
"I think we will have a permanent base somewhere in Australia."
With nine runners entered at the Awapuni meeting and three at Avondale, Walker has good ammunition on his first Saturday back as New Zealand trainer, including Dynastic (+150) and Maven Belle (+260) who head the market for the Group 1 Courtesy Ford Manawatu Sires' Produce Stakes (1400m) at Awapuni.
"I think Dynastic is a pretty high-class colt," Walker said.
"Winning a Karaka Million at your second start, he is a pretty special horse. Jamie just felt he had come to the end of it the last 100m at Ellerslie last start (when second in the Group 1 Sistema Stakes, 1200m), so I think he has improved a bit with that run under his belt and we are looking forward to seeing him run on Saturday. 1400m won't stop him that's for sure.
"Maven Belle is just so tough. She just seems to turn up on race day and perform. Arguably she was pretty unlucky in the Sistema (when third), if she had come to the outside she wins the race."
The duo give Walker a terrific chance of sending out an immediate elite-level winner, something that is not lost on the returning horseman.
"It would be a fairytale to be honest but it's not often fairytales come true, but we will be out there doing our best."
Walker is also keen to test last-start Group 1 Levin Classic (1600m) runner-up On The Bubbles (+110) over 2000m in the Group 3 Higgins Concrete Manawatu Classic and believes he is the stable's best chance away from the Group One.
"I would think On The Bubbles (is our best chance) because there is 18 rating points between him and the next horse," Walker said.
"I just think he is well in at the weights because it is set weights. That would be my pick. There is a question about the distance but the way he went at Wellington, he was held up and just finished it off and we all know Wellington mile is like 1800m at some other tracks.
"If he shows us he can handle the distance then it opens up all sorts of possibilities next season including the Triple Crown at Hastings."
More New Zealand horse racing news