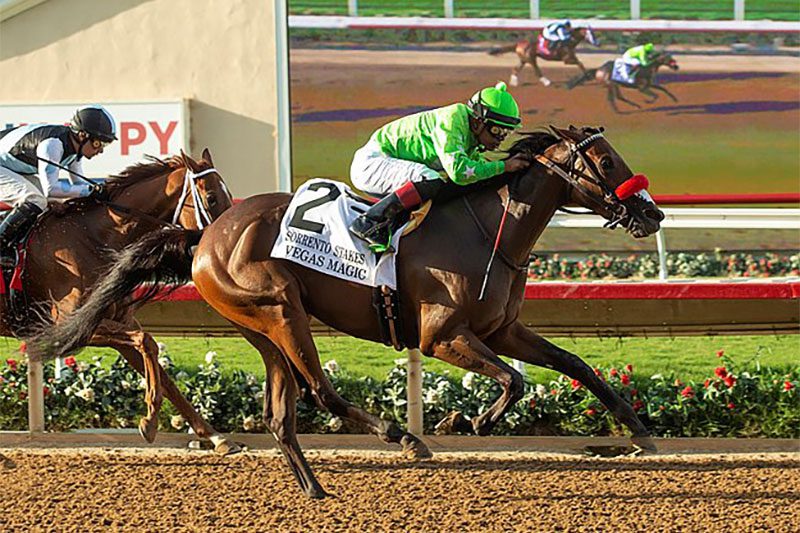 Vegas Magic's classy 1.25-length triumph in the Grade 2 Sorrento Stakes at Del Mar on Saturday has put her on a path to the Breeders' Cup Juvenile Fillies, according to co-owner Todd Cady.
The bay filly stalked pacesetting favourite Procrastination for the majority of the six-furlong sprint worth US$200,000 before surging past her late on the straight.
And it was the type of performance that had Cady looking ahead and dreaming of bigger things to come.
That vision is the Breeders' Cup Juvenile Fillies (Dirt) at Lexington, Kentucky, on November 5.
"The Breeders' Cup. She wants two turns (1m 1.5f) and that's our goal," he told Racing Online.
"Doug (O'Neill) was telling me 'this horse has talent' for how she ran two back in that race.
"But they (the team) didn't know – I was just surprised with the (+600) odds."
READ: Rispoli praises Going Global after 'huge' Yellow Ribbon victory
Vegas Magic now boasts three wins from three starts, including an Everett Nevin Stakes triumph at Pleasanton, California, on July 10.
But her journey has been far from easy, with O'Neill and his team giving the filly plenty of care to nurse her through some mental issues.
"We knew she had talent. But in her last race at Pleasanton she washed out in the paddock and was totally crazy," Cady said.
"Everyone said 'hey, this horse isn't going to do anything'. If you watch the race she rode slow and came in fast at the end.
"I give all the credit to Doug and Team O'Neill.
"The horse washed out, so they put a saddle on her, and walked her around a good 20 minutes before everyone.
"And then the real saddle went on."
And anyone who doubts that welfare is a priority in horse racing – with trainers often criticised for their practices from afar – only needs to observe O'Neill and the care he has given Vegas Magic.
"Everyone talks about the game and the integrity, and do trainers really care about their horses," Cady said.
"I can tell you right there – that's someone who cares. They're not injecting or doing all this stuff.
"They're very ethical in getting the horse to calm down."