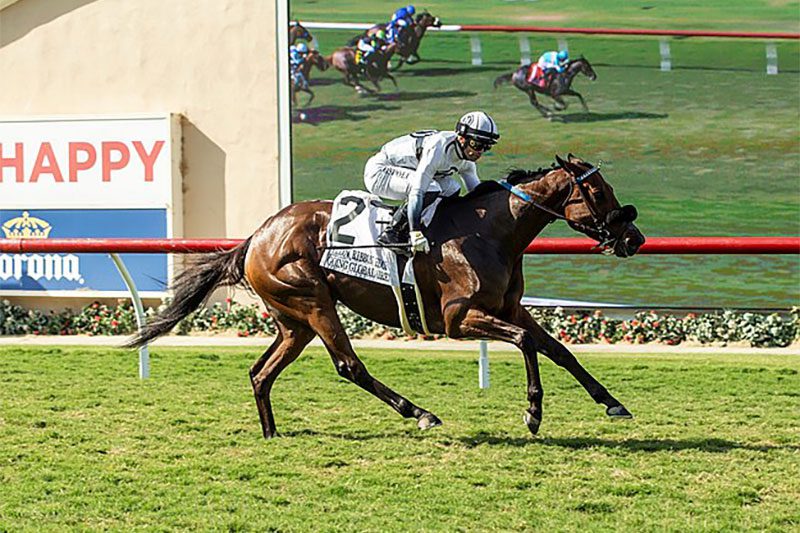 Umberto Rispoli admits it wasn't easy having Going Global carry 125 pounds (56.7kg) in the Yellow Ribbon Handicap at Del Mar on Saturday, but it was a pleasure when he got to push the button on the straight.
That was when the talented filly comfortably left her Grade 2 competitors in her wake to salute by 2.5 lengths in the 1700m race worth US$250,000.
"She gave some pounds away and it wasn't an easy race. When you come from a (2.5 month) layoff it's never easy," the star Italian jockey told Racing Online.
"She had a tough campaign last season, so she needed a bit of rest. But she was huge.
"It's always good when you have those type of horses to ride – you can just press the button and they go for you.
"The adrenaline goes up and it's a pleasure.
"She's a very good filly. Phil (D'Amato) and his team do a very good job with her. They gave her a good freshen-up and she came back strong."
READ: Best online racebooks in 2022
Rispoli – second on the Del Mar jockeys' premiership standings with 15 wins (behind Juan Hernandez with 27 victories) – rode a treble on Saturday.
But because his standards are always high, he wasn't entirely satisfied.
"Obviously it was a very nice day. I was a little bit disappointed to not win the last two, but that's racing," he said.
When discussing his impressive form, Rispoli – who broke legendary countryman Frankie Dettori's Italian record (229) with 245 wins in 2009 – did not want to look too far ahead.
"I'm not looking for the riding title – I don't really care about that. If I can win races, I win races," the versatile dirt and turf hoop said.
"There's a lot of business on the dirt as well – that helps.
"And when you have (John) Sadler and (Bob) Baffert on your side it's a big help.
"I'm happy with the people who give me support and I can't complain how this meeting went. So far I'm very happy.
"This campaign has been good."
D'Amato said Rispoli and his four-year-old never panicked while sitting three lengths back in fourth spot at the far turn.
"He rode her with confidence. I told him 'she's the best horse in the race – just ride her that way' and he knew it," D'Amato said.
"She's just a filly with a brilliant turn of foot. Umberto got her in the clear and she did the rest.
"And he followed it to a T."
The Mabee Stakes at Del Mar on September 10 will be Going Global's next target.