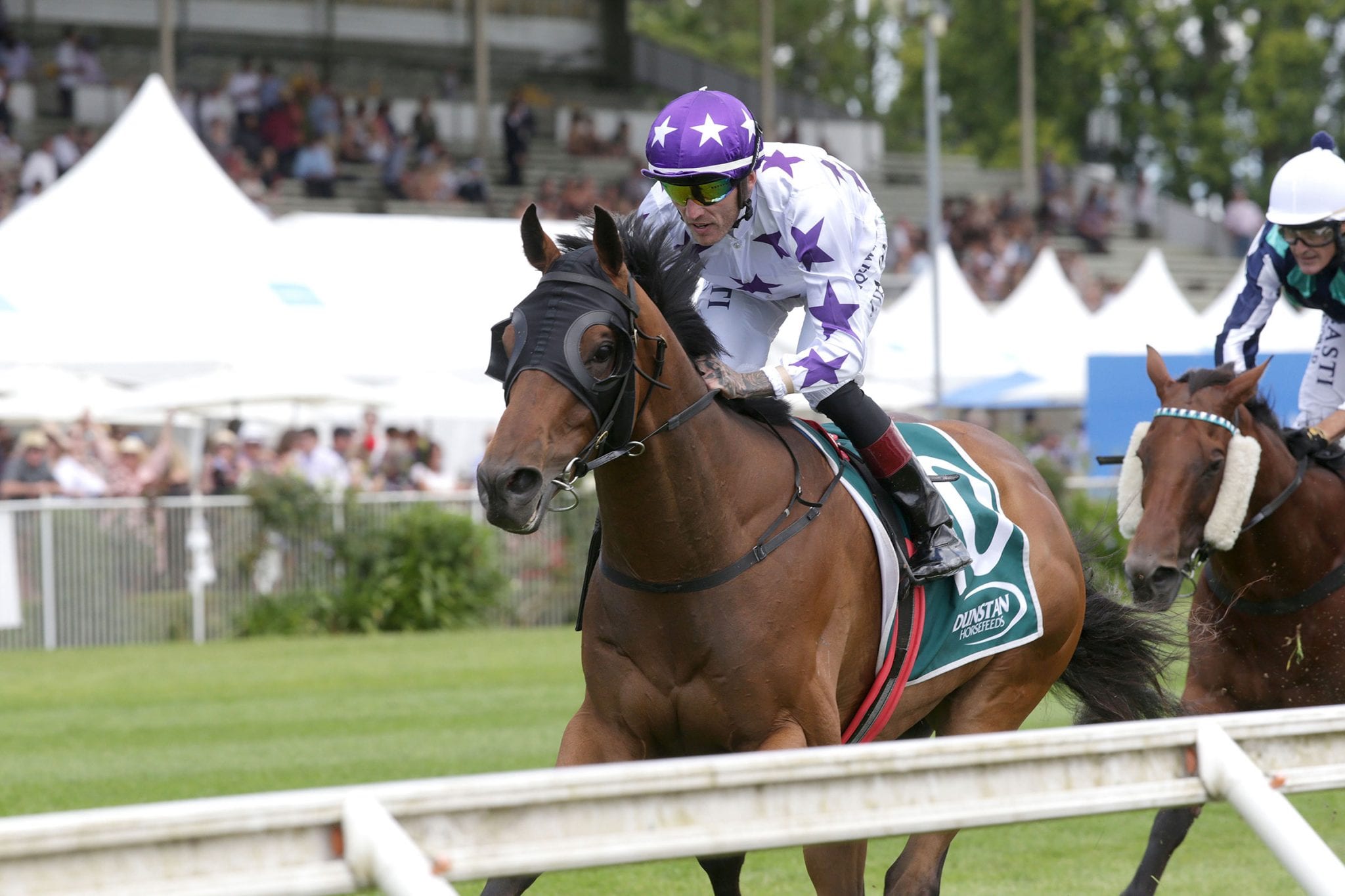 Shaune Ritchie is heading into the Listed Japac Homes Marton Cup (2200m) at Awapuni with The Good Fight on Saturday in a buoyant mood. His six-year-old gelding heads into the race in a fresh state, after his fifth-placing in the Group 3 New Zealand Cup (3200m) in November, and he said there are a number of factors leaning his way heading into the weekend.
"I think there are a few pluses going into this race," said Ritchie, who trains in partnership with Colm Murray. "He goes well in a freshened state and he has come back from Riccarton fairly well.
"I think the cut in the ground is going to help him as well. He's not at his best on the rock- hard tracks, that is why we have elected to go to Marton."
Ritchie is also looking forward to utilising the services of premiership leading jockey Danielle Johnson. "How can you go past Danielle Johnson? She and Opie (Bosson) have been dominant over the summer and with Opie sitting in the stands she is the jockey you want, especially at 53 kilos.
"Based on the ratings, he is clearly the best weighted horse in the race. He is the highest rated horse on the minimum weight, so there are few things in his corner heading into this weekend."
Ritchie is looking to tackle the Group 3 NZ Campus Of Innovation & Sport Wellington Cup (3200m) with his charge and he said he will be asking Johnson to try a few things differently in the lead-up to Saturday's race. "It is a race we expect him to improve from and come out and run in the Wellington Cup well," he said.
"He perhaps has a lack of winning form because I feel he has just got a bit complacent in his races. He has been allowed to get out of his ground, particularly in his last few starts he has switched off mid-race and it has been difficult for the riders to switch him back on again.
"We will try a few tricks with him. I will talk to Danielle about bowling him to the start a little quicker rather than letting him lazily wander down, and perhaps give him a wee trot around at the barriers instead of standing there and looking like he wants to pick some grass.
"Getting him up on the steel in the running of the race will be something we want to introduce to his racing as well."
TAB bookmakers have installed The Good Fight as a $6.50 joint second favourite for Saturday's feature, with the Murray Baker and Andrew Forsman-trained Vee Cee, while Beauden is a clear $2.30 race favourite.
While Beauden was impressive when winning by four lengths in the Taupo Cup (2000m) last week, Ritchie said there are a few factors in The Good Fight's favour. "Beauden is a very good horse and he is clearly in form," Ritchie said. "He is hard to beat when he is in that Taupo winning form.
"But he has got to concede us seven kilos on what looks likely to be a Slow track. If we are ever going to beat him then I guess we have a couple of advantages over him – weight and track conditions. The more weight you have the harder it is when the tracks get wet."
Looking to Ellerslie on Sunday, Ritchie is excited about kicking off the career of three-year- old filly Nymenche. She will make her debut in the Monstavision 1600m, and while Ritchie is warning punters against backing his filly on this occasion, he believes she is one to watch for the future.
"I really like her," Ritchie said. "She is in a particularly strong maiden race. She will get back, but I really like her as a staying style of filly. I am not expecting her to win, I would just like to see her get back and run on.
"She is in there because of how much I like the horse. She is a Rip Van Winkle filly who looks like she will get over ground. That being the case, she is exciting heading into the future."
Ritchie will also contest the Otakiri Reserve 1550 with Rum. "He trialled substandard last time, but he did that before coming out to win at a premier meeting at Hastings," he said. "We have tried to get him to relax behind horses, but he simply won't do it. We have pretty much just put our hands up in the air and said 'if you want to be a fast horse then we will let him be a fast horse.'
"From gate two he will take himself forward. He is in a particularly strong field. He looked well placed at Te Aroha in the Thames Cup, but when the rain arrived it wasn't an option for us. "He does need a reasonable surface to show his best."
Meanwhile, Ritchie said Group 1 winner Jennifer Eccles will likely return to his Cambridge barn at the end of the month. "She has gone for a break," he said. "We have done some extensive testing with her and found a couple of niggly things that are easy to fix and time will help.
"She has been out for four weeks now, so she will have another couple of weeks in the paddock and then we will assess where we are going. "We have got a few options with her in late winter. I'll sit down with Adrian (Clark, Syndicate Manager) and we will make a plan. She won't be presented at the races until we know she is 100 percent."
After a standout three-year-old term where she won four of her nine starts, including the Group 1 New Zealand Oaks (2400m), she returned in her four-year-old season to compete at Weight-For-Age level, where she finished fourth in the Group 1 Tarzino Trophy (1400m), 13th in the Group 1 Windsor Park Plate (1600m), and fifth in the Group 2 Auckland Thoroughbred Breeders' Stakes (1400m).
"While she didn't race poorly in that Group 1 grade, it was perhaps too early for her off the back of a long three-year-old season," Ritchie said. "It's very hard to beat the Melody Belle's and Avantage's when they have been going around and winning at that level for two or three years.
"When you are at weight-for-age there is not a lot of hiding when you come out of three-year-old fillies only group. "Although she is a top-class mare, she needs some practice in that grade and she needs to strengthen a little bit more and we are giving her the chance to do that."