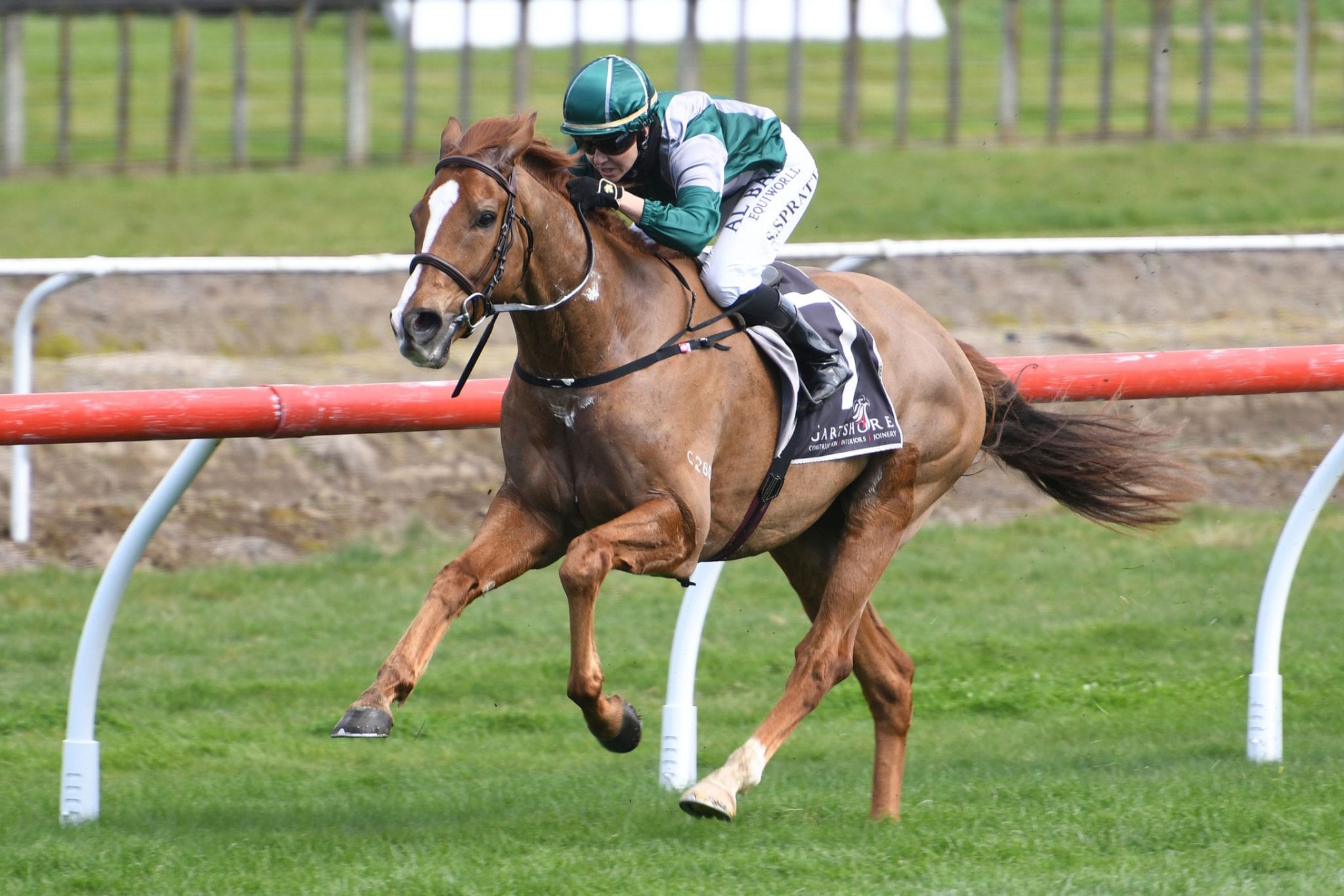 The well-travelled Cheval Prometteur will make his raceday return at Ruakaka on Saturday after an injury enforced layoff.
The six-year-old gelding suffered a stress fracture in a cannon bone last year when preparing for the Group 3 Jarden Stakes (2000m) and New Zealand trainer Catherine Cameron has taken a cautious approach with his return.
"We were getting him ready for the 2000m weight-for-age at Ellerslie on Melbourne Cup day," Cameron said. "But we found he had a stress fracture in his cannon bone, which we luckily picked up before it got worse."
It's not the first time Cheval Prometteur has undergone rehab under Cameron's guidance, with the former European galloper coming into her care after suffering a knee issue in Hong Kong.
Her previous method worked a treat on the son of Declaration Of War, who went on to win two races and finish runner-up in his three other starts for Cameron last year, so she elected to take a similar approach this time around.
"He had four months out and he rehabbed at Margaret Park again, which he did when he got back from Hong Kong," Cameron said. "He was there for about six weeks on the treadmill, and he has been with us at Cambridge since April."
Cheval Prometteur finished runner-up in his 950m trial on Cambridge's synthetic track last week and will make his raceday return in the One Tree Point Motel Bream Bay Sprint (1200m) at Ruakaka on Saturday.
While well short of his best distance, Cameron believes it will be a good starting point for the gelding, who could be in line for his first trip to the South Island in August to contest the Group 3 Winter Cup (1600m) at Riccarton.
"We gave him a trial at Cambridge last week on the synthetic, just over 970m, and he went really nicely and ran second," Cameron said. "It was well short for him, and Saturday will be a bit short for him as well on a better track.
"He is going up there for fitness, so we will see how he goes, but at the moment he is very well and happy, so he will be pleased to be out there.
"He is a lovely horse. He has always had plenty of ability and then just had a few soundness issues. At the moment he is really good and we will see what we can do with him this year.
"I have put a nomination in for the Winter Cup. We will see what he does in his second-up run and make a decision from there. He would have to go really well to warrant taking him down.
"If he is going well, he will be right up there in the weights, so we will hopefully get him up over a trip this time. That was the plan last time and things went amiss. We will get him up over 2000m, or maybe more, and see what he does then."
It's usually one-way traffic for Cameron's barn, with the bulk of the horses through her care destined for Hong Kong, however, she was thrilled to have a horse the quality of Cheval Prometteur come the other way.
"They bought him for the Hong Kong Derby and things just didn't pan out and he ended up with an issue in a knee," she said. "He was lucky that the owners shipped him down here and I am lucky too because he has been a lovely horse to have.
"If we can keep him in one piece he will hopefully be a bit of fun in the spring."
Cameron enjoys watching her graduates compete in Hong Kong and said a number of them have gone on to perform at the highest level in the Asian racing jurisdiction.
"It is always interesting watching their progress up there," she said. "Sky Field has been performing well up there. We only gave him one trial, which he won here, and he placed in a Group One sprint up there in April. We did briefly have Reliable Team, he had been through Bakers and we had him before he left for Hong Kong."
While interested in the success of her graduates in Hong Kong, Cameron is enjoying having a bigger racing team this year with more local clients joining her barn.
She will take three other runners north on Saturday, including Babiche in the Logic Fence (1600m), Thatcher in the O'Casey Stakes (1400m), and Jaquolee in the Trigg Construction (1200m).
"Babiche raced on Saturday and she ran on nicely over 1400m," Cameron said. "We just wanted to get her up there on a better track over a mile.
"I normally wouldn't back her up, but she has come through it well and if we don't go this week there is nothing for her down here as you are not going to get a decent track. Hopefully she will be competitive up there over a mile.
"We have two maidens, Thatcher and Jaquolee. Unfortunately, they have both drawn wide, and they both race handy.
"Hopefully they will be nice place chances if things went to plan.
"Thatcher was really disappointing in her last start so we thought we would take her up there on the better track and see what she does, because she has shown us a bit at the trials and in a couple of starts.
"Jaquolee raced on the synthetic over 970m and she found that a bit sharp. Hopefully over 1200m she can find a spot, relax and get home well."