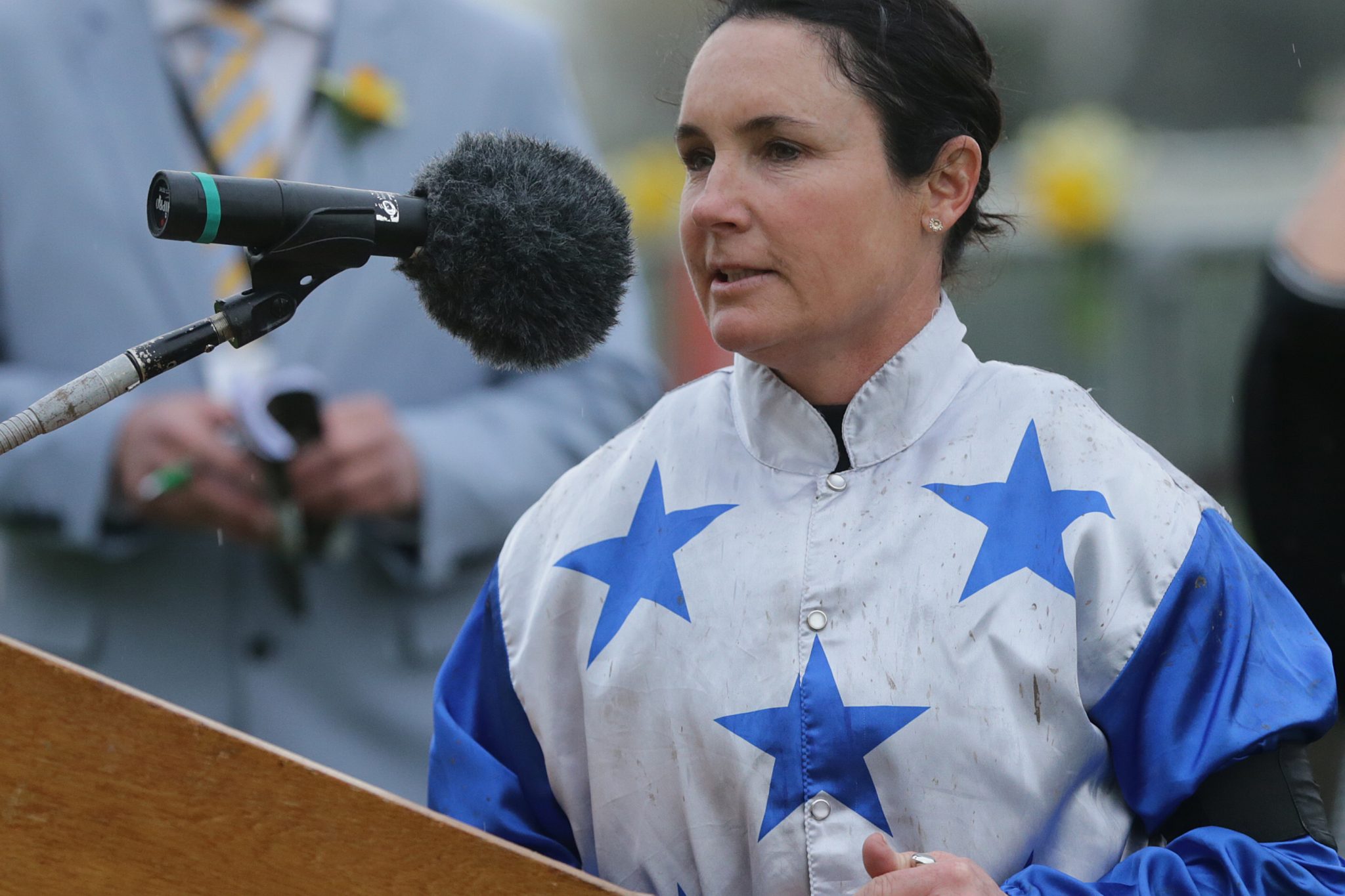 Leading jockey Lisa Allpress remains committed to reaching 2000 career wins, despite having to miss at least half a year due to shoulder surgery.
Allpress became emotional after winning a Rating 65 1600m event at Trentham last Saturday aboard Always More, a horse trained by her former boss Kevin Gray, in what will be her last ride for at least six months.
The surgery she is getting in Whanganui on Thursday harks back to a bad fall she had five years ago at a jumpout, when she badly damaged both shoulders.
Though surgery immediately after that injury helped fix her right shoulder, the left shoulder has still been bothersome and it's become increasingly so in recent years.
"I've had three cortisone injections over the last two years. I went back hoping that they'd give me another injection in February – it obviously got quite sore over that Christmas-New Year period, where you're really racing all the time, and it was starting to affect my strength.
"But the surgeon said no, I needed surgery, and no riding for six months."
The 47-year-old realises it will be a long process to get back to race riding, and that there is even a chance she may not be able to, but she is determined to do so.
"If you saw my shoulder you would look at it and think 'oh yes, that obviously doesn't sit properly'. It's all got to go back into the right places and be comfortable," Allpress said.
"The whole thing is building back toward riding again, and it's hard work. It's not like I'm in my early twenties and it's easy, I'm getting older and it's harder to come back from injury. It will potentially be my biggest test to come back after this.
"I just hope this is just a break and not full-time. We'll just have to wait and see how I come through the surgery and hopefully it'll mend back into the places that it should be."
Allpress was sitting in fourth place on the jockeys premiership with 60 victories. She now has 1855 career wins in New Zealand and remains committed to reaching 2000.
"It has been a goal for quite some time, which is the reason I've been carrying on with this shoulder for as long as I have, because I thought once I got to the 2000 that would be me," she said.
"But I just couldn't quite get it to hang in there. We'll see how I come through, and then hopefully get back into it in six months."
Allpress said she would be in a sling for three months after her surgery, and she cannot ride any work at a race track until the six months is up.
She said she became emotional after her victory aboard Always More not just because she'd scored a victory on her last ride for some time, and had done it for her former mentor, but that she and Gray had worked hard with Always More to allow him to reach his potential.
"We've had to really work him out. He's a real edgy horse and I think he'd been in that Cambridge environment and then come down to Mr Gray and he'd taken a bit of time to settle down," Allpress said.
"We were disappointed that he didn't go better the start before, so to get him to come out and win like that was great, because he showed he was the horse that we thought he was.
"I was so pleased because I enjoy trying to nurture these horses and get the maximum out of them. They're someone's pride and joy, and to work out a way to get that win for people is kind of special."
Allpress said she would be riding work up to and including Thursday morning, a few hours before she goes in for surgery.
She said it was disappointing to miss riding the premier raceday at Trentham this coming Saturday, but that there was no option.
"My surgeon is going on holiday so this is his last week of work, so it couldn't be done after Trentham."
Allpress didn't have a significant ride in Saturday's Group 1 New Zealand Oaks (2400m), but she was looking forward to riding Great Escape, a juvenile set to have his first start for trainer Roydon Bergeson.