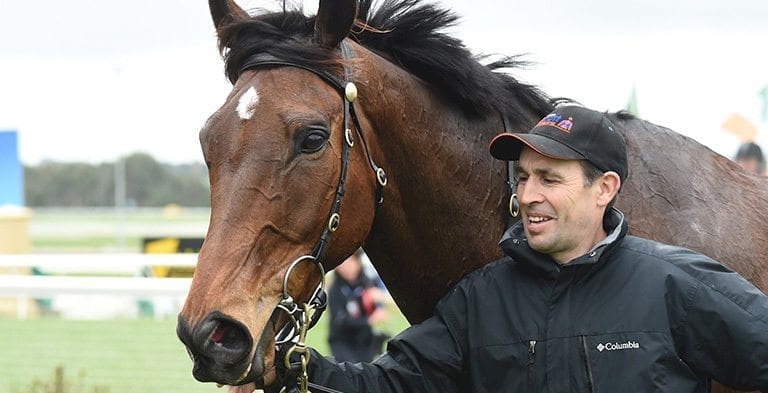 Estimated Reading Time: <1 minutes
Expat Kiwi horseman Brett Scott is happy to be back home after more than a month in hospital after being kicked in the head by a horse last month.
"I am just trying to get back in the swing of things and get my head working right again. I have been home five days, so I am definitely improving," the Mornington trainer told SENTrack.
Scott said he suffered a brain bleed as a result of the incident, which affected his speech and memory.
"A horse kicked me in the left side of my head and basically knocked me out stone cold," he said.
"I ended up with a few brain issues with a bit of bleeding in the lower part of my brain and that caused a lot of problems. The left side affected my speech and the right side affected my memory.
"It has just been something I have been trying to get back and those first few weeks I was in another place and had no idea what they (doctors) were asking me. Thankfully I am improving, and that is all I can hope for."
Scott is enjoying being back with his family and said his wife Kylie has been able to keep their stable ticking over.
"We have worked together for so long and she knew what she had to do and had the right people around her to help her at the time," Scott said. "She has done a great job and I am glad that she has been able to continue on without me.
"That's what makes me happier too that I am home now, so that we are back together."
While back at home, Scott is still taking it easy and focussing on his recovery.
"The horse handling is all out at the moment, but I am still able to walk around and do as little as possible, and try and get my eyesight and my body working together properly again," he said.
"I have got professionals to help me and I would like to say that one day soon hopefully I will be able to get back on a horse at some stage.
"In myself I feel good, I just get a little bit tired."
An astute horseman and former champion jumps jockey, Scott trains Kiwi galloper Irish Flame whom he won the A$500,000 Ballarat Cup (2000m) with in spring.