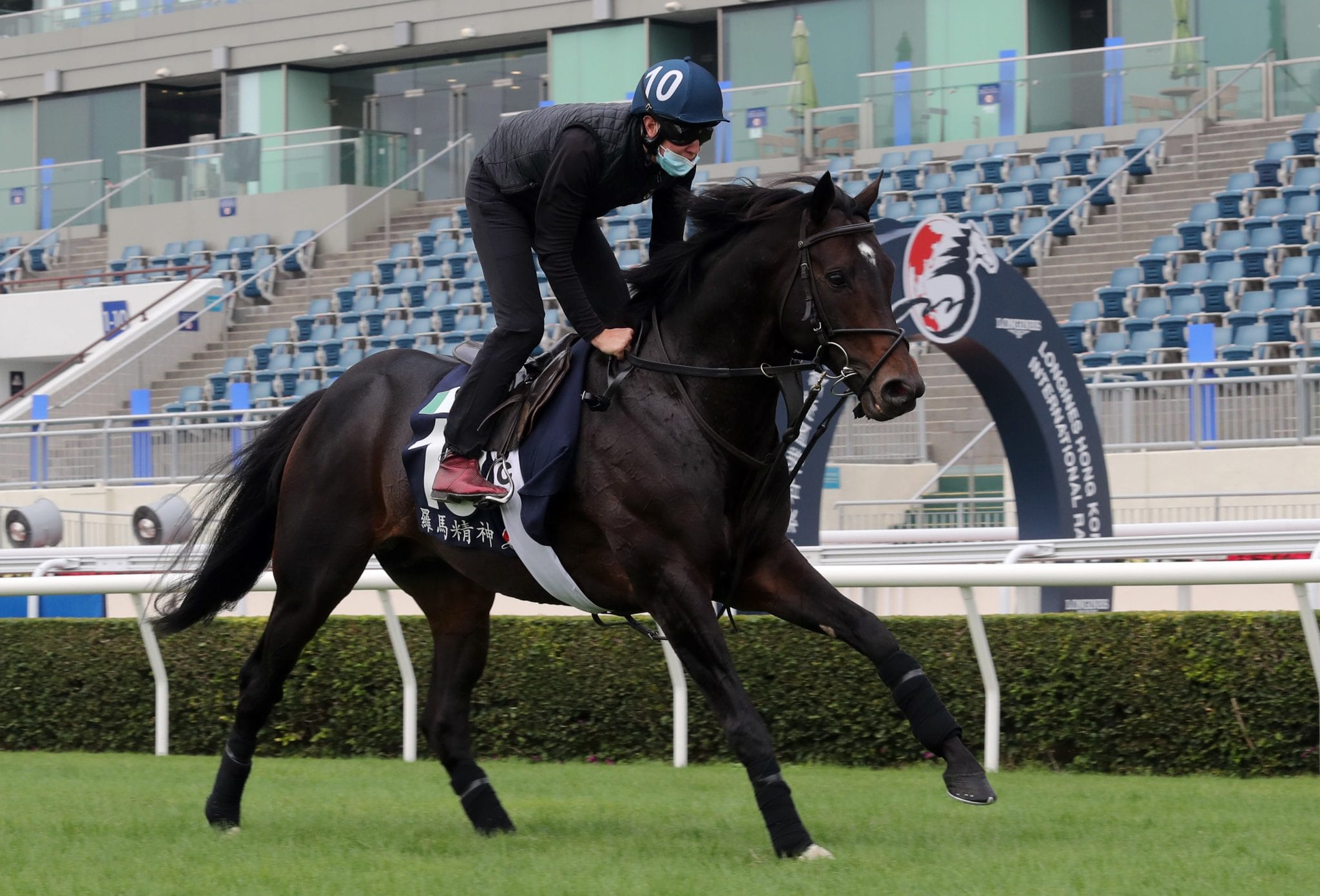 There has been something mesmerising about the sight of Vincent Ho sitting and waiting to pull the trigger aboard Golden Sixty during his inexorable rise to superstar status.
Eight of the other jockeys facing the red hot favourite in the Group 1 LONGINES Hong Kong Mile on Sunday (13 December) won't have the luxury of waiting to find out exactly when he presses 'go' on the talented gelding but jockey William Lee will be hoping that turning into the Sha Tin straight, Romanised might be going just as ominously.
"He has a great cruising speed and he loves them to go just a good even tempo," said Lee before boarding his flight to Hong Kong. "He floats along. While he did have a good blow after his prep run at Dundalk, they weren't good enough to take me to the furlong pole and I definitely would have sat a bit longer.
"Even in Deauville on that real heavy ground, he was nearly the last off the bridle. He went on it for about 100 metres but then it told on him. That race then left its mark when we went back to Longchamp [for the Prix du Moulin]"
Lee's description of the unfortunate way the year has gone gives pause to re-examine Romanised on his best days, such as when defeating a world-class field in the 2019 Group 1 Prix Jacques Le Marois (1600m), while he showed a lethal turn of foot to win on his seasonal reappearance at The Curragh over 1400m back in July.
His trainer Ken Condon has campaigned the now five-year-old entire son of Holy Roman Emperor with patience and precision, with a likely career finale at Sha Tin always a serious consideration this campaign, given that he carries the colours of Hong Kong-based Robert Ng.
And Condon envisages a similar scenario to Lee when it comes to the field swinging for home on Sunday.
"If Billy (Lee) is where he wants to be, Romanised will be the last horse off the bridle," said Condon, who has received positive reports at home from the team supervising preparations this week.
"He'll travel for you further than anything else. I can see him doing that and he might just enjoy it.
"I'm looking forward to it and the fire still burns in him, while he looks a picture for the time of the year. I'm very happy with his condition and when you go that far, you just want them to turn up and give their best. The boys are very happy with him."
Condon has huge respect for Golden Sixty and added: "I've watched a few of his races and he can produce a quick quarter mile when he needs to and go under 22 seconds, he's got that ability."
But it is the fact that Romanised dwelt quite badly in the stalls at Dundalk that has been occupying his thoughts, rather than the quality of the opposition.
"He's schooled a couple of times at home since his last run."
"It's like a golfer standing over a putt, it's kind of a mental flaw. He knows what to do. He's done it very well twice at home with no drama. He's been as quick as he'd need to be getting away and we'll take it on trust on the day that he's on his game," said Condon.
Romanised was also slightly sluggish out of the gates in September's Prix du Moulin de Longchamp but Lee is also hopeful the kink has been ironed out now.
"It's not his first time being a little bit trigger-shy, he's done it before though probably not as blatant as the last day," said Lee. "We'll be hoping that he doesn't do that over there because, although he could still run on into a place, he'd be giving away a winning chance, especially around a tight track."
With that extra match practice in the stalls under his belt back in Ireland, everyone will be hoping Romanised can put himself in a position where we all might start to wonder what he has left in the final 300m.
Lee added: "He's a horse that gives you a lot of confidence on his best days and that's what I'll be hoping I have underneath me."
And for his owner, Sunday's date with destiny will have added significance.
"Mr Ng said he wouldn't miss this for the world and he's looking forward to it," confirms Condon. "Romanised is a horse that has given him some great days and exciting times so it's great for him to see him in the flesh. Hopefully he gives his best and puts up a good show."