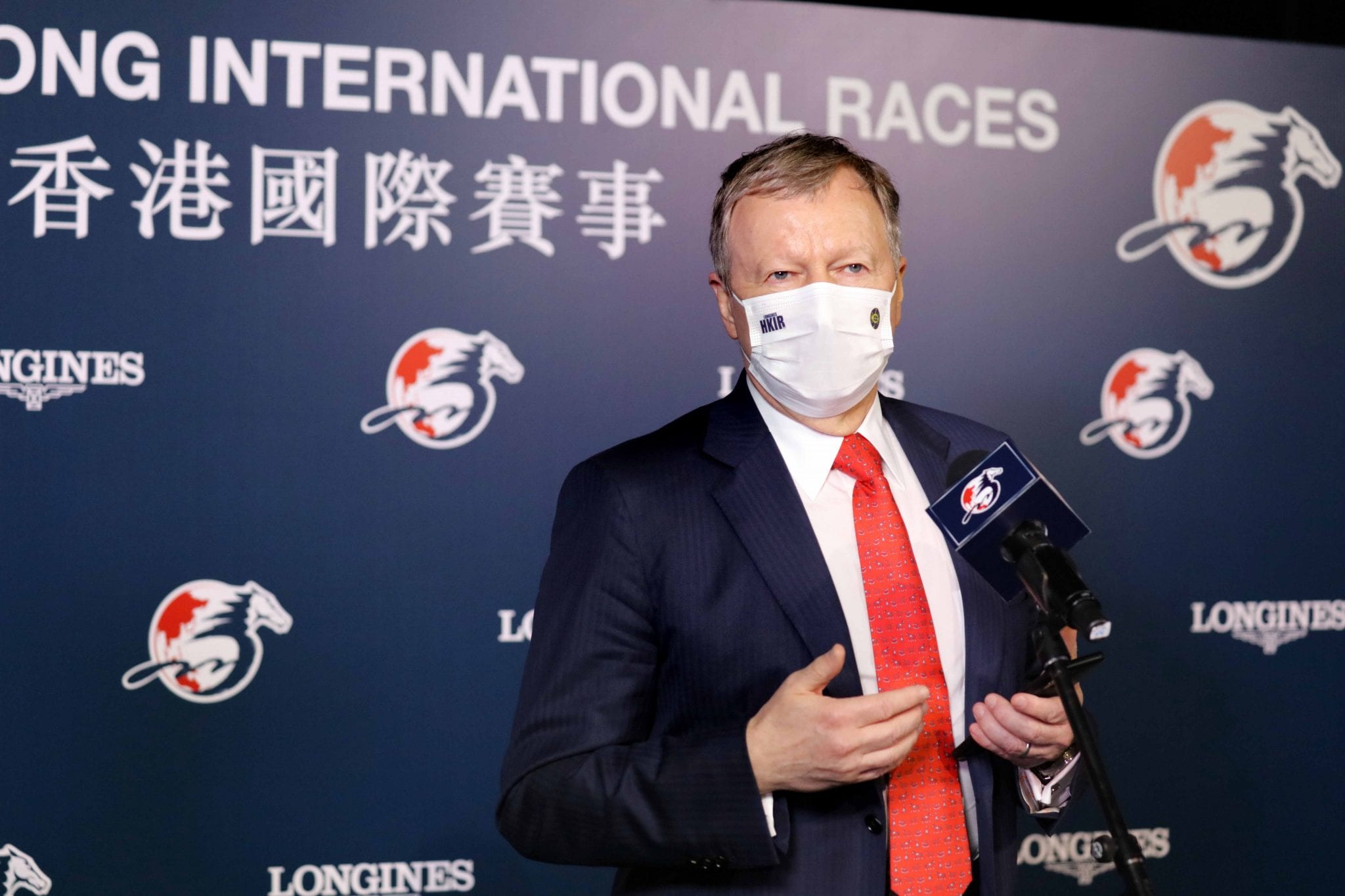 The Hong Kong Jockey Club's Chief Executive Officer Winfried Engelbrecht-Bresges saluted Hong Kong's "unique spirit and resilience" after a successful staging of the LONGINES Hong Kong International Races featuring Group 1 glory across four world-class features shared between Japan, Ireland and Hong Kong at Sha Tin yesterday (Sunday 13 December).
"It is important to have these global events. We are very proud that as a team, we pulled this off," he said.
"There were some anxious moments and discussions about 'How can we do this?' but in the end, we focused on the result and the results speak for themselves.
"The tracks were in outstanding condition, if you look at the way the horses were handled in quarantine and how the jockeys were brought into isolation facilities, everything went perfectly in challenging times.
"But this is the 'can-do' spirit of Hong Kong and the playing-to-win spirit of the Jockey Club."
Mr Engelbrecht-Bresges said challenges posed by the COVID-19 pandemic contrived to make the latest staging of the "Turf World Championships" the most difficult in the history of the Club.
"But the system we created was extremely robust. It all passed all the tough questions of health officials and I would like to thank the Government for trusting us," he said.
"You can have all the processes but, in the end, are you able to pull this off? And people say 'If there's one organisation in Hong Kong to pull this off, that's the Jockey Club."
"And we hope that this gives an example of how maybe other sports can do this."
Acknowledging the success of Japan with Normcore in the HK$28 million LONGINES Hong Kong Cup, Danon Smash in the HK$22 million LONGINES Hong Kong Sprint and Ireland with Mogul in the HK$20 million LONGINES Hong Kong Vase, Mr Engelbrecht-Bresges paid tribute to the enterprise and support shown by visiting international horsemen.
"I want to give special credit to our overseas friends because it's about trust to send your people, to send your horses on such a journey," he said.
"To have such an exquisite assembly of equine talent – be it horse, be it jockeys – to come Hong Kong, we would like to really thank our friends overseas to enable us to stage such a global event.
"If you look at the event today, it went to absolute perfection.
"I think it was absolutely a global sporting event of the highest quality. It showed Hong Kong is one of the fairest places to bring a horse.
"The support we get from Ballydoyle, which is really the leading global racing operation, and that they have success winning with a horse like Mogul and a really good performance by Magical.
"Our Japanese friends must be very happy and there were some people saying you cannot win from barrier 14 on Danon Smash but if you have Ryan Moore on board, he can make it happen."
Referring to local hero Golden Sixty's devastating HK$25 million LONGINES Hong Kong Mile win, Mr Engelbrecht-Bresges paid tribute to winning rider Vincent Ho.
"Vincent Ho was a shining example of investment in the future," he said of the Hong Kong Jockey Club Apprentice Jockeys' School graduate, who has risen to global recognition as a world-class rider.
"Vincent has definitely arrived today on the global stage as one of the really top-class jockeys," he said.
"I'm definitely really pleased to see Golden Sixty show a tremendous performance and he's definitely one of the best milers in the world.
Mr Engelbrecht-Bresges emphasised the Club's determination that "none of our activities should pose a risk to the health and wellbeing of our fans and customers" was unshakeable.
"We have clear guiding principles and with daily assessment, practically from the start of the year, we have managed this crisis and created a Racing Bubble," he said.
"Everybody bought into this and I want to give credit to the whole team for pulling this off."