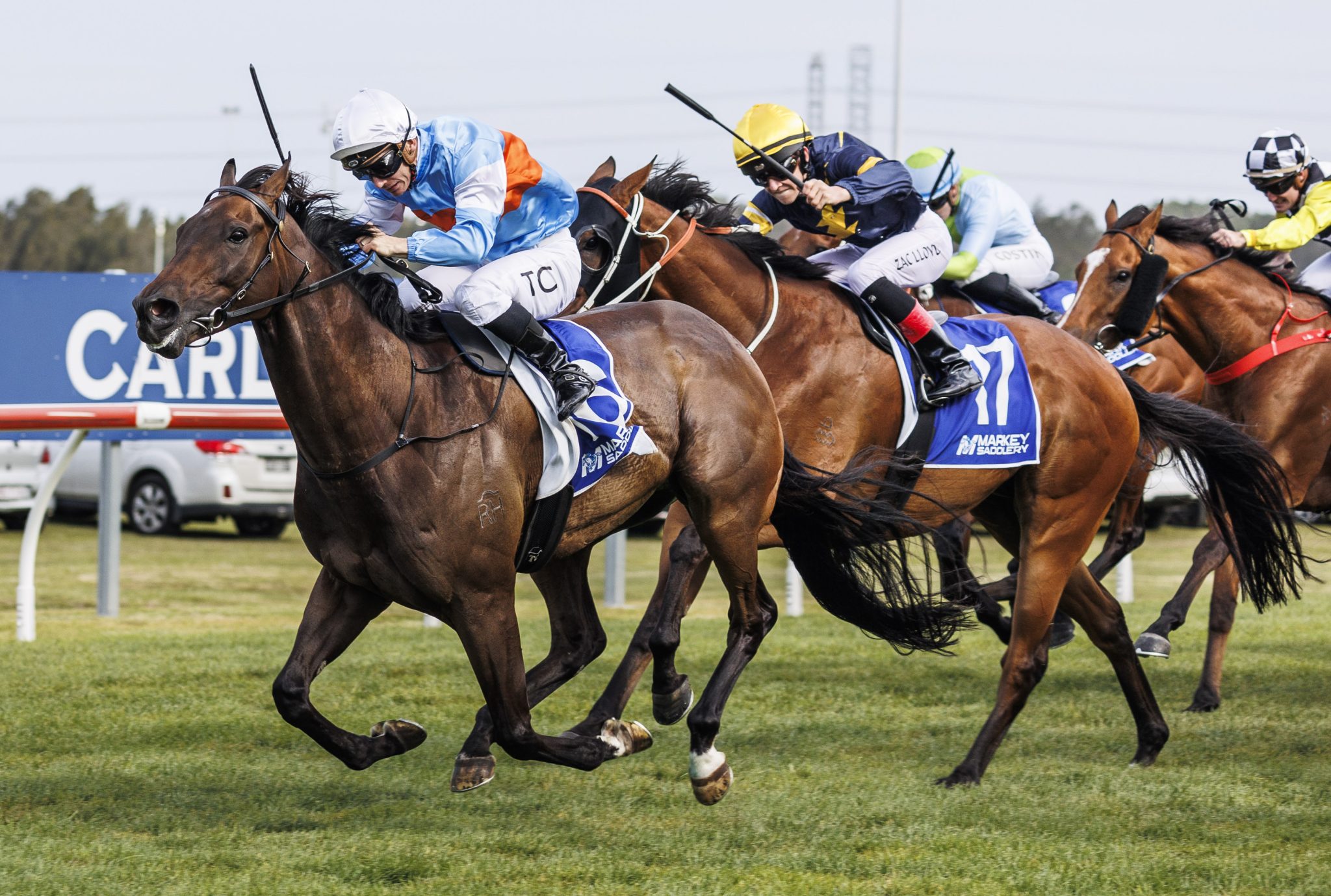 After over 1000-days out of the winner's enclosure the Gai Waterhouse and Adrian Bott-trained Riodini has won the $1,000,000 2022 edition of The Gong at Kembla Grange on Saturday afternoon.
Whilst being consistent since arriving here in Australia, he's never been able to get a win on the board until Saturday with a barnstorming run in the 1600m feature event.
The six-year-old gelding by Proisir was forced back into a mid-field position and sat wide throughout before producing an exciting turn-of-foot hold off the fast-finishing Hope In Your Heart barrelling down the outside fence after a chequered run, and market favourite Old Flame looked to steal runs between horses.
The Gong 2022 Replay
Jockey Tim Clark was able to get to the best part of the track in the straight before producing what was clearly Riodini's best run to date.
It was Wild Planet and stable mate of the eventual winner Surf Dancer who looks to set a hot tempo up on speed allowing the backmarkers to get into the race late with none other than the market mover Riodini proving too strong to the line.
He opened almost double figure odds with online bookmakers before being crunched into $6 on start time, so punters yet again getting it right in that regard with market mover Atherlric getting the job done in The Warra as well.
Former Jockey and stable representative Neil Payne spoke post-race about this New Zealand import and the relief of breaking that Australian maiden.
"What a training feat by Gai (Waterhouse) and Adrian (Bott), they've had this race in mind with two runs over a short distance and then into this race over the mile. They've had him spot on for today," he said.
"A great ride from Tim, Gai told him to take a sit behind and pull him out six and seven deep in the track, so it was all by design."
"Gai and Adrian have trained this horse a treat and it's terrific for the owners to win a Million-dollar race and we're over the moon."
When speaking of where to next for Riodini, Payne was quick to point out the $2,000,000 Ingham Stakes on December 10.
"My word he'll be hard to beat in that – he's run third in a Group 1 and loves the Randwick Mile so it's all up from here."
Jockey Tim Clark was confident in the long time Australian maiden speaking post-race as well about Riodini finding his target race.
"A real target race third-up mile and got in really well at the weights, he got a good lead up into it with his two runs and he covered a bit of ground there and I guess today that hasn't been the worse thing, he toughed it out really good at the end," he said.
"The last 100m he really responded when he felt her coming (Hope In Your Heart) and it's a great result for this horse, he's been a long time out of the winners stall but good to see him back in form and getting a win cause he's been very honest."
When asked if Riodini can press on with that win under his belt, Tim Clark implied the Ingham looks the way the Gai and Adrian will go.
"The Ingham in a few weeks – these two races Gai and Adrian picked out for him suit perfectly for his program and there's no reason why he can't go on and be very competitive in that race."
More Australian horse racing news