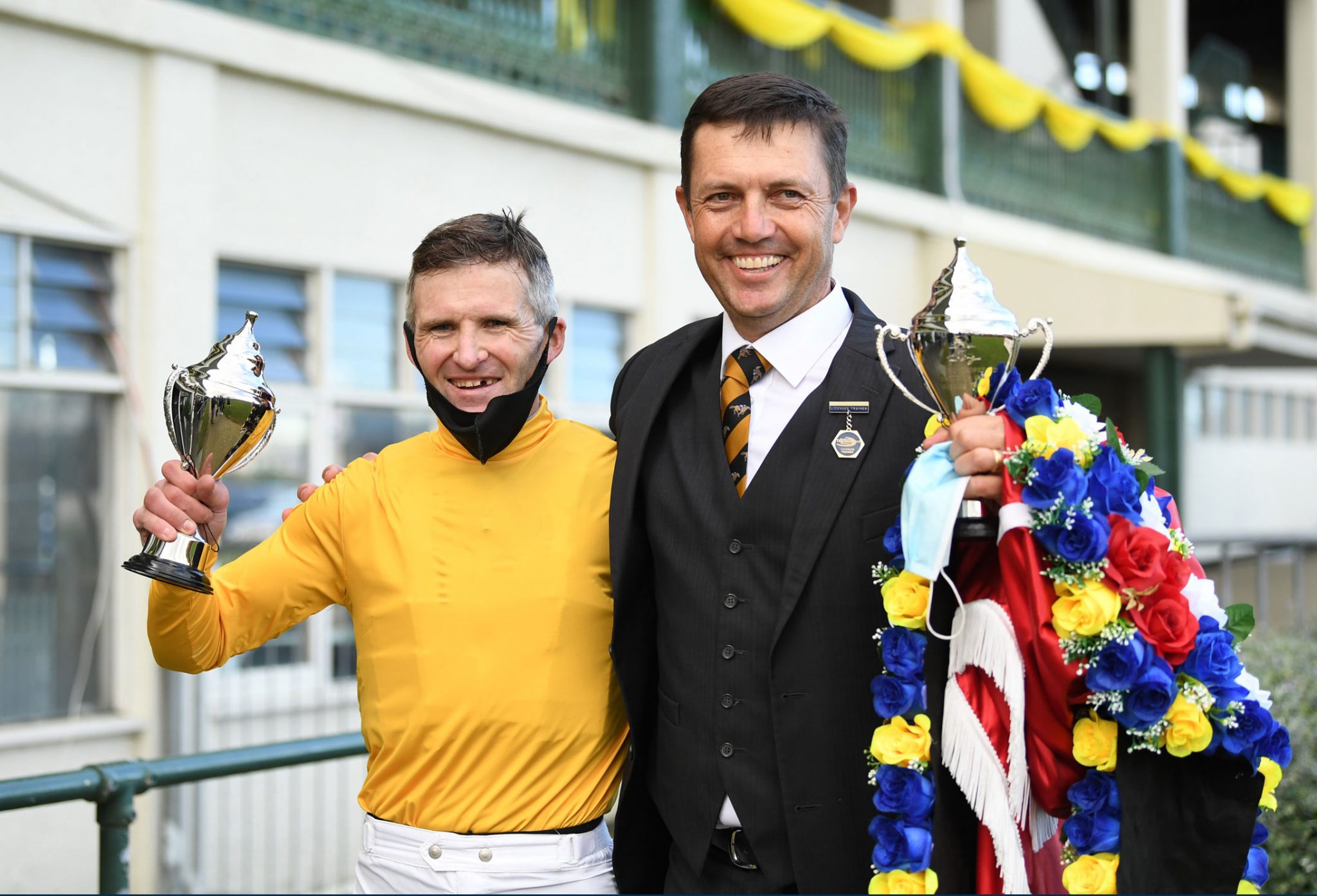 Estimated Reading Time: <1 minutes
Thirteen may be an unlucky number for some, but for jockey Jonathan Riddell it marks another milestone in an amazing career in the saddle that began back in the 1995/96 season when he took his first steps as a fledgling jumps jockey.
The boy from Waipukurau has come a long way over the past 26 years and brought up his 13th Group One victory in the saddle courtesy of a cool, calm and collected effort aboard Callsign Mav in Saturday's Group 1 Tarzino Trophy (1400m) at Hastings.
Riddell was taking some much-needed time out on Sunday to reflect on his achievements of a day earlier where he also kicked home impressive lower grade winner Nod Of The Head to complete a winning double.
"It was a very good day and to cap it with a Group One win was very special," he said.
"They are not easy to get and to do it on a horse trained by John Bary only added to the occasion as we have had a fantastic association that started back when I rode Jimmy Choux for him.
"I guess with winning the race last year with Callsign Mav and again yesterday, you could say the gang is back in town."
Riddell admits he was feeling confident leading into the race and those levels rose when pre-post favourite Avantage was scratched on Friday.
"I knew I was on a fit horse who proved he was up to them with his win last year," Riddell said.
"He had the benefit of an extra trial at Taupo which really cleaned him up and when I heard Avantage had been scratched I knew I was on the best horse in the race.
"I think the other riders must have thought that as well as they really took it to us early on and made him work for the front.
"I had expected some pressure for the lead but not from five of them.
"I was probably a little too aggressive getting to the front as it cost me an eight-day suspension and a fine, but I knew if I could dictate they were going to find it hard to catch us.
"I know the other horse (Spring Tide) was closing pretty quick, but we had something up our sleeve and when I started roaring at him he picked up again and held that other one to the line."
The victory is a pointed reminder that Riddell remains one of the best in the country in the saddle and continues a renaissance in his career that saw him battling injuries and weight issues at various times in the past decade.
"I had a few tough years where I had problems with my weight and in my personal life and that reflected in my riding," he said.
"I also copped a few injuries and when you are battling those sorts of things it can make it very tough to cop the grind on a daily basis.
"In the past couple of years, I have sorted some things out and got my weight under control, to the point where I'm feeling comfortable and in a good head space.
'I won a Group One on Callsign Mav and also Royal Entertainer for Bobby Vance last season and that showed me what I was doing was working.
"My weight is always going to be a problem, but when things are going well it does make going for a run and watching your diet a whole lot easier.
"I think I've also found out how to strike a balance between the riding and my diet and it is not a simple thing that everyone can follow as everyone is different.
"I know now that you have to take the time to celebrate your achievements and I've watched how other top sports people like the All Blacks and similar manage it, and I'd like to think that has also really helped me get to where I'm at now."
Riddell isn't sure how many years he has left in the saddle, but he still gets the same thrill out of competing and winning as he did when he first started riding the ponies on his parent's farm as a youngster.
"We lived in the country and both my parents show-jumped, so for me and my sisters, being around ponies was a natural thing," he said.
"We spent our holidays travelling around to different events in the summer although it wasn't until the father of a friend of mine that I played rugby with got me to spend a little time at Murray Baker's stable that I thought anything about racing.
"Murray told me I was probably going to be too big to ride but Sheryl McGlade (nee Douglas) got me involved with the jumpers and that started me off."
While Riddell is modest about his jumps riding ability, at his peak he was recognised as one of the world's best in the profession, winning most of New Zealand's biggest races including the Great Northern Hurdles at Ellerslie on three occasions aboard Chibuli and Just Not Cricket (twice).
"I really enjoyed my riding over fences and won plenty of good races, but after a while I did want to try to make it on the flat," he said.
"I was actually travelling to the races with Opie Bosson down at Palmerston North one day and I told him about my idea.
"He told me to go for it, so I started to get my weight down and tried to make a go of it,"
Fate intervened early on in his switch to flat riding when he struck up an association with Bary and his promising two-year-old Thorn Park colt Jimmy Choux. Riddell went on to ride Jimmy Choux in 26 of his 28 career starts, winning 12 races including five Group Ones and finishing second in the 2011 Group 1 Cox Plate (2040m).
"Jimmy Choux made my name and I'm very fortunate to have ridden a horse like that," he said.
"He was so easy to ride, just a real gentleman and so talented.
"John Bary and I are pretty much alike, and we bonded well together during our travels with the horse.
"Sometimes I don't think he gets the credit he deserves for the good horses he has developed and I do really enjoy riding for him."
While Riddell is hoping to add Group One victory number 14 when Callsign Mav tackles the Group 1 Windsor Park Plate (1600m) at Hastings in a fortnight, he would also love to make his way to Melbourne to ride him in the Group 1 Cox Plate (2040m) at Moonee Valley next month, if Bary's plan for the horse comes to fruition.
"If John said we're going to Melbourne and I want you to ride him, I wouldn't think twice about it in normal circumstances," he said.
"I guess it is a longshot though as the MIQ situation with COVID and quarantine would probably make it just too tough.
"I don't know if he would be up to some of those horses he would strike in the race, but I'd love to get the chance to test him, as he is such a warrior and would try his heart out to win it."