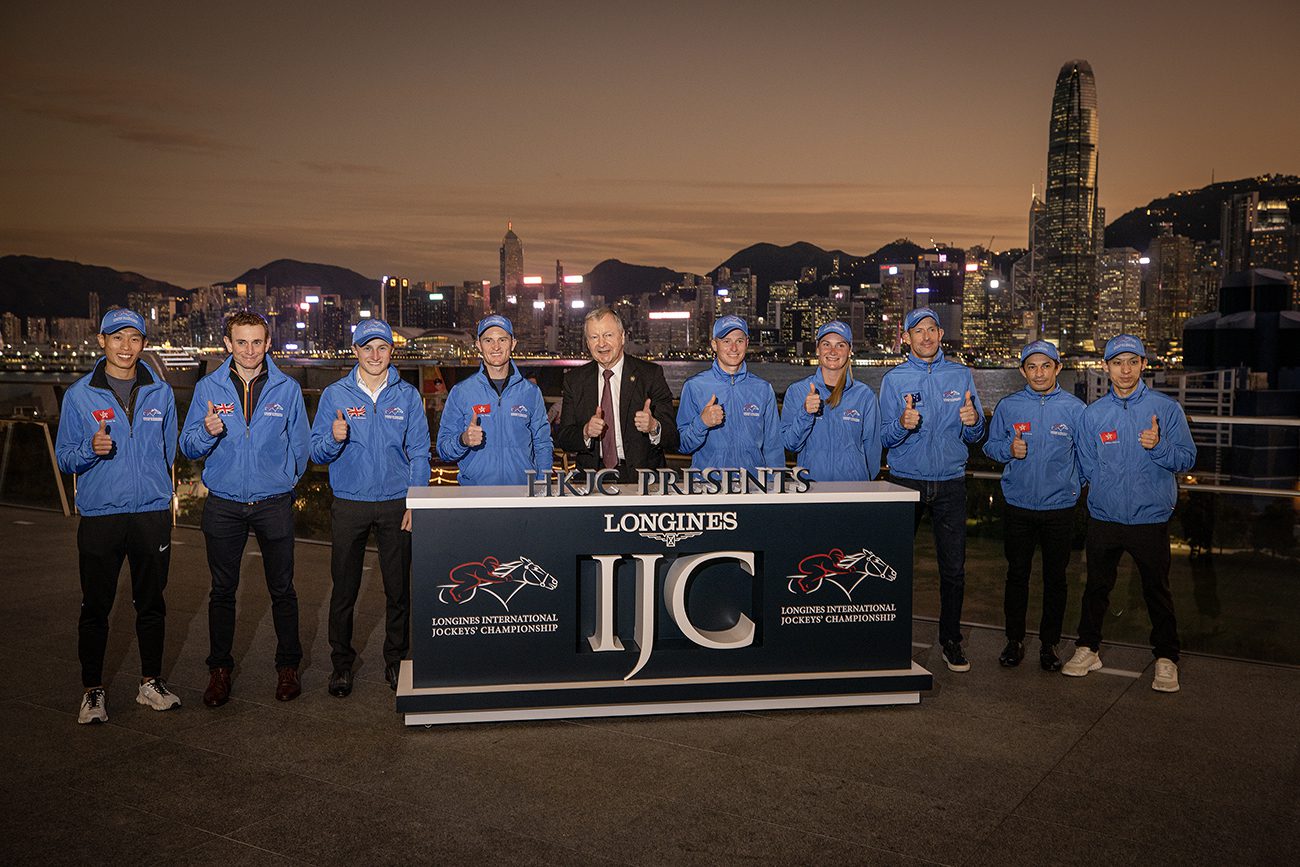 Wednesday night's International Jockeys' Championship (IJC) at Happy Valley will feature the world's best jockeys and send the first signal of a rejuvenated Hong Kong, according to Mr Winfried Engelbrecht-Bresges, Chief Executive Officer of The Hong Kong Jockey Club.
"We have demonstrated that Hong Kong is back open again and this is the first phase of our opening. We hope next year to welcome tourists again but the first step was to welcome the top trainers, jockeys and owners and that they could enjoy Hong Kong in a manner they think makes it worthwhile coming.
"The relevance of Hong Kong racing was demonstrated at the recent Financial Summit where global leaders attended and we were on the same status and that showed it was obviously important for the government to acknowledge the importance of Hong Kong racing overall, to support us in staging such an international event and as a symbol of Hong Kong's resilience," Mr Engelbrecht-Bresges said at Monday night's IJC Press Conference at the Hong Kong Palace Museum.
The stage is set for a spectacular night's racing with the world's two highest-profile female jockeys; the soon to be crowned World's Best Jockey of 2022; a husband and wife and four past winners, including a local hero seeking a third straight victory competing in a compelling 25th edition of the LONGINES International Jockeys' Championship.
Australia's Jamie Kah, the Victorian metropolitan jockey's premiership winner in season 2020/21, and England's record-breaking Hollie Doyle are the two acclaimed female riders and their Happy Valley rivals include Doyle's husband Tom Marquand; James McDonald who will be officially named World's Best Jockey this Friday night and the local circuit's superstar Zac Purton whose many credits include wins in the past two editions of the IJC.
Ryan Moore, fresh from a spectacular win aboard Vela Azul in the 27 November Group 1 Japan Cup (2400m), joins fellow past winners Hugh Bowman and Silvestre de Sousa in the fray; along with 2021 French Champion Jockey Mickael Barzalona and Japan's current championship leader Yuga Kawada.
Hong Kong's young guns Vincent Ho and Matthew Chadwick complete the roster. "It's in the Jockey Club's DNA to develop local talent and nothing gives me greater pleasure than to see Vincent and Matthew represent Hong Kong. Hong Kong in December is the place to be," said Andrew Harding, Executive Director, Racing, The Hong Kong Jockey Club.
The appearance of Kah for the first time and Doyle, who's achieved podium finishes in each of the past two years, adds a special edge to a spectacular night of Hong Kong sport and in one of the few sporting domains where men and women compete on equal terms.
"It's always been a dream of mine to ride in Hong Kong," said Kah, "And this is my first time here. I literally had a stopover once but didn't set foot outside the airport. It's a buzz to be part of this IJC and The Hong Kong Jockey Club has looked after me amazingly well.
"I'm looking forward to getting out there (on the track). I've been told by a lot of people it's a very interesting course but I'll do my homework and I've had a lot of advice from jockeys who've ridden here. I'll walk the track and do the form. I've always thought about riding here and this can be a good introduction to see if I like it for the future."
Kah said she was looking forward to riding against Hollie Doyle and "all these amazing jockeys" but added it would be particularly special to beat the boys. "Absolutely, that would be great and to do it in Hong Kong would be extra special," she said.
Defending champion Purton acknowledged the strength of his opposition. "These are the best jockeys from around the world and they've had the most success in recent times as well. They're all in good form," he said.
Hugh Bowman, the 2016 IJC winner, is hoping his good luck can hold as he's made an excellent start to a new three-month contract in Hong Kong with six winners in five meetings.
"Three of mine are well drawn and that's a big plus. I'm looking forward to the night. I reckon I've ridden in the IJC six or seven times and won it once. I'm coming off the bench this time and I feel for Jye (McNeil) but I'll be grabbing the chance with both hands," said Bowman who was a late replacement for the COVID-sidelined McNeil.
The four-race IJC series is part of a nine-race card at Happy Valley, starting at 6.30pm. The first IJC race is the fourth on the programme, the Class 4 International Jockeys' Championship Handicap – 1st Leg (1000m) at 8.10pm and the Championship will conclude with race eight, the Class 3 International Jockeys' Championship Handicap – 4th Leg (1200m) at 10.10pm.
The meeting also sees the return to race riding of the 2019 IJC winner Karis Teetan, who has been sidelined since September.
More Hong Kong horse racing news