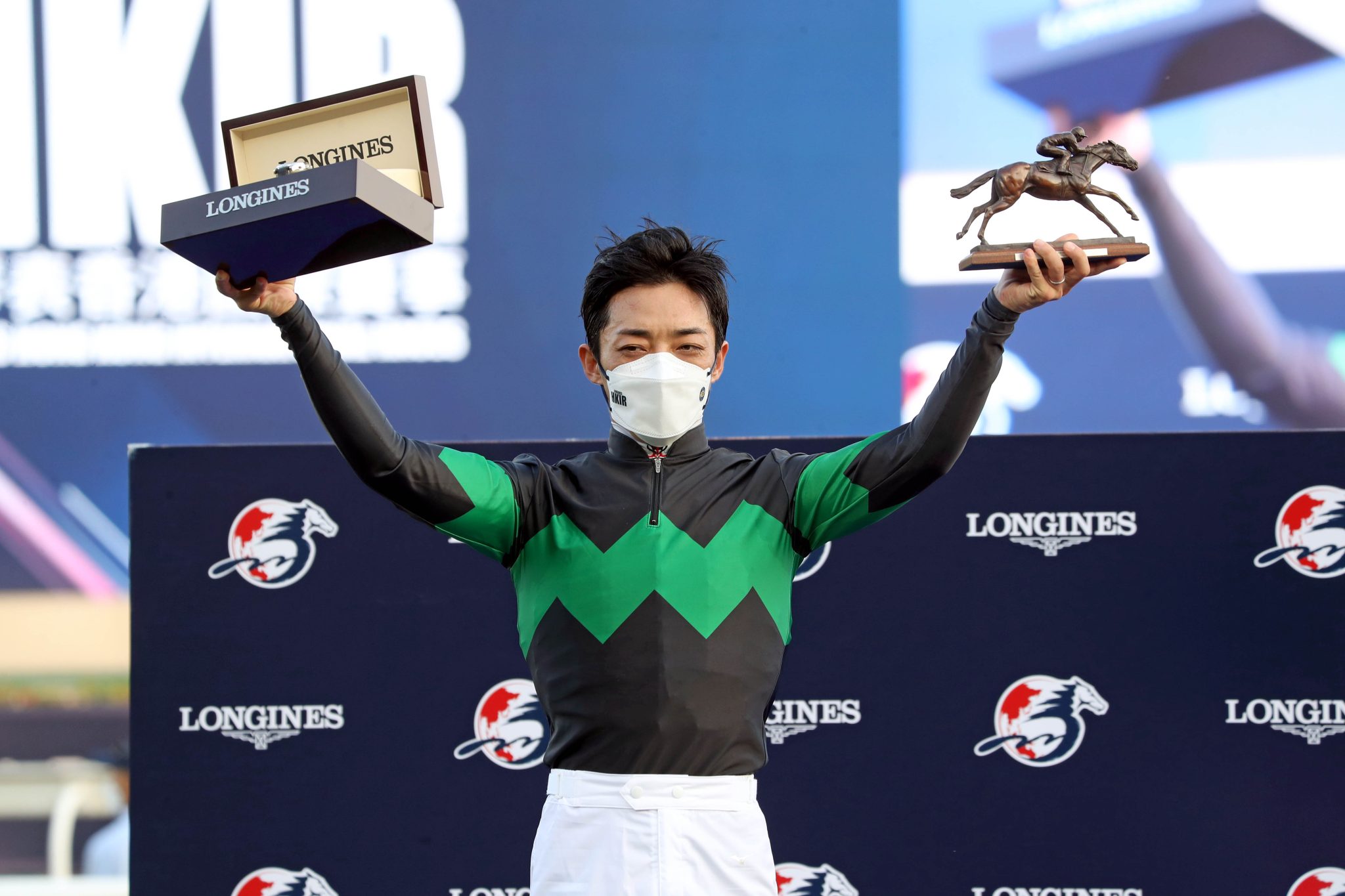 The current leading Japanese jockey in the 2022 Japan Racing Association rankings, Yuga Kawada, will contest the International Jockeys' Championship (IJC) at Happy Valley for the third time on December 7. Featuring a stellar line-up for 12 of the world's best jockeys, Kawada has been selected for two consecutive years.
"I am honoured to be representing Japan again this year," said Kawada.
Kawada is a five-time JRA award winner for the jockey with the highest winning percentage, achieving the feats in 2013, 2014, 2019, 2020, and 2021. In 2022, Kawada has marked two JRA Group 1 wins with Danon Scorpion (three-year-old colt, by Lord Kanaloa) in the NHK Mile Cup and Stars On Earth (three-year-old filly, by Duramente) in the Oka Sho (Japanese 1000 Guineas) and another five triumphs at Group 2 and Group 3 level (as of November 21).
Hailing from a horse family background – his great-grandfather was a jockey and a trainer, his grandfather was a trainer, and his father was a jockey and a trainer – Kawada started to ride when he was a third grader in the elementary school and grabbed some titles in the show jumping competitions in his junior high school ages. He also spent his school's summer holidays at "Shigaraki Bokujo" to ride and take care of horses, where trainer Mitsumasa Nakauchida's father manages.
After spending the three-year course for jockeys in JRA Horseracing School, he gained his JRA jockey license in 2004 and debuted in March of the year. His first win on the JRA circuits was at Hanshin racecourse on 20 March and took his first ride in group race at Chukyo two months later. He won 16 races in 255 starts in the rookie year.
In 2006, when he was granted the JRA's freelance jockey, he took his first group race success and then got a chance to contest in the Japanese Derby with Super Hornet (by Rodrigo de Triano).
His success stories in the highest classes opened in the 2008 Satsuki Sho (Japanese 2000 Guineas) with Captain Thule (by Agnes Tachyon), followed by the 2010 Kikuka Sho (Japanese St. Leger) with Big Week (by Bago). In 2013, he ranked second with 120 wins but did capture his first JRA award.
By winning the 2012 Japanese Oaks with Gentildonna (by Deep Impact), the 2014 Oka Sho (Japanese 1000 Guineas) with Harp Star (by Deep Impact) and the 2016 Japanese Derby with Makahiki (by Deep Impact), he became one of the eleven riders in JRA history to have won all five Japanese Classic races. He also associated with Maurice (by Screen Hero) and Lovely Day (by King Kamehameha) in G1 races and has won 1,817 at JRA (as of November 21).
Besides his achievements in Japan, his global successes were also on show in 2021. He rode the first Japanese Breeders' Cup winner, Loves Only You (by Deep Impact) in the Filly and Mare Turf at Del Mar and then guided her to crown the Hong Kong Cup for her farewell contest.
In 2022, he has won 138 races on both JRA and NAR circuits (as of November 21).
"I will give my best effort to bring the best performances at Happy Valley on the night." said Kawada.