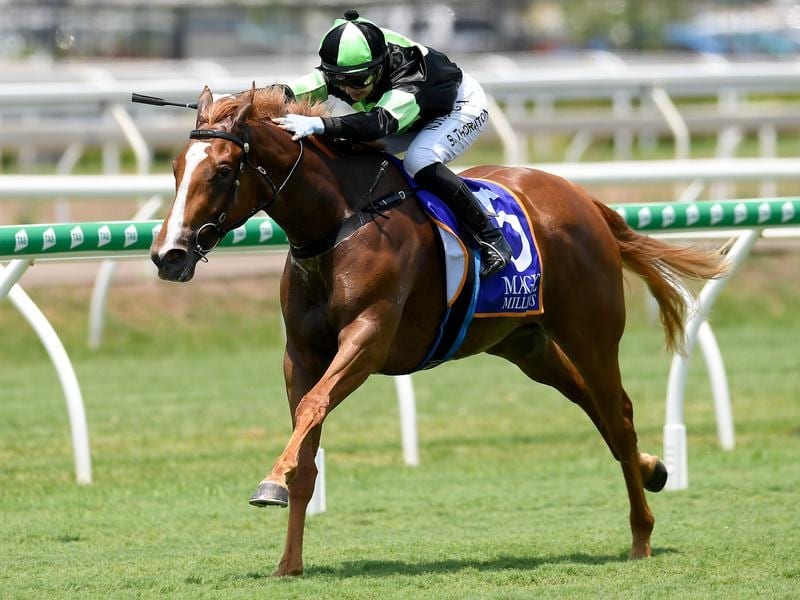 After Gotta Kiss turned in the most inglorious run of her career, connections are pinning their hopes on a clearer blood picture for her to turn her form around in Saturday's Listed Daybreak Lover at Eagle Farm.
Gotta Kiss was beaten 10 lengths behind Tycoon Evie first up a fortnight ago, in a race where punters backed her to start a +190 favourite.
"Obviously it was a really disappointing run," co-trainer Steven O'Dea said.
"We were disadvantaged by the rain in the previous couple of weeks and the only jumpout she was able to have going to the races was on the Monday. But she jumped out really well there, she won that jumpout and while she had a nice blow she bounced out of it really well.
"We were pleased with her going into it."
The last placed finish was completely out of character with her usual consistent form, which includes nine placings in 13 starts.
O'Dea was relieved to find a couple of reasons in the moments and days after the race to explain why the filly failed to put in.
"As soon as she was under pressure she was gone. Post-race she had a few coughs and subsequent to that we took some blood tests and she had an elevated white cell count," O'Dea said.
"We put her on treatment for that last week, we've taken her blood since and her blood picture looks a lot better. It's back to normal range.
"Her work has been good since and we haven't been able to fault her.
"It's always hard when they are bouncing off a run like that, especially only a couple of weeks between runs, but she hasn't left an oat since that run and her work has been good, no coughs post work.
"All signs are okay since that run."
O'Dea and his training partner Matt Hoysted trialled a number of horses at the Doomben trials on Tuesday, including proven stakes performer Scallopini, who is on track for another productive campaign.
"It was his first trial back this time. He was just there to have an easy time. He was able to keep improving to the line without being asked for an effort," he said of Scallopini's third to Jaydee Indy and Niedorp over 840m.
"That will bring him on again. He's starting to clean up in the coat now.
"He will have another jumpout in a couple of weeks and then head to the Gold Coast Goldmarket first up."