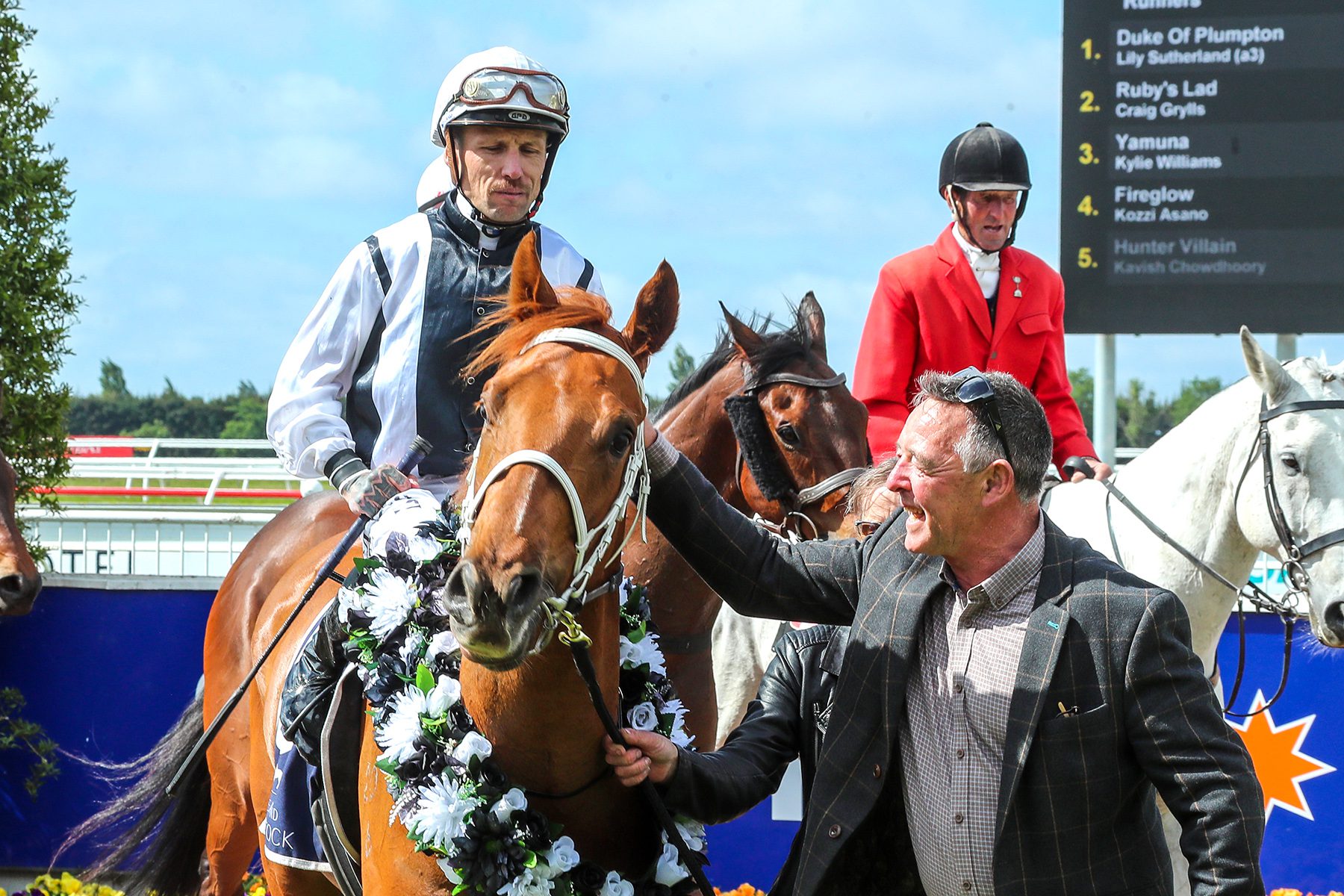 Sabin Kirkland was in a buoyant mood at Riccarton on Monday after his gelding Buoyant comfortably took out the Group 3 Stewards Stakes (1200m).
The Dalghar gelding was fractious in the gates and missed the kick by several lengths, however, jockey Michael McNab didn't fret and settled in behind the pace.
McNab guided his charge to the extreme outside when turning for home where he was able to gather in his rivals and run away to a 3.5 length victory.
"He's quite an excitable horse," McNab said. "He was standing well and then all of a sudden he reared up three of four times.
"With all the commotion going on, they held them a bit longer than I needed, and he reared up again.
"I ended up getting the back of Lisa (Allpress, jockey), where I was happy. I was able to find my way to the outside, it took a little while to change legs, but once she changed legs it was game over."
McNab said Saturday's meeting abandonment threw a spanner in the works in having to get down to 53.5kg again just two days later.
"I had to get down to the weight on Saturday and then I headed home and had a little freshen-up," he said.
"I went for a run and had a sweat last night, and another this morning, and made the weight. It was worth it."
Owner-trainer Sabin Kirkland was delighted to get the result after placing in the Listed Pegasus Stakes (1000m) on the first day of the carnival with Bouyant.
"It has been a big week. I was wondering if he had done enough all week and then had Saturday off, but it all panned out," Kirkland said.
"You have got Michael onboard, so you can't panic."
The Southland horseman is now contemplating a trip north to Wellington where the Group 1 Telegraph (1200m) is high on the agenda.
"We might even look at Wellington later on. The Telegraph is definitely an option," he said.
Kirkland was over the moon to taste success over the New Zealand Cup Carnival once again after more than a decade following Eel Win's heroics in the Group 2 Couplands' Bakeries Mile (1600m).
"We won the Coupland's Mile 15 years ago and to come back to win the Stewards is wonderful," he said.
More New Zealand horse racing news