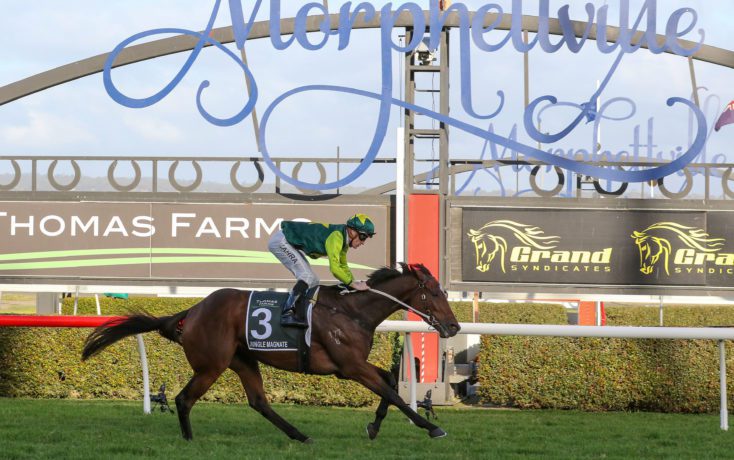 Champion Victorian trainer Mick Price's respect for "underrated" Jungle Magnate reached new heights after his comfortable almost two-length win in the $502,250 South Australian Derby at Morphettville.
He did not have lofty expectations for him before the race, telling RacingOnline that he'd be content with a place behind favourite Alegron and $3.50 chance Detonator Jack.
But what a performance it was on the straight – with star hoop Mark Zahra in the saddle – in the 2500m staying feature.
Yaphet was the runner-up for Cliff Brown, with Detonator Jack (Ciaron Maher and David Eustace) and a flying Alegron (James Cummings) next past the post.
"The horse is not without a winning chance, but realistically he's probably a better chance to run in the first three and run well," Price said during the week.
But the veteran trainer loved the courage and class he showed to hold off an impressive field on the straight on Saturday.
"That stallion is doing a good job. Underrated stallion. We've got a few of them that we think go well," Price told Racing.com.
"I remember with Chris Lawler we paid 60,000 for (Jungle Magnate's sire) Tarzino and put some really good people with him.
"So this time next year I reckon we'll have another big, strong Tarzino back here for it."
Price said during the week he was not worried about Jungle Magnate's 10th in the VRC Derby on October 30 last year.
And as he has done plenty of times during his brilliant career, that intuition served him well.
"When he ran in the VRC Derby he had enough – he was on the way down," Price said.
"But we had it pegged right this time. He had a good spell and a good prep, and we had a nice circle round this race as his peak point."
It was another excellent ride from Zahra after his classy winning effort for Price and Michael Kent on Illation in the Adelaide Guineas.
"It was a nice ride by Zahra. There were a lot of horses inside him at the top of the straight," Price said.
"He's just a Group 1 rider isn't he? We had him here for Illation, but he's one of the best Group 1 riders in Australia.
"There are about four of them, and he's one of them."
Price said he would likely reward Jungle Magnate with a spell, instead of setting him for Queensland Carnival riches.
"I never want to go too far with my horses. My first thought is I would want to put him out," he said.
"He doesn't have to get on a plane and fly to Queensland and do all that stuff.
"He's done a good job and I'd like to see him in the paddock."
Zahra said the directions from Price – which he again expertly followed – were similar to the ones he received for Illation before the Guineas.
"Bit like last start. Mick said just be midfield somewhere," he said.
"It looked very good speed on paper. So my main objective was to get him to switch off.
"We were back near last, but he was very relaxed, which was good for him. It was just a matter of from the 1000 onwards picking which path to go through.
"They just looked to be jamming up too much on the inside for me, so I elected to come out and ended up going around them.
"But when I asked him at the 600, boy he let rip. He hit the front a bit early, but he's got a big stride and he's a lovely stayer.
"So I just wanted to keep his momentum going. I just sent him and he was strong. Very good win."