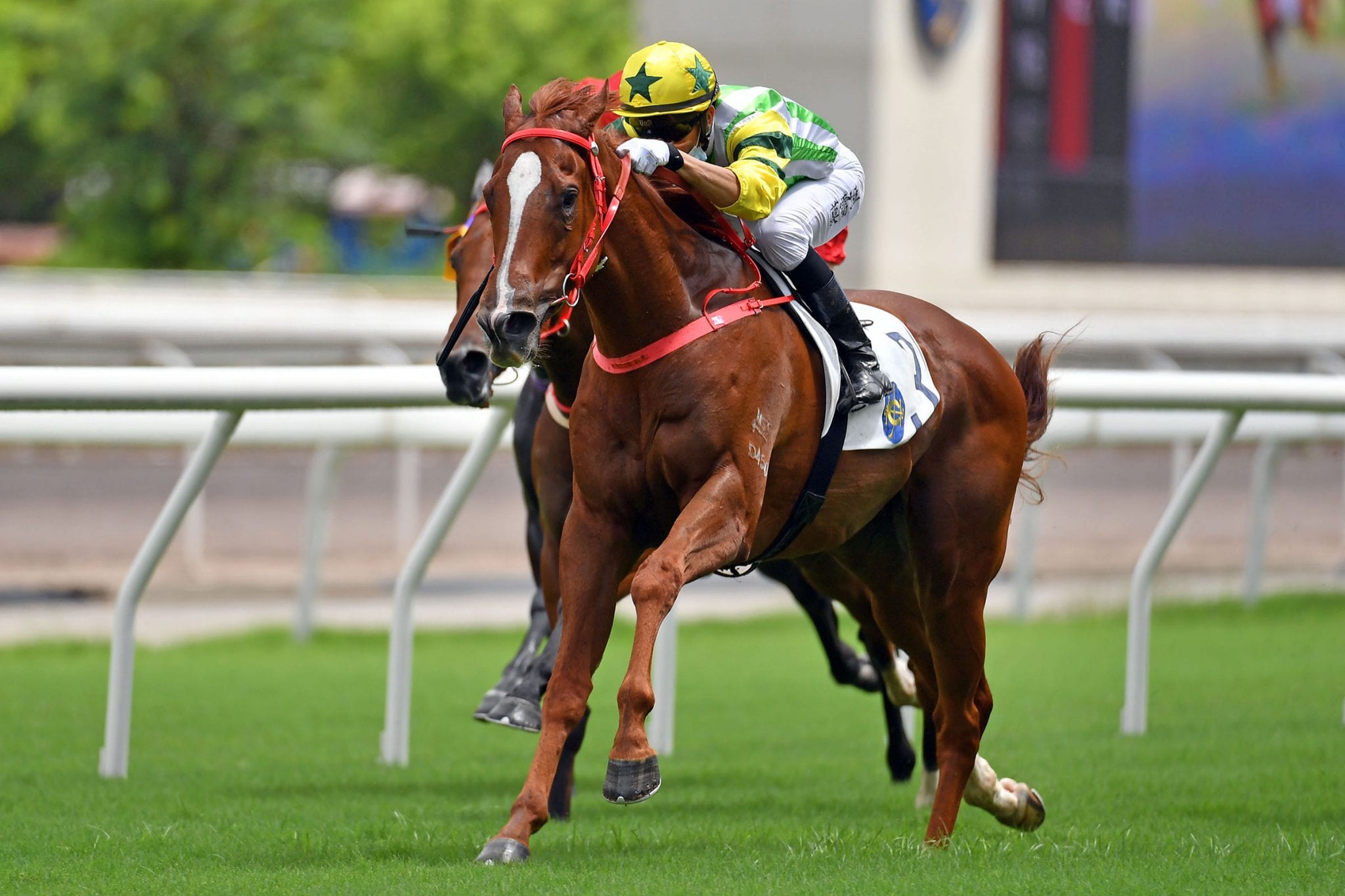 The battle for the 2020/21 Hong Kong trainers' championship appears destined for a cliffhanger finish after John Size ended an unlikely run of outs to move within two wins of leader Caspar Fownes after preparing a double at Sha Tin on Sunday (13 June).
Trailing Fownes 65-69 before proceedings began on Sunday, the 11-time champion handler's effort to triumph with Blaze Warrior and Dashing Fit saw the Australian improve his tally to 67, while Fownes remained winless for the day.
On an afternoon when eight of the 11 winners had been stabled at Conghua Racecourse after their previous starts in Hong Kong, the burgeoning rivalry between Size and Fownes further intensified with only eight more meetings left before the season's end on Wednesday, 14 July at Happy Valley.
"We're just hanging in there and we'll see what happens. I'll just do my best," the Australian said in typically understated fashion.
Size's inevitable resurgence materialised while Master Eight preserved his unbeaten record in the Class 3 Hap Mun Bay Handicap (1200m) for Frankie Lor and a clearly impressed Joao Moreira, who took riding honours with a treble.
"I was committed to just maybe taking a sit with him (Master Eight) and having something to look at but he was just too good, he just took me to the front," Moreira said.
"At the top of the straight, he started to receive pressure from a horse on the outside (Quadruple Double) and once he felt that, he just took off by himself. It showed he has got pride in him – he's a fighter.
"At the finish, I started to push him and he responded again. He was the winner from the start to the finish. He's a good horse. He's done what I expected he would do and, once again, he's given the feeling that he's very exciting."
Lor said: "I think we'll put him away now and get him ready for next season. He's still a young horse and he should be much better next season. He's still got a lot of improvement in him."
Moreira piloted the unraced Blaze Warrior to success in the Class 4 Lido Handicap (1200m) to end Size's 39-race run of outs with the striking Sebring three-year-old.
"We had a good expectation based on his trackwork and barrier trials and thank God he didn't disgrace, he has what we thought he had," Moreira said. "He's no doubt promising. He's very green, got a lot to learn and to start off that way has got us excited."
Moreira's boosted his tally to 141 victories for the season – a lead of 24 over Zac Purton – after Tony Millard's Ultra Express proved too strong in the Class 3 Kiu Tsui Handicap (1600m).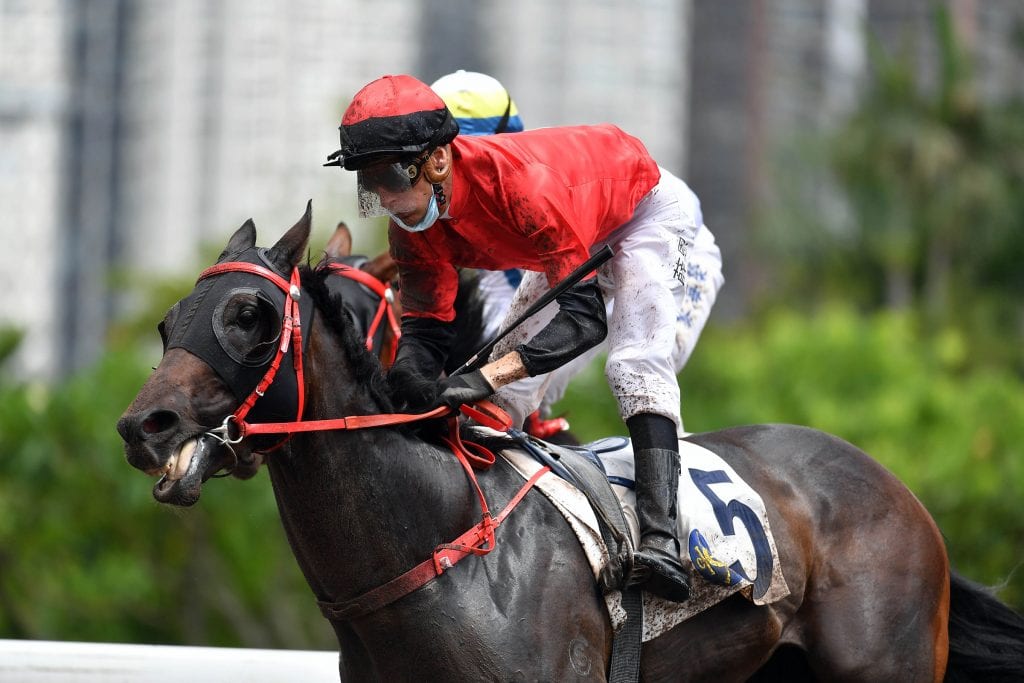 Blake Shinn notched a double with Size's Dashing Fit and Dennis Yip's Bulb Pals.
"That was a terrific win. First start on the dirt when the track is wet and slow, it's not easy to do," the Melbourne Cup-winning jockey said after Dashing Fit, a Smart Missile gelding, prevailed in the Class 4 Pui O Handicap (1200m, dirt).
"He's trained by the champion trainer John Size, so he's had a great schooling coming into today and that made my job easier – the horse's ability carried him through."
Shinn completed a brace aboard the towering Bulb Pals, who overcame a poor start to notch his first win with a remarkable last-to-first triumph in the second section of the Class 4 Silverstrand Handicap (1400m).
"He's got a few little issues at the start, that's why he wears a hood in the barriers and he just got it wrong when they (barrier attendants) took the hood off him – he reared and missed the start," Shinn said.
"So, we just had to allow the horse to settle and find his rhythm. He's probably 17 hands – he's a big horse – and I just tried to give him confidence and galloping room in the run and he hit the line great.
"Full credit to Dennis Yip. He's obviously an injury-plagued horse and Dennis has been patient and managed him well to get him to where he is today."
By Rip Van Winkle, Bulb Pals arrived in Hong Kong in August, 2019 and has since shuttled between Sha Tin and Conghua as he struggled with a tendon injury and a slower than usual healing process before Yip was finally able to get the five-year-old to the races today.
California Spangle justified Tony Cruz's pre-race confidence with an emphatic victory in the Tung Wan Plate (1000m) for Griffins, setting a class record 55.33s under Neil Callan.
"I expected him to win this race. He did everything well during the race and after the race the jockey's report was very good – no bad habits," Cruz said. "Neil rode him with a lot of confidence."
The win marked Callan's return to the winners' circle for the first time since Mighty Giant's success in the Group 2 Chairman's Trophy Handicap (1600m) at Sha Tin in early April.
"It's always nice to have such a long time off – whether it's enforced or not – but to come back and show everybody that I'm still hungry and fighting for wins (is satisfying) and hopefully I can get a lot more," the Irishman said.
"I knew he was going to finish off the last 200 metres very strong. There's a little bit of greenness and immaturity still but he's definitely got ability," Callan said.
City Legend continued his stunning transformation for Benno Yung by winning the first section of the Class 4 Silverstrand Handicap (1400m) under Jerry Chau to post his third victory in five starts – after being winless in his first 31 outings.
Chau sealed a double by following Douglas Whyte's instructions to perfection aboard Will Power in the Class 2 Cheung Sha Handicap (1200m, dirt). Conspicuously wide and last early, the Power gelding surged to his sixth win from 16 Hong Kong starts as his rivals wilted in the yielding conditions.
"He can lay-up near the speed, so we decided to stay out as wide as possible and avoid all the kick-back. He got going on the turn when the others were slowing down because of the kickback. I think the tactical move helped," Whyte said.
Alexis Badel and Chris So combined to extract the best from For Fun's Sake to claim the second section of the Class 5 Ting Kau Handicap (1200m, dirt) at the import's 23rd start in Hong Kong.
Jack Wong and Me Tsui united to win the first section of the Class 5 Ting Kau Handicap (1200m, dirt) with Sky Treasure. The win was Wong's second win of the season and Tsui's fourth success from his last 11 runners.
Jimmy Ting's Man Star posted his second win in succession and third overall from 10 starts by clinching the Class 3 Hoi Mei Wan Handicap (1200m, dirt) for Karis Teetan.
Hong Kong racing continues on Sunday (20 June) at Sha Tin with no Wednesday racing this week because of Royal Ascot (Tuesday, 15 June – Saturday, 19 June).