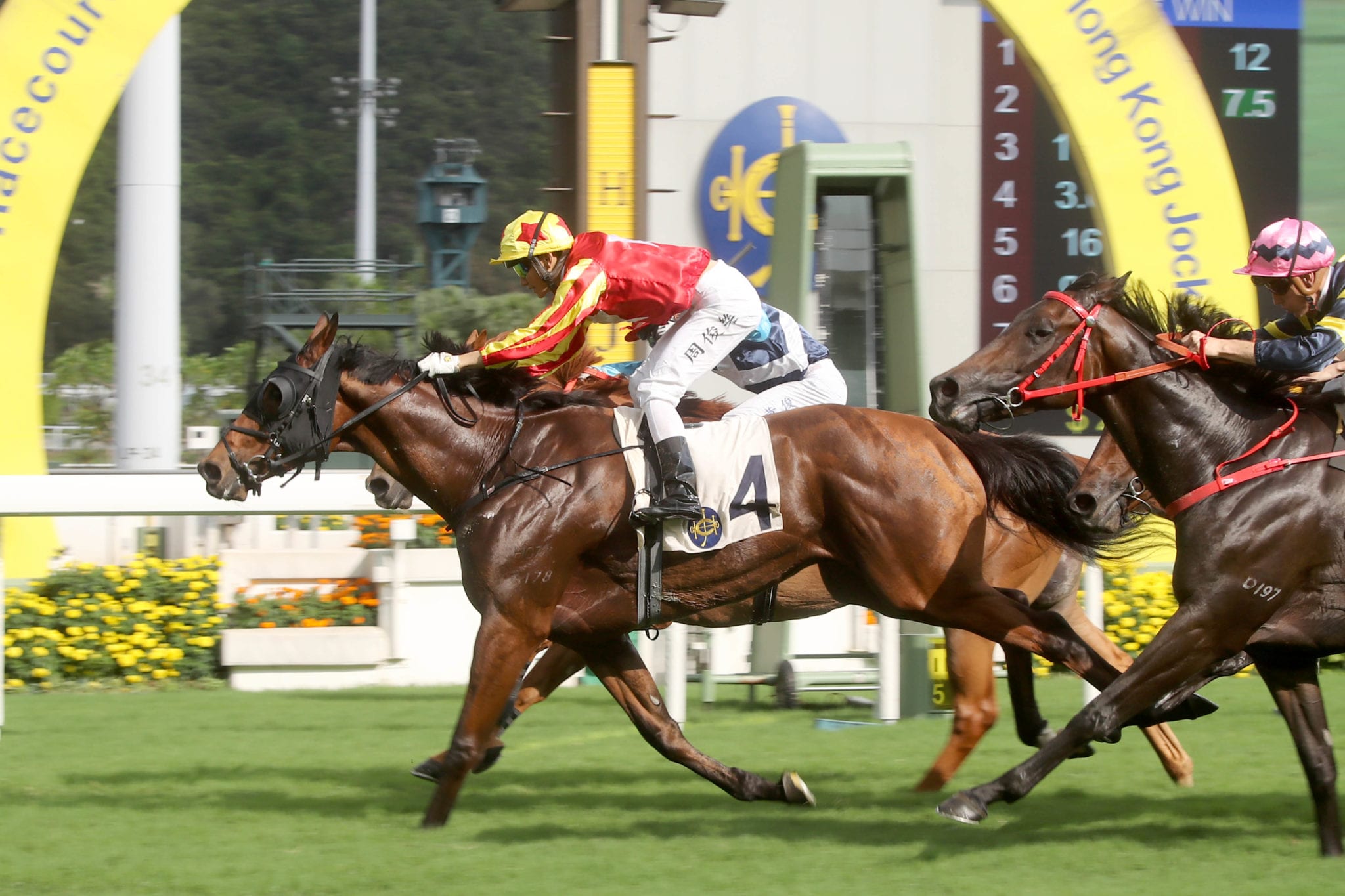 Jerry Chau made a dream home debut at Sha Tin on Saturday, 9 May, driving first past the post not once but twice just five days after teaming up with his new boss Douglas Whyte, the first-season handler best known as Hong Kong's iconic 13-time champion jockey.
The 10lb claimer was three rides into his new assignment when his breakthrough win arrived atop Relentless Me, a +200 shot in the Class 3 Crystal Handicap (1200m). He rounded his four-ride step-out with a mature victory on the John Moore-trained Buddies in the Class 1 Amber Handicap (1400m).
"I didn't think I could have a double on my first day but I'm really lucky and very thankful, especially to Mr. John Moore and my boss," Chau said.
"The first win was very exciting, especially as I won for my mentor. He has already taught me a lot, in particular those things that I need to pay attention to when riding in Hong Kong. He knows everything about Hong Kong racing and he has encouraged me to keep on asking questions. He said to me: 'If you don't ask, you will never know,' so that's what I will do."
Whyte was pleased with his protégé's first-time performance in the unforgiving cauldron of Hong Kong racing.
"He's ridden phenomenally well for his first day and with a little bit of luck on Smiling City it could have been three winners. It's about building momentum now and building a bit of confidence," the trainer noted.
"He's riding with his head and that's what you need to do in Hong Kong. We need to make sure it doesn't go to his head and that's what I've got to be there for. Today is a great day and tomorrow's another day – don't worry, he'll be working tomorrow morning!"
Chau displayed intelligence aboard Buddies, settling third on a horse more accustomed to making the running, following advice from Whyte and instruction from Moore.
"Yesterday when we walked the track and I gave him a bit of advice, he's obviously absorbed it and he's riding the 'C' Course according to how it should be ridden – very 'heady'," Whyte said.
"With Buddies, we went through the racing pattern and I said to him to not be afraid to talk to Mr. Moore and if something goes crazy let them go; I told him 'this horse has never taken a sit before and you could make the difference' – well, he did it. If he'd taken on the horse in front something would have been coming from the back."
Chau took the counsel and applied it to winning effect.
"After the jump I saw the leader come across and he was travelling really well; my horse was comfortable sitting with cover and when I moved out in the straight he kicked really well," he said.
Chau, 20, was called home after just one year of his overseas placement in South Australia, where he was indentured to the Leon McDonald and Andrew Gluyas stable – he notched 77 wins there at a solid 14% strike rate. His first Hong Kong success came one year and one day after his initial career victory at Balaklava aboard Serious Spender.
"It's all come about quite fast for me," Chau said. "It was surprising news when our (Hong Kong Jockey Club Apprentice Jockeys' School) Headmistress (Amy Chan) rang me and told me that I could be back in Hong Kong the next week. I was very happy about it!" he revealed.
The youngster settled his first winner, Relentless Me, on the rail, two lengths off the leader's back, and opted to shift out for a clear run into the straight. Chau picked up his stick and began to urge at the 300m mark and his mount responded with grinding progress.
That momentum continued when the apprentice's stick flew turf-ward – Chau kept his cool for a tidy hands and heels push through the line.
"When I went to pull the whip through, maybe I was a bit nervous but I dropped my whip. I had to push the horse hands and heels and I screamed at the horse, but the horse was so honest for me and I'm very happy that I was able to win the race in the end," he said.
Chau had four rides on the day and he opened with fourth-place for trainer Ricky Yiu, who played a guiding role in the rider's education before he ventured to Australia. And with the Whyte-trained Smiling City placing a half-length third in race six, his stats showed a 50% win strike rate and every mount picked up a cheque.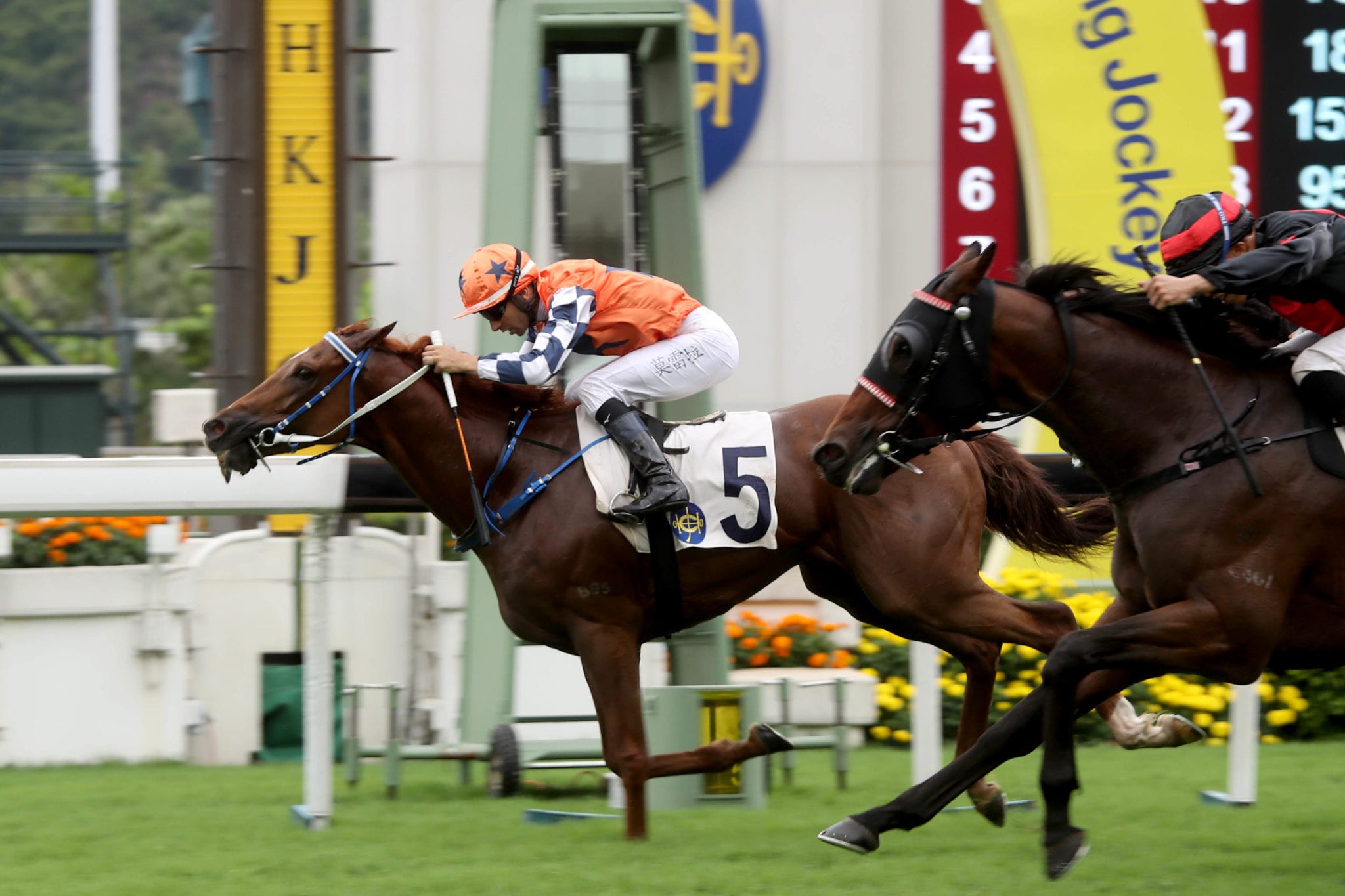 Moreira closes in with a treble
Joao Moreira outpointed Zac Purton three wins to zero with a skillful treble to move to within one of his championship rival, having been winless against the Australian's five-timer at Happy Valley midweek.
The scores at the end of the day stood at 113-114, with 18 race meetings left in the current Hong Kong season.
The Brazilian wrapped up the trio atop the John Size-trained Hong Kong Win in the Class 2 Amethyst Handicap (1000m).
"He had a smooth run today, so circumstances just played his way. He's a good horse and he's still in the making," he said.
Moreira rode a sweet stalking race on Perfect To Play, settling behind the lead and waiting for the gap to open midway down the straight. He asked his mount to quicken when daylight was sighted, and, reacting to strong insistence, the Caspar Fownes-trained galloper battled on to take the Class 4 Sapphire Handicap (1800m) by a neck.
One race later, the 'Magic Man' overcame gate 12 to score aboard the Francis Lui-trained This One's For You (129lb) in the Class 4 Ruby Handicap (1650m, dirt). Moreira had to bide his time as he plotted a path through traffic, eventually pulling wide in the straight for a clear run to nick it by a head from Party Everyday (120lb).
The win took Moreira's total wins this term for the yard to six from only 17 rides – an impressive strike rate of 35%.
"Sometimes you find luck and I had a bit of it with those two earlier rides. Hopefully we can keep on kicking in winners!" he said.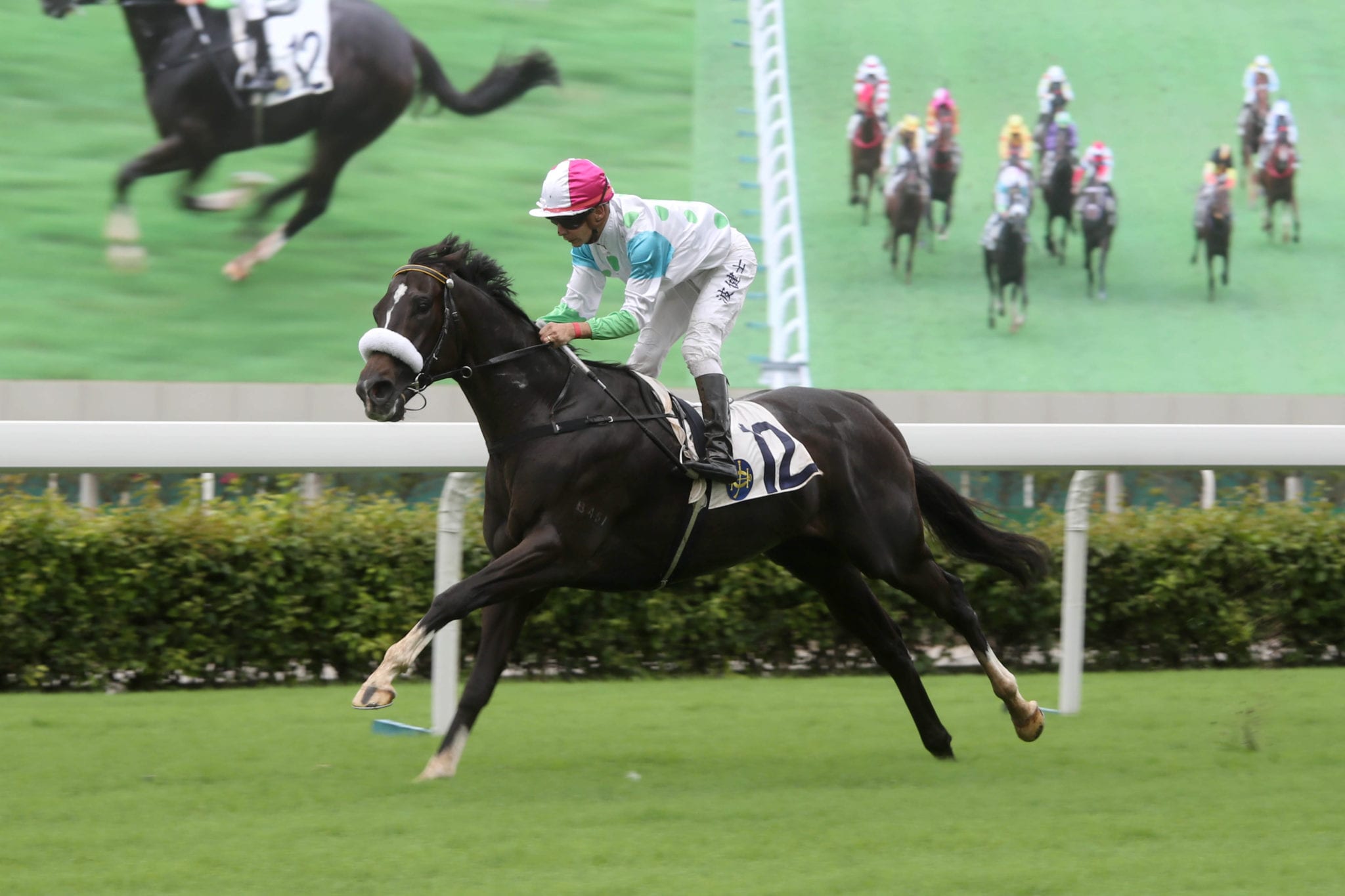 Borges in the zone
Vagner Borges is eight weeks into his current Hong Kong contract and took his tally to seven wins with a first double in the city, having drawn a blank from 31 rides during his debut stint last July.
The Brazilian struck first in race two, the Class 3 Jasper Handicap (1650m, dirt), aboard Touch Of Luck for the in-form Moore stable. The success took the rider's record for the trainer – at that juncture – to three wins at a 30% win strike rate.
"John Moore has helped me a lot, he treats me well and gives me some nice rides," Borges said through an interpreter.
Borges followed up in the next, section one of the Class 4 Peridot Handicap (1200m), when galvanizing the Michael Chang-trained Gallant Legacy to a length and three-quarter score. The International Sale graduate's maiden win at start nine took the handler to 13 wins for the term.
"I have to thank the trainers and owners for the opportunities they have given me," Borges said. "This support allows me to show that I can do a good job – I'm happy with how things are going right now."
Karis Teetan and Benno Yung teamed successfully for the third time this term to bag a second win on the bounce for the lightly-raced six-year-old Humble Steed, another graduate of the Hong Kong International Sale. The Class 5 Topaz Handicap (1600m) was only the 10th race for the Kodiac gelding across three seasons, due to a catalogue of leg injuries.
Antoine Hamelin claimed the finale, the Class 3 Emerald Handicap (1400m), with yet another thunderous wide-and-late charge, this time on the Jimmy Ting-trained Assimilate.
The first race of the day, section two of the Class 4 Peridot Handicap (1200m), saw Alfred Chan secure an early lead on Hinyuen Swiftness and the seven-year-old rolled on gamely to give trainer Dennis Yip his 19th win of the season.