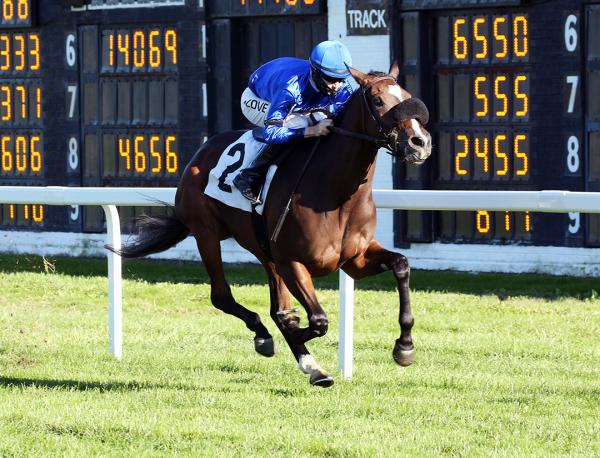 Eoin Harty concedes all six opponents in Sunday's (AEST) Yellow Ribbon Handicap at Del Mar Thoroughbred Club in San Diego could push his filly Javanica to the limit.
But regardless of the result, he knows his four-year-old won't stop trying and is confident she can match it with them.
To be ridden by Drayden Van Dyke, Javanica's best finish from five starts this year was second in the Grade 2 Royal Heroine Stakes at Santa Anita on April 9.
She led for three-quarters of that race over a mile before the class of Going Global for Philip D'Amato saw the fellow filly power away on the straight to win comfortably.
Harty knows Javanica will need to improve on that performance, but has high hopes for her.
"She's got a shot. It's a very competitive race," he told RacingOnline.
"There's a filly (Going Global) who's beaten her in the past and won multiple Group races.
"So I'm up against it. But she's training well.
"If we take our chances we're going to have to be lucky to win, but I expect her to run very well.
"She's been ultra-competitive basically all her life, and when she's not she's been unlucky."
Harty is daring to dream that Sunday could be Javanica's maiden Grade triumph in her 17th career start, with two wins currently to her name.
"As a three-year-old she took on colts in San Francisco and just got beaten right on the wire by a horse (Rombauer in last year's El Camino Real Derby) who went on to win the Preakness
"She looked like she was going to win (the Royal Heroine Stakes) and got beaten by Going Global on that day.
"She's just been unlucky – she's maybe a notch below top class, but she always tries hard.
"And I think there's one good win in her somewhere. She's looking well."
Indeed, Sunday could be the day Javanica's luck turns for the better.
But if it does not and she doesn't offer a genuine challenge, Harty conceded this could be as far as she goes in her career.
"This is pretty much it. She needs to really step up to continue staying in training through the rest of the year," he said.
"If she's not very competitive then I really can't see her career going on much further."
Harty is hoping Javanica can conserve her energy for her run home.
"There seems to be plenty of speed in the race – two or three horses look like they want to be at the front end, if she can slot in behind them," he said.
"She has a decent turn of foot."