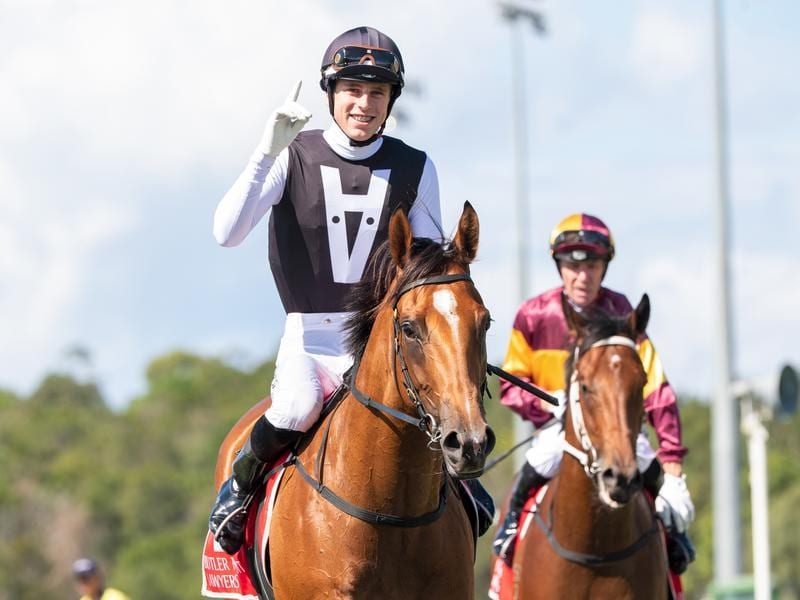 Extensive tests have cleared Isotope from any serious injury arising from her Magic Millions Guineas scare.
Isotope clipped the heels of arch-rival Away Game straightening up in the Guineas, dislodging jockey Ryan Maloney before galloping on riderless with the rest of the field.
Maloney escaped serious injury with MRI scans taken last week clearing him of any neck fractures and he will return to race riding at Eagle Farm on Thursday.
Trainer Tony Gollan took the precautionary step of having Isotope undergo a complete vet examination before the filly headed to the spelling paddock.
"She's been vetted three times since the run and she's come through with flying colours," Gollan said.
"Hopefully we'll see her get down to Sydney for the autumn and do a good job away from home."
The Listed Darby Munro Stakes (1200m) at Rosehill on March 20 is likely to be Isotope's carnival opener in Sydney before the Group Two Arrowfield Sprint (1200m) on the second day of The Championships at Randwick on April 10.
Gollan won the Magic Millions Snippets (1200m) with Jonker and the Magic Millions Fillies and Mares (1300m) with Krone but admits he left the Gold Coast with mixed emotions after the drama involving Isotope.
"I know the phrase 'that's racing' and all the rest of it but it was hard to take at the time but we move on now," he said.
"The most important thing is that our jockey is safe and sound and the same with our horse.
"It took the wind out of everyone's sails and made it a bit of a flat experience but when you look at the day as a whole it was a pretty good day.
"To win two million dollar races is not easy to do and a lot of work goes into it."
The race that launched Gollan onto the Group One stage is likely to be the target for Jonker during the autumn carnival.
The Galaxy (1100m) at Rosehill on March 20 has been pencilled in by Gollan as a goal for Jonker before he returns to Brisbane for the Group One Doomben 10,000 in May.
Temple Of Boom won The Galaxy for Gollan in 2012 when it was held at Randwick.