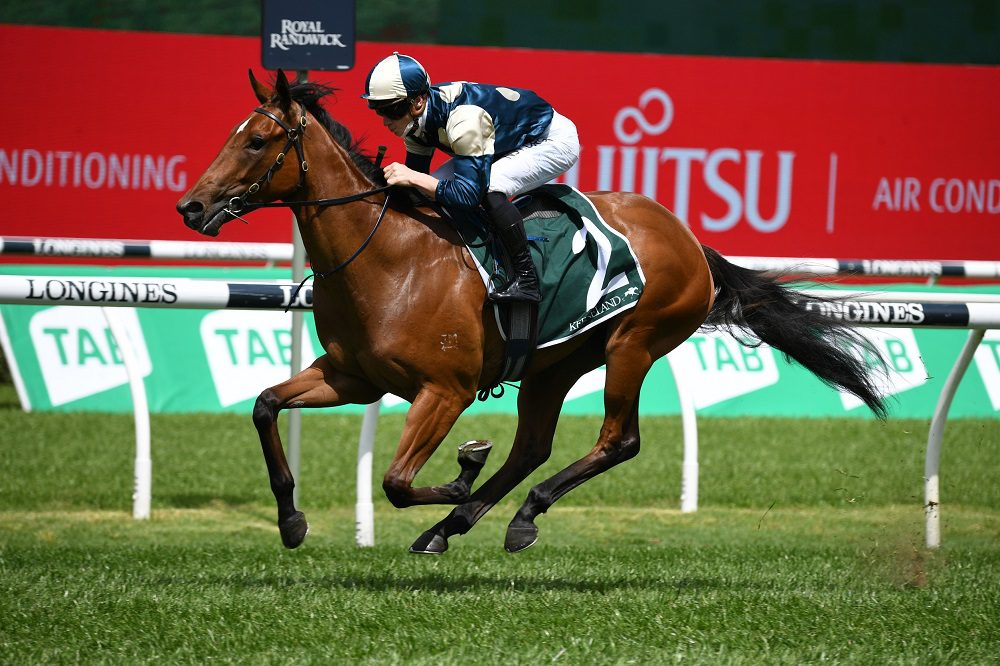 As the gavel drops on another terrific week on the Gold Coast for the 2022 Magic Millions, we take a look back over some of the highlights from on the racetrack and in the sales ring. A massive 128 horses raced at Aquis Park on Saturday across the nine events, while 1,004 horses were sold through the ring, making it one of the most successful Magic Millions Yearling Sales in its history.
Things kicked off at sunrise last Tuesday morning with the running of three beach gallops at Surfers Paradise and barrier draws for both $2 million features – the 2YO Classic and 3YO Guineas – before the week concluded on Monday at 4pm with the sale of Lot 1235. There was plenty of chatter post-2YO Classic barrier draw in regards to Coolangatta's chances, but a cool, calm and collected James McDonald and Ciaron Maher shrugged off the doubters, claiming barrier 13 was perfect for the short-priced favourite.
THE RACEDAY
There was plenty of drama to kickstart the day, as horses for the $250,000 Magic Millions Maiden were forced to wait behind the barriers for almost 15 minutes. Both Chart Buster and Ambitious Spirit were vetted prior to the jump, which delayed the start slightly. The pair were passed fit to run, but while they were being loaded in, Citizen reared up and flipped in the gates, causing the entire field to be backed out and re-loaded, before once again Chart Buster played up and had to be re-vetted. The field of 16 became 14 by the time they jumped, with joint favourites Warmth and Devil's Throat fighting it out, the former winning the duel over her stablemate.
Warmth and @TommyBerry21 take out the first win of the day!

Also a Quinella for @SnowdenRacing1 💪 pic.twitter.com/Lz5F03aVmZ— 7HorseRacing 🐎 (@7horseracing) January 15, 2022
With Peter & Paul Snowden combining in the opener to train the quinella, New South Wales' leading trainer, Chris Waller, did the same in the Magic Millions Open as Bigboyroy trounced his rivals, defeating Wheelhouse by 3.75 lengths. Daring tactics along the back straight saw Kerrin McEvoy take off aboard the enigmatic chestnut, but it certainly paid dividends in the 1800m event, as he travelled sweetly to the turn before finding another gear and breaking his rivals' hearts.
Bigboyroy! What a win! @KPMcEvoy for @cwallerracing. #MMGC2022 pic.twitter.com/cwtFh7bQy7— Magic Millions (@mmsnippets) January 15, 2022
The Sydney trainers dominated the early third of the card, as Gai Waterhouse & Adrian Bott secured the Magic Millions Subzero with their stayer Navy Cross. Like Bigboyroy, Navy Cross led into the straight, but looked all out of gas as Rebel Rama, Outlandos and Parry Sound loomed. Navy Cross proved to be the best stayer in the field of 11, pulling away over the final 100m to ultimately win by a length in the first $1 million race of the afternoon.
Navy Cross kicks and gets up with a well rated ride from @clarkyhk!

@GaiWaterhouse1 @mmsnippets @GCTurfClub pic.twitter.com/hqlAWqivKd— SKY Racing (@SkyRacingAU) January 15, 2022
Having run third in 2021, Snapdancer was back for another crack at the Magic Millions Fillies & Mares race, and gee, did she make amends. The Ciaron Maher & David Eustace-trained five-year-old was given a peach of a ride by James McDonald, which allowed the well-fancied mare to scoot away from her rivals to win by 1.75 lengths. Brad Widdup's outsider Vulpine battled on gamely for second under Ryan Wiggins, while Chris Waller's pair, Kiku and Brookspire, fought out the final spot on the podium. The first locally trained gallopers past the line were 2021 winner Krone and Nudgee Stakes winner Salateen, with both mares owned by Rosemont Stud and trained by Tony Gollan.
Snapdancer dug deep and got the glory! @mmsnippets @GCTurfClub @SpicerTbreds @cmaherracing @mcacajamez pic.twitter.com/Hm5MJWLAlI— SKY Racing (@SkyRacingAU) January 15, 2022
It seemed as though the Queenslanders' home-track advantage was far from that, but the locals were able to rejoice after the running of the Magic Millions Snippets. Having suffered a near-life-ending colic attack in 2021, Tony Gollan's star mare Isotope returned to the track with an emphatic victory. The dominant victory stamped Isotope as Queensland's best racehorse, giving local syndicate Black Soil Bloodstock a well-deserved win on Magic Millions Day after she dismounted Ryan Maloney when favourite in last year's 3YO Guineas. Isotope is back in a very big way, with some of Australia's top sprint races her likely target during the Sydney Autumn Carnival.
Let's relive the final stages of Isotope winning today's $1M @mmsnippets Snippets over 1200m given an awesome ride by @RMaloney_Jockey in a scorching 1:08:12 🔥

The best is to come from this @tonygollan trained mare we secured 3 years ago at @mmsnippets for $170k from @daandine. pic.twitter.com/eORBwZ8Npc— Black Soil Bloodstock (@Black_Soil_Bsk) January 15, 2022
The Magic Millions Cup was dubbed as 'the toughest race of the day', and that call turned out to be spot on. Three-tenths of a length separated first and fourth place, with Eleven Eleven claiming his third-straight win on the $10 million race day. The four-way photo finish made it hard for the Gold Coast stewards to find a margin, but after a long wait, it was last year's winner to get the bob once again. Holyfield and local galloper Apache Chase were both game in defeat, while Frosty Rocks' run was full of merit also.
What a finish to the Magic Millions Cup yesterday at the Gold Coast with Eleven Eleven on the extreme outside getting the judges nod by a nose pic.twitter.com/RTRnnlgjEH— Michael McInally (@MMcInallyPhotos) January 16, 2022
Going into the Magic Millions 2YO Classic as the heavily backed favourite, unbeaten filly Coolangatta shone as James McDonald claimed his first win in the race, capping off an incredible few months for the 30-year-old. A confident ride by McDonald saw the $1.70 favourite cruise into the race three-wide at the turn, before her and her main market rival, Russian Conquest, cleared out to fight out the finish in a ding-dong battle up the Gold Coast straight. Both fillies went into the race undefeated from their first two starts, setting us up for an exciting rematch en route to the Golden Slipper Stakes in the autumn.
COOLANGATTA TAKES OUT THE @MMSNIPPETS 2YO CLASSIC! 🙌@cmaherracing @mcacajamez @GCTurfClub pic.twitter.com/HkQa4To6W2— SKY Racing (@SkyRacingAU) January 15, 2022
Look away now if you were on Jamaea; put it on repeat if you backed King Of Sparta. Seemingly, everyone did the latter, as Peter & Paul Snowden went back-to-back in the Magic Millions 3YO Guineas, after claiming the prize with Aim in 2021. Ridden by Nash Rawiller, King Of Sparta was put into a terrific spot before the heavily backed commodity drew clear in the straight. Locally trained Me Me Lagarde went straight into our blackbook after her fast-finishing second, while all we could do with Jamaea was forget she ever went around. Tommy Berry had her bottled away on the fence, and that's about all we can say.
KING OF SPARTA destroys rivals and explodes down the centre of the track, wide barrier was no issue for @SnowdenRacing1 gelding #IAMSPARTA ⚔️ pic.twitter.com/ZK5btQ6nS9— TABtouch (@TAB_touch) January 15, 2022
In the final race of the day, a field of 15 faced the starter after Lady Banff was scratched behind the gates. Of those 15 runners, 14 were Queensland-trained. Without having to say much more, you can probably see where we are going with this. The sole visitor, Annabel Neasham's Wisdom Of Water, was too good for the locals, getting up to defeat Chris Munce's Boomnova and Desleigh Forster's Chapter And Verse. Ridden by Rachel King, Wisdom Of Water sliced through the field from barrier 13 to get up by 1.25 lengths as the ladies dominated the end of the day.
Wisdom Of Water does it for his girls 👊@RachelK11 and @ANeashamRacing take out the @mmsnippets Open! pic.twitter.com/gc11wm5Cih— 7HorseRacing 🐎 (@7horseracing) January 15, 2022
THE SALES
Setting a Southern Hemisphere record in 2022, this week's Gold Coast Magic Millions Yearling Sale grossed $242 million – a further $31 million on 2021, despite having a smaller book. Of the 1,235 lots, some 1,004 yearlings were sold, with a clearance rate of 91.36%.
The average sale price was $241,215, while Coolmore Australia purchased the sales topper, a $1.9 million I Am Invincible colt out of the same dam as $1.2 million earner Dubious. Having bought four yearlings across the course of the week, Coolmore's average purchase price was a massive $1.275 million, with their cheapest buy scraping in at $1 million.
Sold! $1.9 million for Lot 585. The I Am Invincible half brother to Dubious offered by @NewgateFarm goes to @TomMagnier. #MMGC2022 pic.twitter.com/3TlEUbzOBL— Magic Millions (@mmsnippets) January 13, 2022
With money to spend after winning the 2YO Classic, Ciaron Maher & David Eustace bought 39 yearlings on their own, while they went into partnerships on numerous occasions. In conjunction with Aquis Farm, Ciaron Maher Bloodstock purchased a $1.7 million Not A Single Doubt colt (Lot 261), while they also bought the highest-priced filly of the sale, a daughter of I Am Invincible (Lot 306) for $1.5 million. The leading Victorian stable spent over $13.5 million across the seven days, while Gai Waterhouse & Adrian Bott were $5,000 away from spending $11 million.
As expected, Newgate Farm, Arrowfield Stud and Widden Stud were the highest-grossing vendors, while Segenhoe Stud, Yarraman Park Stud and Coolmore Stud all grossed over $10 million.