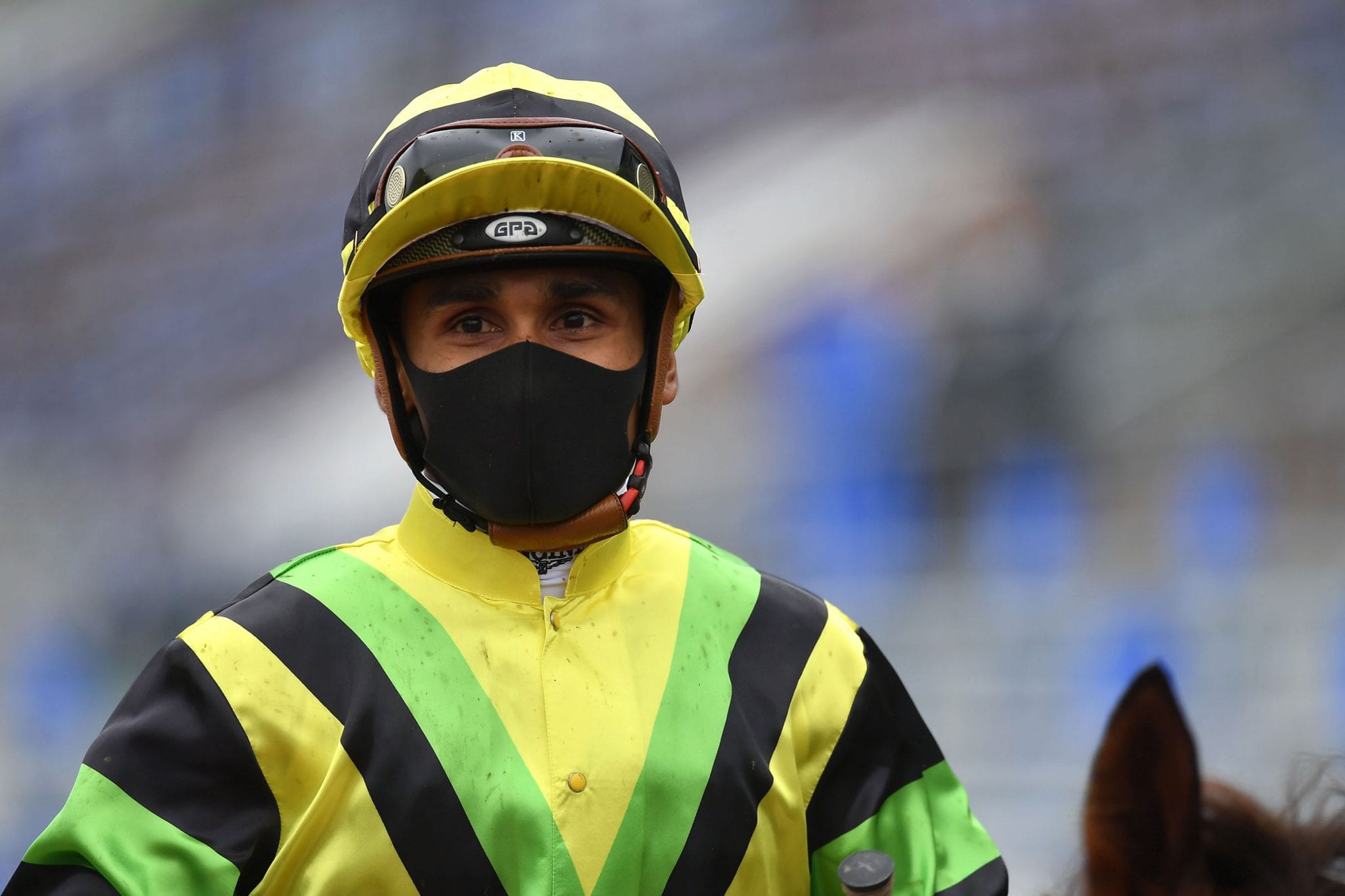 Estimated Reading Time: <1 minutes
Karis Teetan is remaining hopeful that gear tweaks will help Robot Warrior (127lb) overcome a 'crowding' issue when he contests Sunday's (4 July) Class 4 The Arculli Trophy Handicap (1600m) at Sha Tin.
Seeking a first win, the son of Sepoy is aiming to piece it all together after narrowly being beaten by less than a length at his past two starts with Teetan hopeful the addition of blinkers is the catalyst he requires for a breakthrough achievement this weekend.
"He's a funny horse – he's not the bravest in between horses but he can do it, he just needs some help, so myself and Ricky (Yiu) decided to put the blinkers on him – let's hope they help," Teetan said.
Differing between the two, a visor has a slit which allows the horse to see other runners to their rear, while blinkers block their view to the rear and, in some cases, to the side.
"I thought he was going to win last start but he had one horse that came to the outside and that stopped him from challenging them, so if he doesn't see them crowding him then maybe he'll feel better," Teetan said.
Bought out of the 2019 Hong Kong International Sale (July) for HK$2 million, the five-year-old has raced seven times and is proving a solid player over the mile.
Teetan worked the Ricky Yiu-trainee on Tuesday (29 June) for an 800m gallop on the dirt alongside a partner horse (Righteous Win), clocking 54.3s (29.7, 24.6) for the effort.
"I worked him a few days ago with the blinkers on and he feels better with them, I think he can do it, I just hope now we've made the right decision," the Mauritian said.
Firmly entrenched in third position in the jockeys' championship, Teetan has partnered 75 wins this term, including success aboard Panfield in the 2021 Group 1 Standard Chartered Champions & Chater Cup (2400m).
"He (Robot Warrior) can go a bit further but I think now with the gear change we should stick with the 1600 (metres), he can still win at 1600 (metres) – I was happy with his run last time and his work so it's very positive moving forward," Teetan said.
Among his full book of rides, Teetan also pairs with Czarson in the Class 3 The Stevenson Cup (dirt, 1200m) as well as C P Brave, an emerging youngster from the Tony Millard stable in the finale, the Class 3 The Chow Silver Plate Handicap (1600m).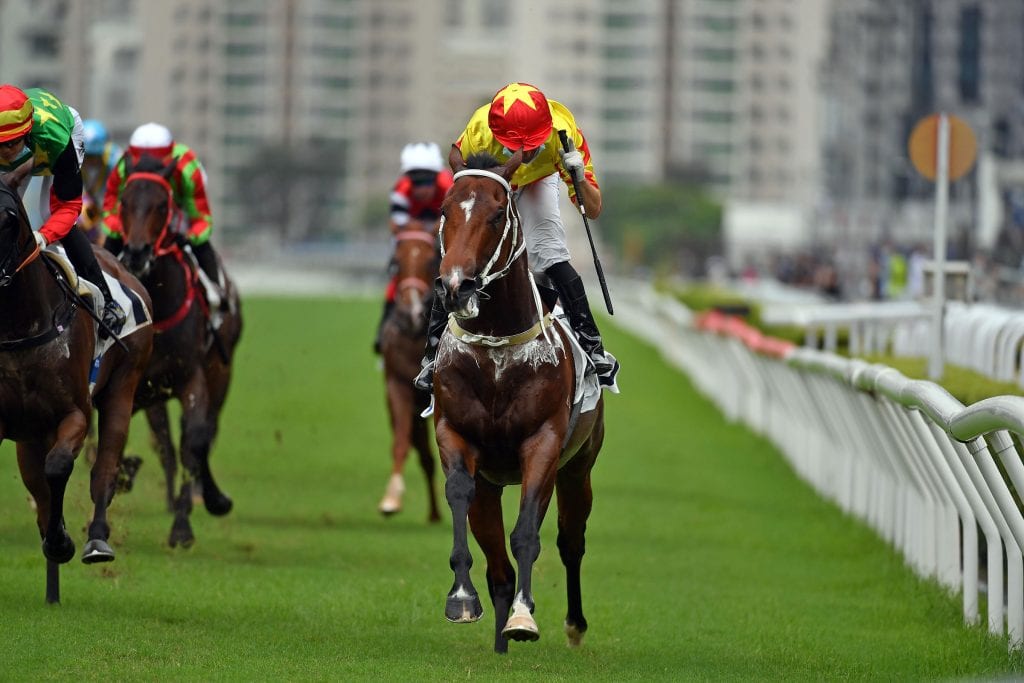 Callan eyes back-to-back wins aboard California Spangle
Rolling off the back of a double on Thursday (1 July), jockey Neil Callan is looking to maintain the momentum when he heads to Sha Tin this Sunday (4 July) with a full book of rides, including California Spangle (133lb) in The Pearce Memorial Challenge Cup Plate for Griffins. (1200m).
"He was very impressive, he ran a fast time so the clock doesn't lie normally, I felt that he was still a little bit green even though he has a lot of natural speed, so I'd expect him to improve off that run.
"I even felt that once he got a little bit further that he might even improve even more, so with that in mind and him going up to 1200 (metres) and having that one run under his belt now for a win, I would expect him to show up again," Callan said.
An impressive debut winner, the son of Starspangledbanner made all nicely down the straight but this weekend tackles going around a bend for the first time.
"He's such a cool horse, great temperament, easy to deal with and he's very well balanced," Callan said.
"He's still doing a few things wrong, I think he's just still learning, he's still a three-year-old and he hadn't had much of a prep before in Ireland because he arrived here unraced, so once he came here all of his prep was here.
"All of his trials he's been slow away, so I think it's just a mental thing, but like I said, he was slow away the other day but he mustered speed very well, so regarding that issue I am not worried, that'll all come to hand as he progresses," Callan said.
Also in the race are debut winners Toronado Phantom (133lb) and Turbo Power (133lb), while Great King (126lb), Miracle Victory (121lb), Red Brick Glory (121lb) and Smart Idea (121) also line-up.
In his final season as a Hong Kong-based jockey, Callan will sign off at the season's conclusion at Happy Valley on Wednesday (14 July) and return to Great Britain, where he will be based out of Newmarket.
"With the kids it is time to go, the older ones are old enough to start thinking about what they want to do and my eldest wants to be a jockey, so he needs to go back and do the pony racing, he's already signed up for that in August.
"But it's my turn to listen to what they want now, I've dictated to them for the last 10 years but now it's my turn to listen to them," Callan said.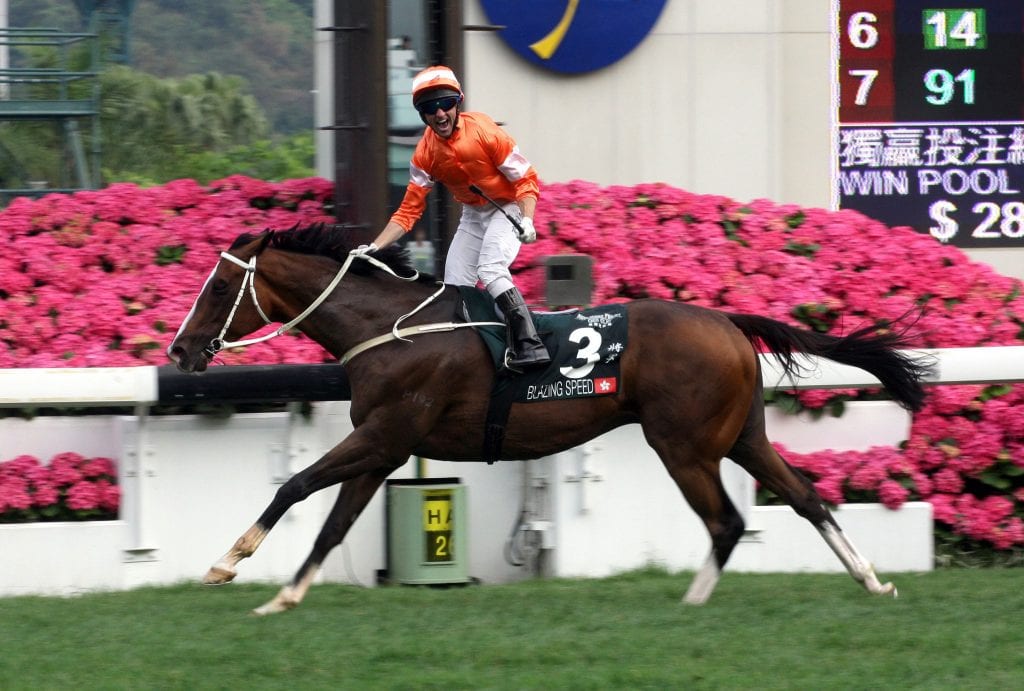 Across his career in Hong Kong, Callan reaped a successful partnership atop Blazing Speed, whom the Irishman won three Group 1s aboard, the 2015 QEII Cup (2000m) as well as two Standard Chartered Champions & Chater Cups (2400m) in 2014 and 2016.
"I've ridden some really good horses in Hong Kong – Blazing Speed, Beauty Only and Peniaphobia and a lot of good horses for John Moore, too, especially when I first came here I didn't really know what to expect or have any expectations," Callan said.
Describing the process of arriving in Hong Kong, Callan's initial taste of horse racing in the Far East came at Happy Valley in the 2008 International Jockeys' Championship.
"It was just by chance that I got to come for the Jockeys' Challenge when Ryan Moore couldn't come one year, so it gave me my first taste of it and the Club was interested in me staying, so I knew at that stage that I would come, eventually, it was just a matter of when," Callan said.
"It's been good a time, I was thinking of some jockeys haven't done well in Hong Kong but I knew what I was capable of and I knew my character so I just kept pushing and pushing and it's like trying to break the ice, you keep digging until it smashes, and it did – I've had a lot of support here and I feel quite proud of myself for what I have achieved," Callan said.