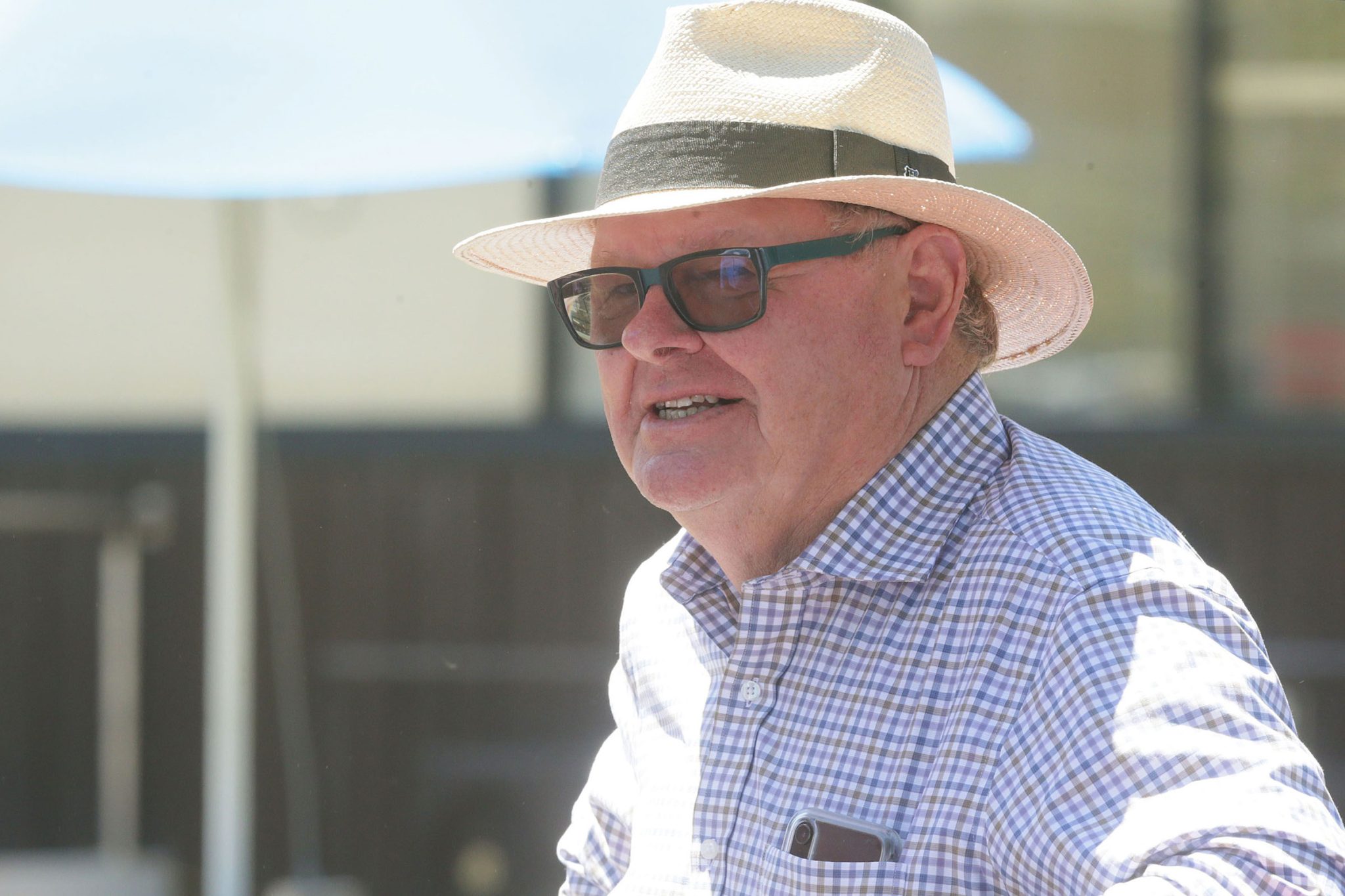 New Zealand trainer Andrew Forsman woke up on Sunday morning with the realisation that whatever happens in his Cambridge stable from now on, the buck stops with him.
Forsman has trained in partnership with Murray Baker for the past 10 years after starting his association with the legendary horseman just under 20 years ago. Initially, he split his time between helping out at the Baker stable with his duties for Trackside television.
With Baker officially closing out his more than 40-year training career at Te Rapa on Saturday, Forsman has now assumed sole responsibility for the operation that has enjoyed remarkable success both in New Zealand and across the Tasman.
"It doesn't feel a lot different this morning to how it felt yesterday, but I know that from now on there is no-one else to blame but me," Forsman said.
"I've been extremely lucky to work with one of the best in the business and I have been able to soak up all the knowledge that Murray has passed on since I first started helping out in the morning about 20 years ago.
"I've pretty much learnt the ropes from the bottom up and if it hadn't been for Murray, I wouldn't have got this far as he has been a terrific mentor.
"We have enjoyed some great success and one of the things that I have enjoyed the most is the record we have established when taking horses to Australia to compete.
"It is something that Murray loved to do and he has been great in showing me how to select the right horses to travel."
While the team is slowly winding down for the winter months, Forsman is excited about the younger horses coming into the stable for next season.
"We don't tend to have many going through the winter and it will be the same again this year," he said.
"At the same time, there is plenty of work to do to educate the young ones and to see what we will have for the new season.
"The rising two-year-olds we have are the ones that I have acquired at the sales and through our existing clients so I'm really looking forward to the next few months.
"People have stuck with me, which is a vote of confidence and I'm keen to repay the faith they have shown in me."
With more than 1870 training victories in his locker, five New Zealand Trainer of the Year titles and four National training premierships, Baker retires with a record the envy of most in the racing game.
The Hall Of Fame trainer, who also picked up the Outstanding Contribution to New Zealand Racing Award in 2019, is renowned for plundering riches across the Tasman.
Baker's 22 Group One wins in Australia is the most by any New Zealand-based trainer and he hangs up the binoculars with a total of 57 Group One wins to his credit.
For all his success, the recently turned 76-year-old took a typically low-key approach in the final weeks of his fabulous career.
"It felt pretty good waking up this morning knowing it was all done," Baker said.
"I had been preparing for this date so I knew it was coming.
"I don't really have a lot planned over the next few weeks, mainly just winding down and working out what I'm going to do with myself.
"I guess there could be a little bit of golf ahead, while I know my wife Marianne is keen to do some travelling so there will be plenty of organising to do for that.
"I'm not sure when I might get to the racetrack again, but I have interests in a few in the stable with Andrew so it will be good to follow them as well."
Baker is also keen to spend more time with family, with his daughter Reidun a veterinarian who also helps husband Dan and their three children with the family's South Wairarapa sheep and beef farm.
Meanwhile Baker's son, Bjorn, has made every post a winner since arriving in Sydney with wife Andrea in 2011 with a freshly minted trainer's licence and just two boxes at Warwick Farm, to become one of Australia's leading trainers.
A natural extrovert, Bjorn Baker celebrated a feature race win at Hawkesbury with outsider Exotic Ruby in yesterday's Group 3 Hawkesbury Crown (1300m) and was quick to pay tribute to his father, albeit with his noted cheek.
"I'm now the best trainer in my family," Baker junior quipped.
"Murray's had a great career. He loves Australia, that's one of the reasons I'm here. Any good horses he gets he brings them over here."
When asked what his father would do in retirement, Bjorn Baker was quick to respond: "Drive me mad," he said.
While he may be retiring, Murray Baker still retains his passion for the industry and is keen to see changes made to ensure the long-term prosperity for those engaged.
"I just can't go past the fact that we need to see a major lift in prizemoney in our local regions to ensure the longevity for participants," he said.
"Right across the board costs are rising steadily and it is becoming harder to keep people involved, be it owners, trainers, stable staff, jockeys or all the other groups that make up the industry.
"The best example we can follow is across the Tasman, as I have great respect for what they do over there to grow the game.
"Times are tough but I am encouraged by what I have seen happening in Auckland with their redevelopment of Ellerslie and the steps they have taken to amalgamate for the benefits of everyone, while the same could be happening at Trentham and here in the Waikato.
"That is very positive news and I just hope it is going to come in time for us all."
The overriding factor that Baker was keen to stress about his career in the thoroughbred industry was just how much fun and enjoyment he had received.
"Racing has been good to me," he said.
"I've met a lot of nice people and had a lot of fun.
"I don't think you can go wrong when you get to work in an area that is also your passion and I have always been passionate about horses and will continue to be even now I'm retired."
Since saddling his first winner in 1978, racing may have been good to Baker but there is also no doubt that Baker has been even better for racing.