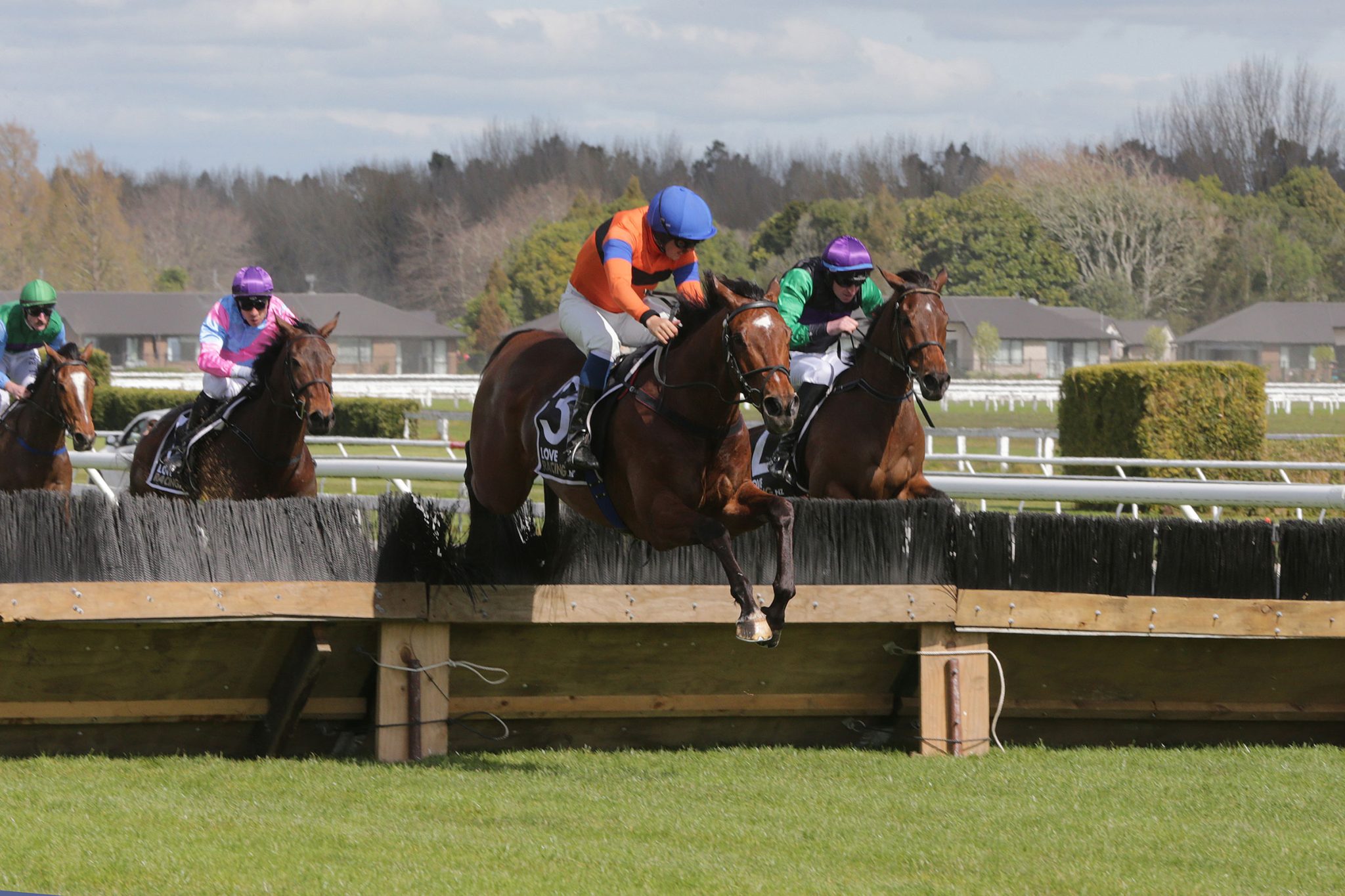 Estimated Reading Time: 2 minutes
An aggressive Hamish McNeill ride laid the platform for an upset as +2800 shot Abu Dhabi carried a set of famous colours to victory in the NZD$150,000 Peter Kelly – Bayleys Great Northern Hurdle at Te Rapa on Sunday.
Discussions leading into the 4200m marathon centred on the topweights Nedwin and Kajino, who had fought out the finish of the Pakuranga Hurdle at the same track two weeks earlier, when Abu Dhabi had been a well beaten fifth.
The confidence levels of McNeill and co-trainers Shaun and Emma Clotworthy were still high, however, as they hatched a plan for their one-race winner to apply the pressure to the two horses who were conceding a significant amount of weight.
McNeill carried out those plans perfectly, putting the pressure on pacemaker Nedwin's back from the start and going forward to eyeball Aaron Kuru's mount commencing the final round.
Maintaining the pressure, Abu Dhabi went three lengths clear midway down the back straight and still held that buffer at the top of the home straight with three fences remaining.
Put under real duress after the penultimate flight, things went slightly awry as Abu Dhabi veered wide and Kajino mounted a final effort.
The pair jumped the last fence with no more than a length between them as Abu Dhabi continued to run wide while Kajino was hard up against the inside rail as they hit the finish line.
McNeill was amongst those unable to be sure which way the result went, but judge John Craig settled that with his initial call followed by confirmation of Abu Dhabi's long-neck victory over the brave Kajino.
Another outsider, Banks Road hit the line strongly to finish third four lengths away, while Nedwin, who had suffered a midweek setback with a hoof problem, weakened to fourth.
"That was the plan, use his light weight and put the pressure on the other two," said co-trainer Shaun Clotworthy, who prepares the Haradasun gelding for his father Kim and co-breeders Ross and Margaret Ellett.
"He was just fair last time here, but we had set him for the race and Hamish carried it out perfectly."
Veteran horseman Kim Clotworthy has a long list of winners to his name, the most famous of them Uncle Remus, who he part-owned when he swept all before him as a three-year-old in the mid-1970s.
Scottish-born McNeill began his career in New Zealand with the Clotworthy stable nearly a decade ago before transferring to Graeme Rogerson and then returning to the Byerley Park-based partnership four years ago.
The Great Northern Hurdle is his 30th and most important win to go with earlier successes in the Grand National and Waikato Hurdles and Manawatu Steeplechase.
"I'm so grateful to Shaun and Emma and this horse's owners for their loyalty to me," said 26-year-old McNeill.
"He might have been slow on the flat this horse, but he's a great example of what they can do when you put a fence of front of them."